Figgins to Triple-A as LA calls up Dominguez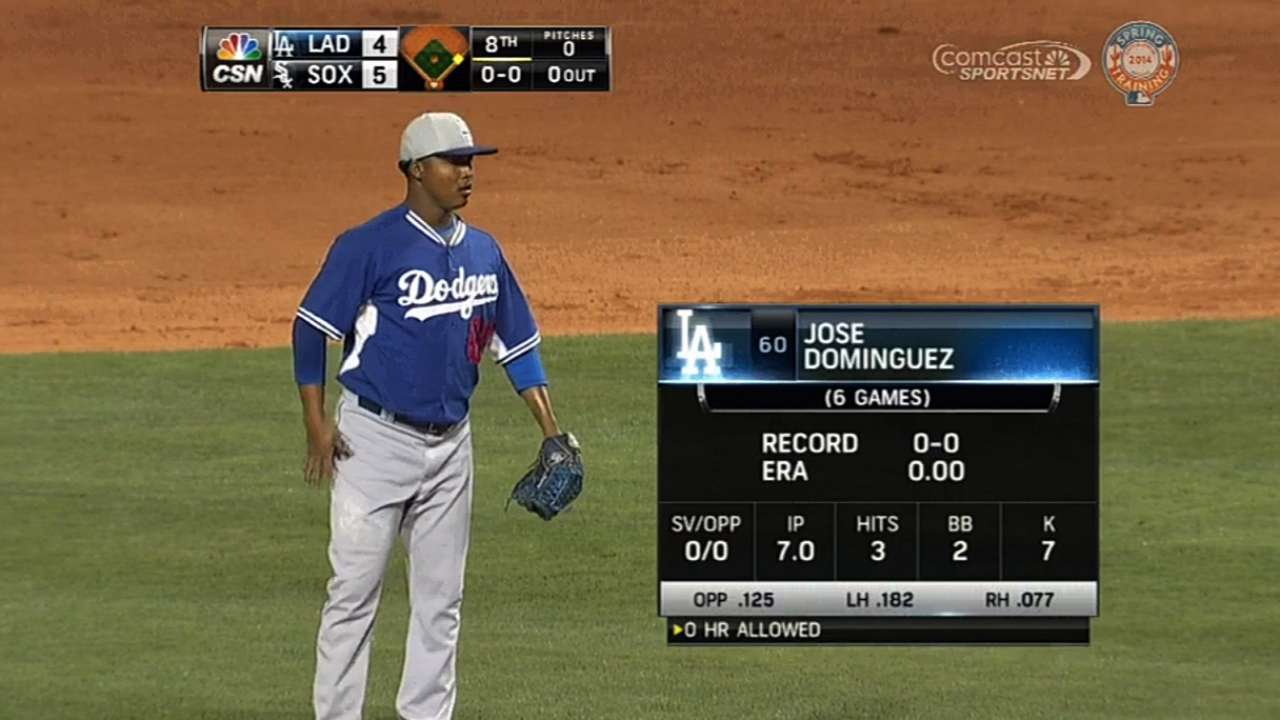 LOS ANGELES -- Despite five off-days in the last three weeks, a worn-down bullpen resulted in the Dodgers optioning veteran utility man Chone Figgins to Triple-A Albuquerque to make room for the recall of reliever Jose Dominguez.
Manager Don Mattingly said the absence of innings-eater Clayton Kershaw, effective but short starts from Josh Beckett and Paul Maholm and four extra-inning games in the last 11 combined to leave the Dodgers walking "a little bit of a tightrope" with bullpen usage.
For example, closer Kenley Jansen wasn't playing catch with the other relievers before batting practice on Monday. Mattingly wouldn't say if Jansen was off-limits in the club's series opener against the Phillies after striking out the side while saving Sunday's 4-1 win over Arizona. Jansen is on pace to make 102 appearances this year.
"We're trying to regulate it and get things squared up," Mattingly said. "We hope it's a temporary thing."
Mattingly said the team will go with 13 pitchers at least through this week and possibly for the Interleague series next week in Minnesota that will involve designated hitters.
Figgins signed an agreement in Spring Training saying he'd accept an assignment to the Minor Leagues within 45 days, otherwise he would have had the option to become a free agent. He was almost optioned last week when the Dodgers instead optioned left-handed reliever Paco Rodriguez to make room for righty setup man Brian Wilson. Rodriguez must remain in the Minor Leagues for at least 10 days unless he replaces an injured player.
The chance for Figgins to play regularly for a few games with the Isotopes, after sitting out the 2013 season, "I don't think is horrible," Mattingly said.
Dominguez got the call, Mattingly said, because he's durable enough to rebound for back-to-back appearances, even though he throws harder than any other Dodgers pitcher.
"He has a younger, fresher arm," Mattingly said of the Dodgers' 11th-ranked prospect.
This is already Dominguez's third stint this season with the Dodgers this season. Figgins made nine appearances as a pinch-hitter, going 1-for-6 with three walks.
Ken Gurnick is a reporter for MLB.com. This story was not subject to the approval of Major League Baseball or its clubs.