Astros snap seven-game skid by toppling King Felix
Dominguez drives in three; Keuchel works six strong frames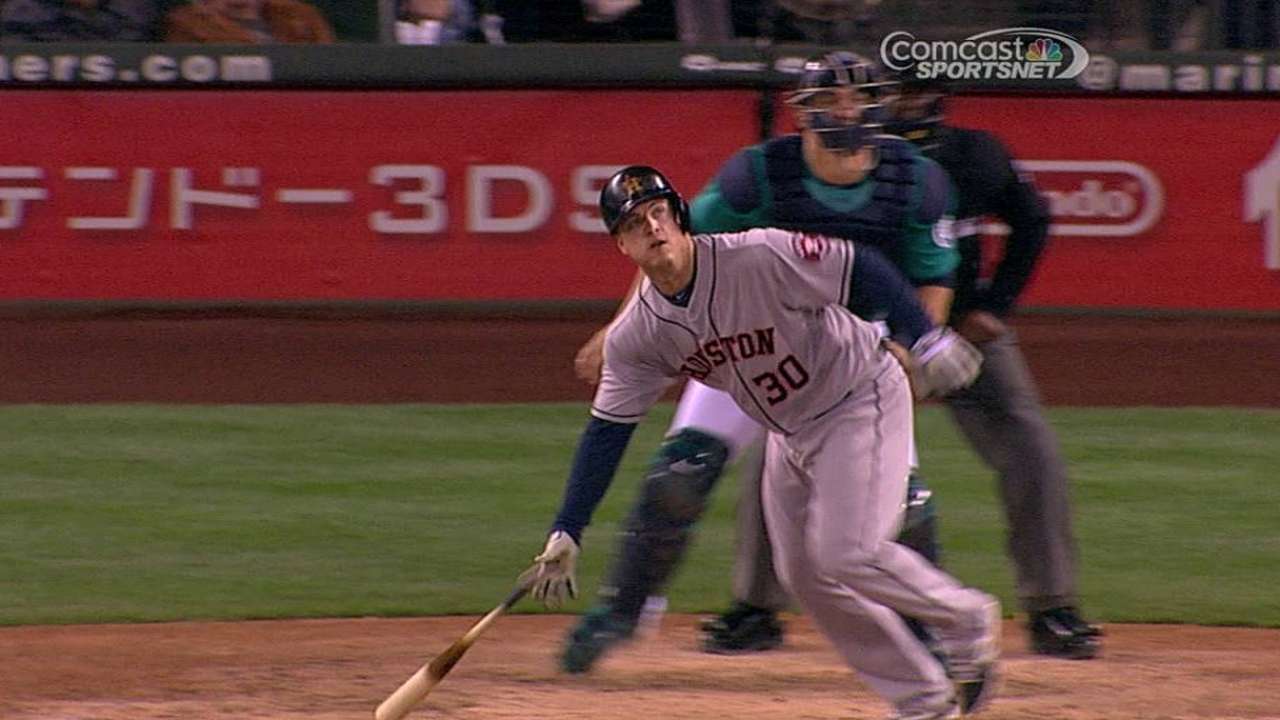 SEATTLE -- The circumstances seemed about as dire as you could imagine. The Astros pulled into Safeco Field riding a seven-game losing streak Monday and with the unenviable task of facing Mariners ace Felix Hernandez, who has been dominant this year.
Baseball, as they say, is a funny game.
The Astros enjoyed all the laughs in their first meeting of the season against the Mariners, getting a two-run homer from Matt Dominguez and a solid performance from starting pitcher Dallas Keuchel to send Seattle to its seventh consecutive loss, 7-2.
The seven runs tied a season high for the Astros. They had scored eight in their previous four games combined.
"That was arguably our best game that we played all year as far as complete baseball, from pitching to defense to timely hitting," Astros manager Bo Porter said. "Even a lot of the outs that were made were really quality at-bats across the board."
Keuchel (2-1) won by allowing six hits and two runs in six innings for the second start in a row, this time striking out eight batters. He has quality starts in each of his last three outings, lowering his ERA to 3.38. He said command of his off-speed stuff and improved confidence have been the key.
"I think I have some above-average off-speed stuff, and when I can throw my fastball for strikes with movement, it kind of sets up that off-speed," he said. "Any time I can get ahead and make those guys think about the fastball, it makes that off-speed so much better."
Hernandez, meanwhile, entered the game with a 2-1 career record in four starts against the Astros with a 2.00 ERA. The Astros' approach was to try to wait for him to elevate some changeups, and they were able to square up several balls.
"They put a couple swings on him," Seattle catcher Mike Zunino said. "They were aggressive all night and swung the bats quite a bit. It was one of those where the few mistakes you make, they're swinging and being aggressive and they ended up connecting on them."
Hernandez walked Jose Altuve to start the game before retiring the next nine batters he faced and 12 of 13. It appeared he was on his way to another big night when Alex Presley (3-for-4) singled with one out in the fifth and Dominguez launched a two-run homer to left to put Houston ahead, 2-0.
"We swung the bats well," Dominguez said. "We got a lot of good pitches to hit and put the barrel on it a good amount of times and got some guys in scoring positions and we were able to drive them in tonight."
The Mariners tied it moments later in the bottom of the fifth on a two-run double down the right-field line by Abraham Almonte, which caused Keuchel some grief.
"My whole thinking was go out there in the fourth and put a shutdown inning together, but I kind of messed around with a few guys and two runs later, it's tied up again," he said. "I've got to do a better job of shutting the door."
Altuve led off the sixth with a double to left and wound up safe at third when Kyle Seager dropped a throw from Zunino following a Dexter Fowler bunt. The error wound up leading to four unearned runs in the inning.
That's because Astros catcher Jason Castro hit a sac fly to make it 3-2, and Marc Krauss had an RBI single and Presley had a RBI triple with two outs. Presley then scored on a long Dominguez fly ball to left that hit off the wall for a double, pushing the lead to 6-2.
"We put a lot of barrels on the balls and were able to swing at a lot of pitches we wanted to swing at, as opposed to the stuff he wanted us to swing it," Presley said. "We hit the ball hard as a group and you see what happens when you do that."
Hernandez (3-1) worked seven innings and allowed six runs (two earned) and seven hits. Before giving up the homer to Dominguez, he had pitched 16 consecutive scoreless innings against the Astros since last year.
"The guys really accepted the challenge today," Porter said. "He's arguably one of the best pitchers in our league on the mound for those guys tonight, and I felt our guys really locked into the game plan tonight. [Hitting coaches] John Mallee and Ralph Dickenson did a really good job of preparing these guys and they were able to carry it out. They got the ball up and got some swings on the ball."
Krauss blasted his second homer of the season to right field in the eighth to stretch Houston's lead to five. Krauss and Presley, a pair of platoon players, went a combined 5-for-8 with four runs scored.
"When you start talking about a platoon, when it's your day you got to do your part," Porter said. "I've been saying that to our guys. Offensively, when a team struggles, one guy says, 'OK, I'm going to get us out of this.' It's not going to be just one guy. You just need to concentrate and do your part. Once we were able to get the big hit with Dominguez's two-run homer, I felt the guys relaxed even more and just continued to have good at-bats."
Chad Qualls, Matt Albers and Josh Fields combined for three scoreless innings in relief, allowing just one batter to reach. Fields struck out all three batters he faced in the ninth to end the game.
Brian McTaggart is reporter for MLB.com and writes an MLBlog, Tag's Lines. Follow @brianmctaggart on Twitter. This story was not subject to the approval of Major League Baseball or its clubs.