Miscues send King Felix to first loss of season
Error leads to four unearned runs in sixth; Mariners' skid hits seven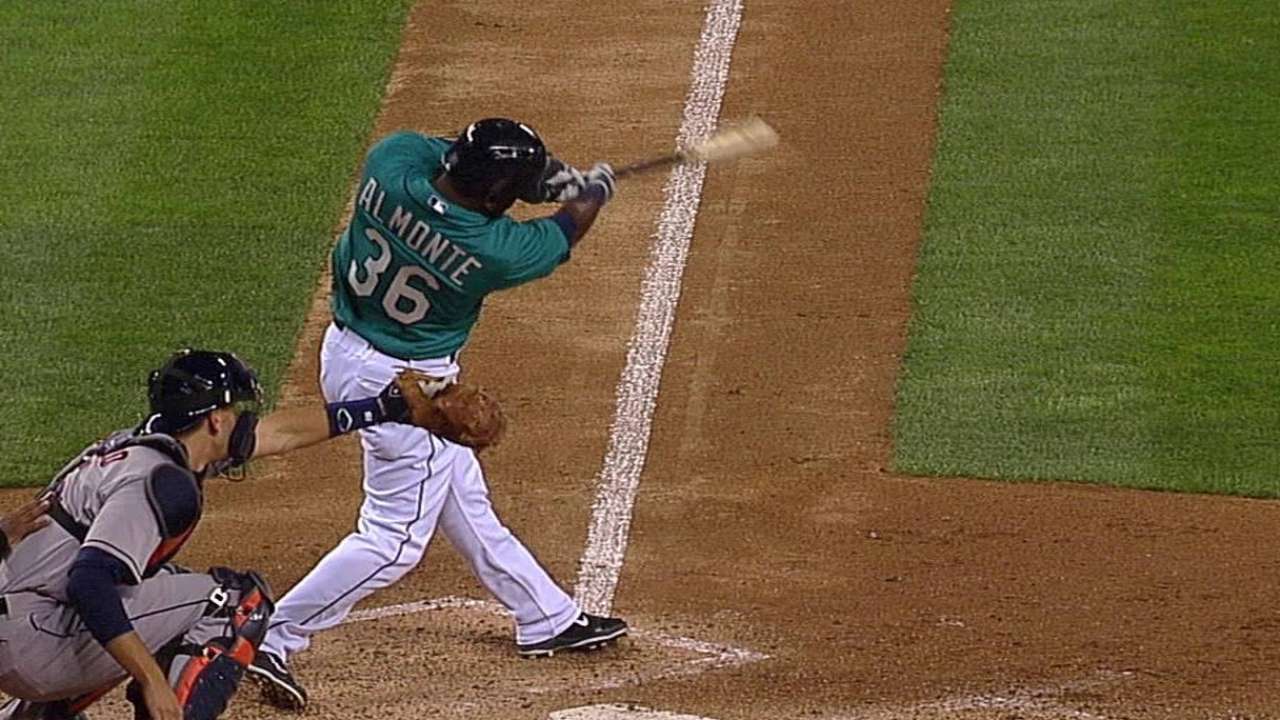 SEATTLE -- Felix Hernandez prides himself on a lot of things, including being the ace of his team and the guy who steps up when things get tough. But not even The King could put an end to the Mariners' rough skid as Houston handed Seattle a 7-2 setback Monday night.
Hernandez suffered his first defeat of the season as the Mariners saw their losing streak reach seven on a night not much went right for a team badly in need of a break.
"Pretty tough," Hernandez said in a quiet clubhouse. "I wanted to stop the losing streak, but we didn't. It was not my best stuff today."
Hernandez wasn't alone on that front as the Mariners committed two errors that allowed four unearned runs, struck out 14 times and went 1-for-7 with runners in scoring position against a Houston club that snapped its own seven-game losing streak in the process.
"It was a tough ballgame," acknowledged first-year skipper Lloyd McClendon. "Things are tough right now. But we'll be okay."
Hernandez fell to 3-1 with a 2.04 ERA as he allowed seven hits and six runs (two earned) with one walk and four strikeouts on 96 pitches. He'd allowed just seven runs in his first four starts combined, and had a one-hit shutout through four innings Monday before things started to unravel.
Astros designated hitter Matt Dominguez ended a scoreless duel in the fifth with a two-run home run to left off Hernandez, the first runs Houston had scored off the Mariners' ace in 17 innings over three starts since entering the American League West last year.
The Astros then took advantage of an error by third baseman Kyle Seager in the sixth that opened the floodgates to a four-run frame that included a pair of doubles and a triple off Hernandez. Seager couldn't hang on to a throw from Mike Zunino, who aggressively jumped on a short bunt by Dexter Fowler and gunned to third hoping to catch the lead runner, Jose Altuve.
"I came in, read that Zunino was going to get it and there'd be a play at third," Seager said. "I got back to the bag in time, I just went for the tag a little too quickly and obviously I need to catch the ball first."
Zunino said the Mariners were being aggressive on that play, but the result backfired.
"That's a tough play for Kyle," Zunino said. "He needs to read the bunt and retreat back to the bag, so it's a tough play all around. It's an aggressive play, we were tied at 2, just trying to take a shot there and it just didn't go our way."
That was pretty much the story of the night for the Mariners, who couldn't take advantage of a young Astros lineup that came in batting .192 on the season. Houston equaled its season high with the seven runs and have now won seven of their last nine games at Safeco Field.
"They were aggressive all night and swung the bats quite a bit," Zunino said. "It was one of those where the few mistakes you make, they're swinging and being aggressive and they ended up connecting on them."
With Houston improving to 6-14, the Mariners now own the longest active losing streak in the Majors with their seven-game skid as they've fallen to 7-12.
Hernandez has started the year 4-0 only once in his 10 seasons, in 2009 when he went on to win a career-best 19 games. Like McClendon, he said it's far too early for this club to panic.
"We just have to do the little things," Hernandez said. "We have a lot of confidence, but we need to go out there and execute. That's always true."
For four innings, that held true Monday. But Alex Presley singled with one out in the fifth and took second when the ball slid past the glove of center fielder Abraham Almonte for an error. When Dominguez followed with his two-run shot to left, it snapped Hernandez's 0-for-18 streak against hitters with runners in scoring position this year.
Almonte atoned in the bottom of the fifth with a two-run double to re-tie the game at 2 after a leadoff single by Seager and double by Zunino, but that was all the scoring Seattle managed.
The Astros took advantage of another error in the sixth on Seager's miscue. Houston wound up with runners at the corners and then took the lead with a sacrifice fly before Marc Krauss laced a two-out RBI single, Presley banged a run-scoring triple off the right field wall and Dominguez doubled off the left field wall to score Presley and make it 6-2.
Krauss added a solo home run off reliever Tom Wilhelmsen in the eighth as the Astros equaled their highest scoring game of the season.
"That was arguably our best game that we played all year as far as complete baseball, from pitching to defense to timely hitting" Astros manager Bo Porter said.
The Mariners were on the flip side of that, but McClendon maintained his post-game poise.
"When you lose seven in a row, you're looking for a lot of things," McClendon said. "You're looking for good pitching, you're looking for defense, you're looking for hits. The one thing I tell my players is the only people that are going to right the ship is us. You can talk about stats or defense or offense or what should have been done or what wasn't done. But you've just got to go out and play. Relax and play the game."
Greg Johns is a reporter for MLB.com. Follow him on Twitter @GregJohnsMLB as well as his Mariners Musings blog. This story was not subject to the approval of Major League Baseball or its clubs.