Wood does it all in victory over D-backs
Lefty matches career high with nine strikeouts and hits three-run HR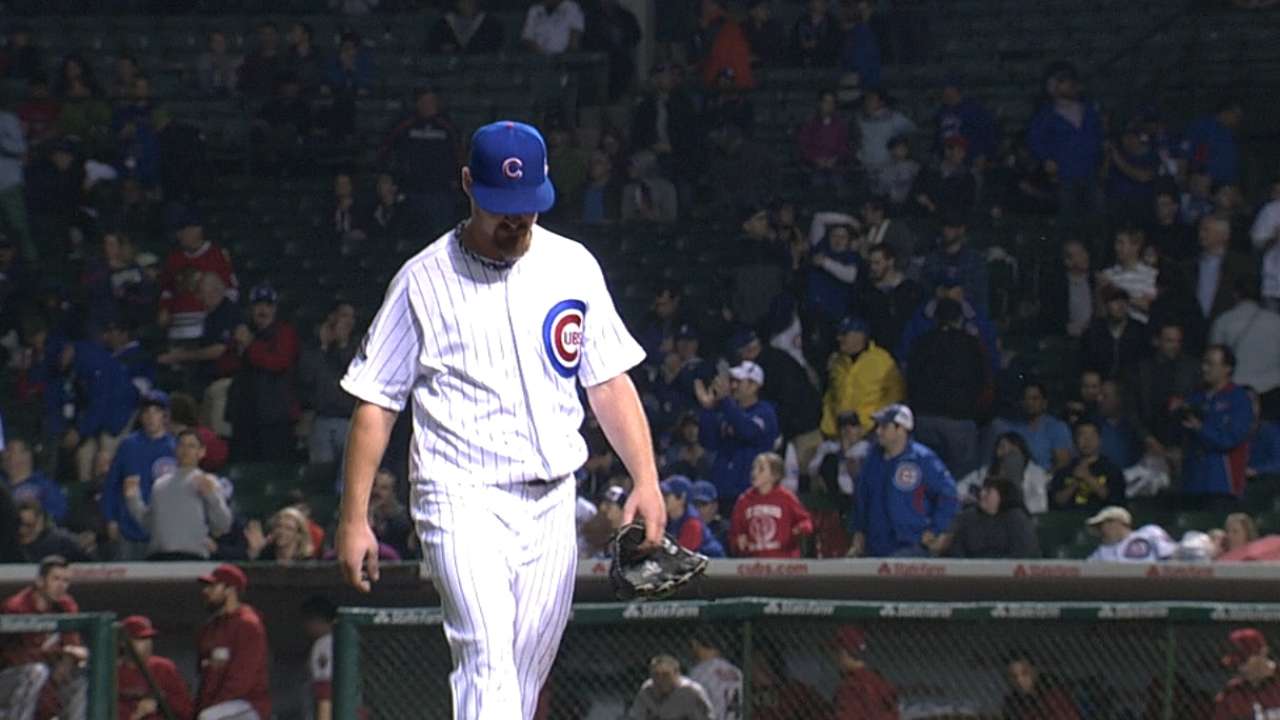 CHICAGO -- The Cubs have had a tough time scoring lately, so pitcher Travis Wood took matters into his own hands.
Wood belted a three-run homer, hit an RBI double, and struck out nine over seven innings to lead the Cubs to a 5-1 victory Monday night over the D-backs.
"He was a one-man wrecking crew," Cubs manager Rick Renteria said of Wood.
The four RBIs matched Wood's career high, set last May 30 against the White Sox when he hit a grand slam. The lefty seemed to do it all and may have even helped the grounds crew deal with the rain that washed out batting practice. First pitch was delayed one hour because of the precipitation. Maybe Wood took advantage of the extra time to take a few more swings in the cage.
How good was Wood? He had a chance at even more RBIs in the sixth when the Cubs loaded the bases with one out against Bronson Arroyo. Arizona manager Kirk Gibson pulled his starter in favor of J.J. Putz, who got Wood to hit into a 1-2-3 double play and end the inning.
"I can see where [Gibson] was looking at a guy who was swinging the bat today, and he probably felt he needed more velocity with [Putz's] split," Renteria said of the move. "Even on the fastballs that Putz threw to Woody, it seemed he was on them."
Wood was upset about the double play. He did recall one time last season when an opposing team made a pitching change before his at-bat.
"It feels good that they respect you up there and you're doing your job," Wood said. "Anything I can do to help the team and help myself out there. I'm not just out there in the nine hole to fill a spot. You have to try to be as best you can."
"That's supposed to be the free out in the lineup," Arroyo said of the pitcher's spot, "and tonight it obviously wasn't. He pushed across almost all their runs. He's always been good at the plate, and that's something you don't want to let beat you, but that's the way it went tonight."
Starlin Castro continued his home hot streak with a single with one out in the Chicago second against Arroyo and scored one out later on Welington Castillo's bloop single to right. Castro has a hit in every one of the Cubs' 10 home games.
Ryan Kalish then singled to set up Wood's first home run of the season off a 1-0 pitch from Arroyo. It was Wood's seventh career homer; he hit three last season.
"That was a 1-0 curveball," Arroyo said. "Travis is a good hitter. I played with him for a long time. He's usually really aggressive, so I was trying to throw him some off-speed [pitches]. But he knows me pretty well, he's kind of a thinker up there, a bit of a guesser, and it looks like he was looking for the breaking ball and I left it up in the zone."
Wood does like to hit. In the sixth, he took three aggressive swings against Putz and it looked as if he was aiming for Waveland Avenue behind the left-field bleachers.
"I was," Wood said. "I always do. It just didn't happen."
In the Chicago fourth, Kalish singled with two outs and Wood followed with his double past a diving Tony Campana in center. Last season, Wood hit one double among his 14 hits.
The lefty was 0-for-3 at the plate over his four previous starts, and began the game with a career .177 batting average.
"He can swing," Castillo said of Wood. "Everybody knows it. He helped us a lot today."
Wood also can pitch. He held the D-backs to six hits and matched his personal best with nine strikeouts, done twice before, including his second start of the season April 10 against the Pirates. The only blemish was Mark Trumbo's homer with one out in the seventh.
"He's a guy who's kind of a steady Eddie, who goes out there and does his thing and has been getting better every year," Renteria said. "It was a nice outing for him today."
Wood had good fastball command, and Renteria said the only pitch that got away from the lefty was the ball Trumbo hit.
"I made a mistake with Trumbo, but otherwise it was pretty solid [outing]," Wood said. "It was supposed to be back door slider [to Trumbo] but it hung there and he did what he's supposed to do."
The last Cubs pitcher to collect two extra-base hits in a game was Carlos Zambrano on April 28, 2009, when he doubled and homered against the D-backs.
"He's a competitor," Castillo said of Wood. "He goes out every day, every outing and does the best he can, even if we're not hitting when he pitches. He does the best he can and he tries to help us when he takes his [at-bats]."
Carrie Muskat is a reporter for MLB.com. She writes a blog, Muskat Ramblings, and you can follow her on Twitter @CarrieMuskat. This story was not subject to the approval of Major League Baseball or its clubs.