Arroyo unable to slow down Cubs offense
D-backs starter gives up three-run homer, RBI double to Wood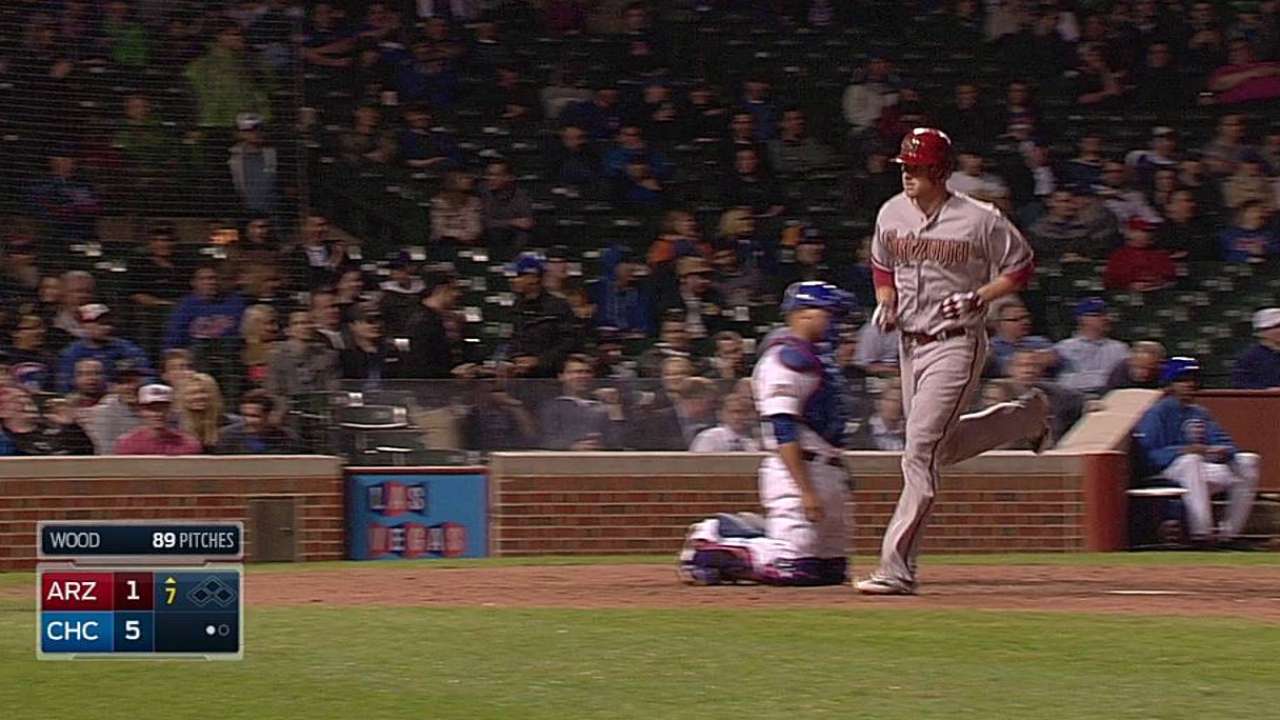 CHICAGO -- Travis Wood hurt the D-backs with his arm and with his bat Monday night.
The Cubs left-hander smacked a three-run homer and pitched seven quality innings as the D-backs lost, 5-1, at Wrigley Field.
"The guy pitched a great game against us, No. 1 and secondly Bronson [Arroyo] hung a couple of breaking ball pitches to him and we know he's one of the better hitting pitchers in the league and he just got a hold of them," D-backs manager Kirk Gibson said. "We didn't have much offense tonight as well."
The start of the game was delayed a little more than an hour by rain and the D-backs would have been better off had it just not been played at all.
The loss was the ninth in the past 10 games for the D-backs, who have a 5-17 record -- the worst in the Majors.
"When things are sliding downhill, it's difficult to pull those things out sometimes," Arroyo said. "It seems like the momentum builds in either direction and right now it hasn't been our way."
Arroyo's outing turned sour in the second inning when he allowed a pair of two-out singles, the first of which brought home a run to give the Cubs a 1-0 lead.
Still, Arroyo had the opportunity to get out of the frame with no further damage until Wood hit a 1-0 hanging breaking ball into the left-field bleachers for a three-run homer.
The homer was the seventh of Wood's career and it came off a guy he was teammates with in Cincinnati from 2010-11.
"Travis is a good hitter," Arroyo said. "He's usually really aggressive, so I was trying to throw him some off-speed [pitches]. But he knows me pretty well, he's kind of a thinker up there, a bit of a guesser, and it looks like he was looking for the breaking ball and I left it up in the zone."
Wood once again did damage in the fourth.
Arroyo retired the first two hitters of the inning before Ryan Kalish singled. Wood then followed with a double over the head of Tony Campana in center to score Kalish and put the Cubs up, 5-0.
"That's supposed to be the free out in the lineup, and tonight it obviously wasn't," Arroyo said. "He pushed across almost all their runs. He's always been good at the plate and that's something you don't want to let beat you, but that's the way it went tonight."
The D-backs could not get anything going offensively against Wood as he held them scoreless through the first six innings.
Overall, the D-backs were 0-for-5 with runners in scoring position.
"I think everyone is pressing," Gibson said. "Everybody is trying to be the guy. When you get runners in scoring position and you get ahead in the count, you have to look and see a pitch that you can hit and you can drive instead of swinging at a pitcher's pitch, which may be marginal or down in the zone. You want to elevate, but overall we have not done a good job of that and I think the numbers speak to that."
Arizona finally got on the board in the seventh when Mark Trumbo hit his National League-leading seventh homer of the year.
"I had good command, especially of the fastball, but of most pitches," Wood said. "I made a mistake with Trumbo, but it was pretty solid. It was supposed to be a back door slider, but it hung there and he did what he's supposed to do."
But it was too little too late as Wood tossed seven innings, allowing six hits and striking out nine.
"It's pretty frustrating, obviously," catcher Miguel Montero said. "We're battling, but unfortunately the rallies are like four runs, three runs and can't limit the damage and it's tough. It's hard to come back when you're down five runs."
Steve Gilbert is a reporter for MLB.com. Read his blog, Inside the D-backs, and follow him on Twitter @SteveGilbertMLB. This story was not subject to the approval of Major League Baseball or its clubs.