A's get to Darvish early, but lead doesn't hold up
Moss, Crisp strike in first inning, but Rangers rally against Doolittle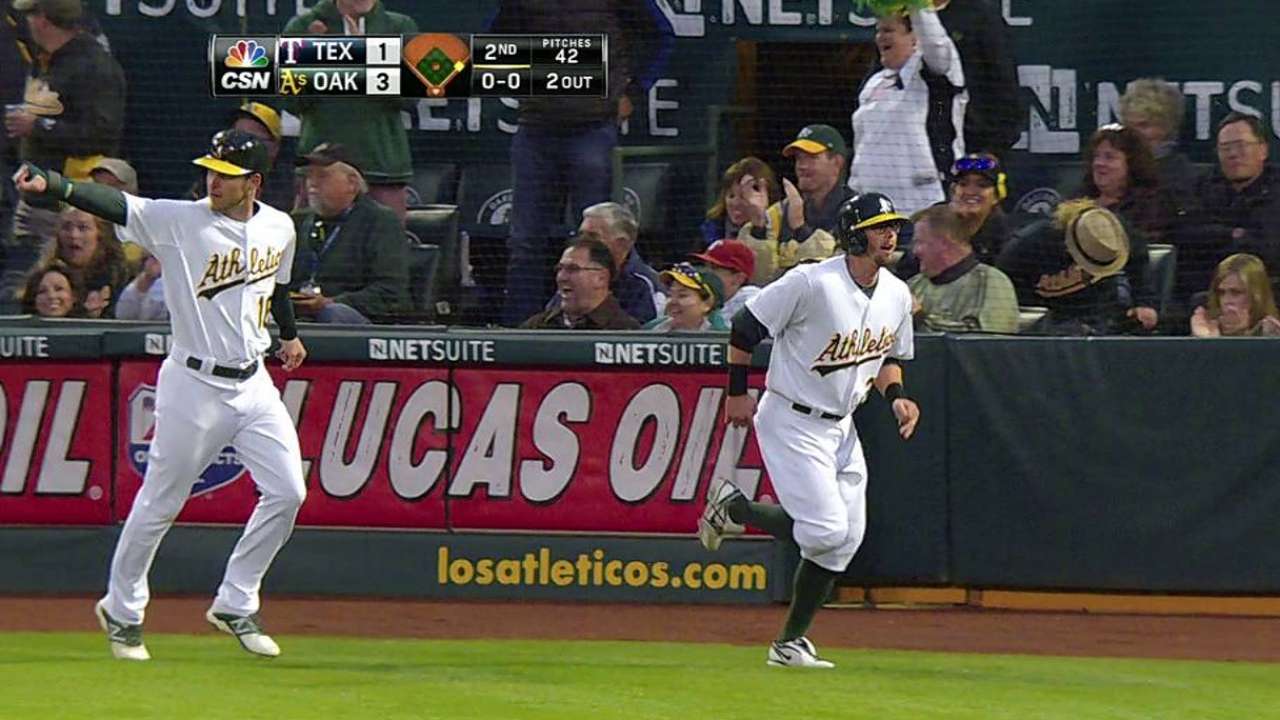 OAKLAND -- Missed opportunities and the inability to deliver a knockout blow doomed the A's on Monday night against Texas.
While the Rangers made the most of their chances, Oakland left too many runs out on the field in a 4-3 loss that was decided in the final stages.
Ultimately, Donnie Murphy's eighth-inning RBI single against Sean Doolittle broke up a 3-3 tie and gave Texas the comeback victory. A couple of former A's proved to be the heroes for the Rangers as Murphy drove home the resurgent Kevin Kouzmanoff for the game-winning run with the infield playing in.
"Very competitive game," A's manager Bob Melvin said. "About as close as you can get."
Oakland's lineup made Texas ace Yu Darvish labor in the early stages of the game, driving his pitch count up to 47 after just two frames. But the star righty, who brought a lot of heat on his fastball all night, settled down and kept his Rangers in the game before they came back to win against Oakland's vaunted bullpen.
Darvish had his work cut out for him early. Behind a Brandon Moss solo shot and a two-run single from Coco Crisp, the A's took an early 3-1 lead after two innings. But Darvish wiggled his way out of a couple jams and tossed a season-high 116 pitches across six innings, allowing three earned runs on eight hits and four walks while striking out six.
"We had him on the ropes," Melvin said.
Oakland threatened again in the fourth inning, loading the bases with red-hot Josh Donaldson at the plate, but the A's third baseman struck out swinging on a slider to end the scoring chance.
Not to mention Jed Lowrie led off the ninth by reaching on a two-base throwing error, but he was stranded there representing the tying run after Joakim Soria retired the next three A's to secure his fourth save of the year.
"More times than not I feel like we're going to come through in those situations," Donaldson said. "Tonight was just one of those days where it didn't happen."
But Donaldson gave credit where it's due, saying Darvish "beared down" on a night when the A's were making him work early and often.
"The guy's good," Donaldson said. "He's not just your run-of-the-mill guy."
After some early action from Oakland's lineup, this game was eventually knotted in the middle innings before the Rangers jumped ahead for good.
Shin-Soo Choo gave the Rangers an early 1-0 advantage when he took A's starter Dan Straily deep during the game's first at-bat, marking his 12th career leadoff home run. But Straily was able to settle down after that, keeping the Rangers in check until reigning American League Player of the Week Kouzmanoff drove home Prince Fielder with an RBI single in the fourth.
Straily wasn't able to escape a two-out jam in the fifth without damage, either, allowing three straight singles to let the Rangers to tie the game at 3. In all, Straily went five innings, giving up three earned runs on six hits and two walks while striking out six.
"Definitely gave them more opportunities than I should have," Straily said. "Really, in the fifth inning I should have been off the field, but three hits in a row, just couldn't keep the ball down. Not great by any means, but kept us in the ballgame as best I could and gave it everything I had."
Straily has been an inconsistent performer for the A's so far in this young year. While he shined in Minnesota on April 10 with a seven-inning, one-run performance in an Oakland victory, he's been knocked around a bit at times, too. In four starts this season, Straily is 1-1 with a 5.40 ERA, 1.29 WHIP, 21 strikeouts and six walks in 21 2/3 innings of work.
"Tonight I was battling myself," Straily said. "Couldn't get ahead of guys very well."
But it was Doolittle who was kicking himself in the clubhouse after the game for giving up the winning hit to Murphy. Doolittle said he thought made a good pitch, but that Murphy made a nice adjustment to shorten up his swing and drive it up the middle with the infield in.
"Any time you hand it over to our bullpen," Doolittle said, "we feel like we're going to be able to hold them and it's only going to be a matter of time before our offense finds a way to push across a run. I've got to be better than that. That can't happen."
If there is any silver lining to the loss for the A's, which dropped their record to 13-6, it's that they've been competitive in every contest so far this year. Each of the six defeats have come by two runs or less, and they're the only MLB team that hasn't lost by at least three runs so far in 2014.
The A's and Rangers figure to be major players in the race for the American League West crown this season, and if Monday's contest was any indication, it will be a heated competition until October.
"It was a huge win, especially at the start of a roadtrip," Texas shortstop Elvis Andrus said. "Every game is tough, especially here. We haven't had a lot of luck here so it means a lot to come in here and get that first win. But we have to continue to play good baseball."
Alex Espinoza is a contributor to MLB.com. This story was not subject to the approval of Major League Baseball or its clubs.