Kouzmanoff, Rangers rally past A's in series opener
AL Player of Week doubles, scores on Murphy's go-ahead single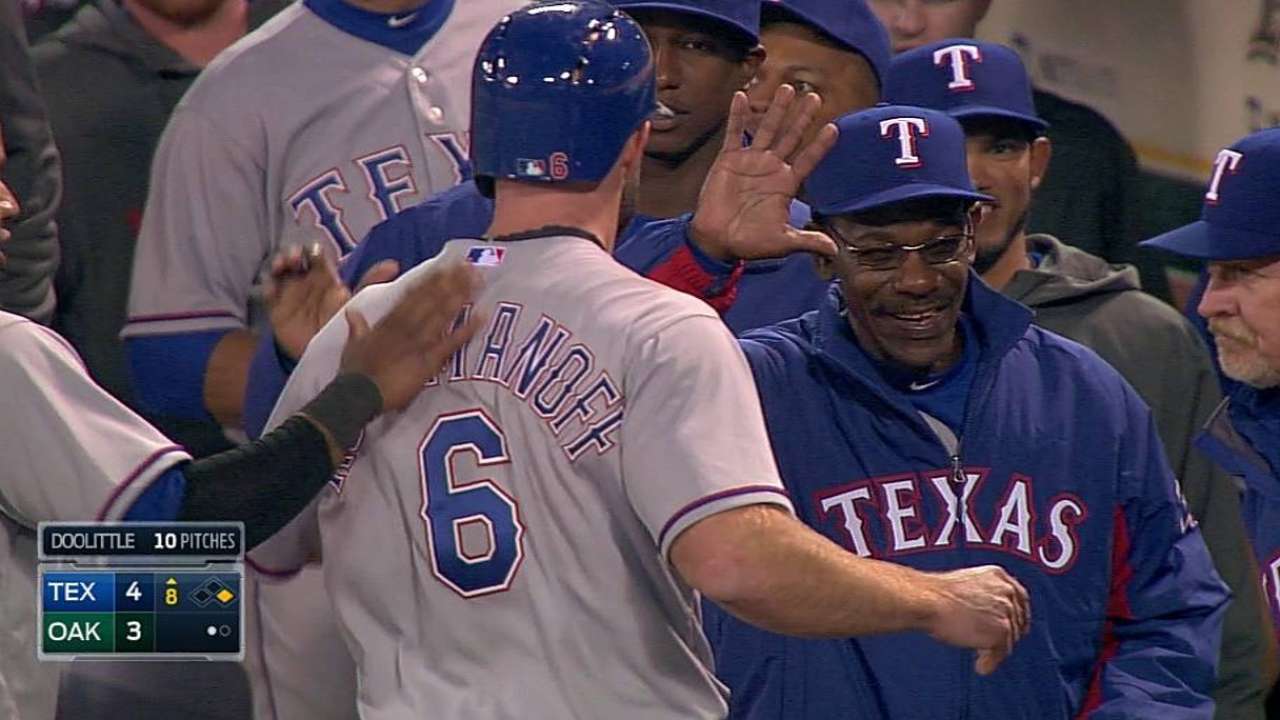 OAKLAND -- This is only April but the Rangers are playing the team with the best record in the American League in their own park. They are also playing the team that took the division title away from them the past two years, so games against the Athletics even this early have a pennant race feel to them.
That's why the Rangers were feeling good about themselves after coming back for a 4-3 victory over the Athletics in the first of 19 games these two teams will play against each other over six months. The Rangers were 17-21 against the Athletics over the past two seasons.
"It was a huge win, especially at the start of a road trip," shortstop Elvis Andrus said. "Every game is tough, especially here. We haven't had a lot of luck here so it means a lot to come in here and get that first win. But we have to continue to play good baseball."
The Rangers, with Yu Darvish on the mound, trailed 3-1 after two innings. But Darvish and four relievers kept it close while the Rangers battled their way back against starter Dan Straily and the Oakland bullpen.
This one came down to the Rangers going 3-for-10 with runners in scoring position while the Athletics were 1-for-10. Each team hit a solo home run leading off an inning, so those two extra hits with runners in scoring position made the difference for the Rangers.
"Any time you can get a win like that against this team it's good," first baseman Prince Fielder said. "You're not going to mash the ball every day so we just have to play good baseball, get runners over, play situational baseball and get runners in."
Kevin Kouzmanoff, just hours after being named the American League Player of the Week, had one of the big hits with runners in scoring position and also had a double to lead off the eighth in a tie game against reliever Sean Doolittle. Mitch Moreland bunted him to third and Donnie Murphy lined a single to bring home the go-ahead run.
"Any time you hand it over to our bullpen, we feel like we're going to be able to hold them and it's only going to be a matter of time before our offense finds a way to push across a run," Doolittle said. "I've got to be better than that. That can't happen."
Neal Cotts earned the victory in relief with Joakim Soria earning his fourth save. The Rangers are now 6-2 in one-run games.
The Rangers also won on a night when Darvish wasn't at his best. He gave up three runs in the second and lasted just six innings while throwing 116 pitches. But he was still able to hold the Athletics down after the second inning and the game was tied after he was done for the night.
"I think I had to battle mentally and I had to battle on the mound as well," Darvish said.
"He wasn't at his best but after that one inning, he began to make pitches," Rangers manager Ron Washington said. "He wasn't at his best but he was good enough to keep us in the ballgame."
Shin-Soo Choo, who left the game in the seventh with a sprained left ankle, gave the Rangers a 1-0 lead in the first with his first leadoff home run of the season and 12th of his career. The home run, off Straily, marked the first time Darvish has pitched with a lead this season. But it didn't last long.
Brandon Moss led off the second inning with a home run, his fourth in 16 career at-bats against Darvish. That ties him with Mike Trout for the most by an opponent. Darvish then walked Josh Reddick with one out, struck out Daric Barton and gave up a double to Eric Sogard.
That put runners on second and third, and Coco Crisp gave the Athletics a 3-1 lead with a two-run single to left. But that was the Athletics' only hit in eight at-bats with runners in scoring position against Darvish. They were also 0-for-2 off Soria in the ninth.
"We had him [Darvish] on the run a little bit early but he recovered well enough to keep him in the game and go deep enough in the game where they could go to their key bullpen guys," Athletics manager Bob Melvin said. "We've played many games very similar to that one the past couple of years."
The Rangers picked up one run in the fourth when Fielder led off with a double and scored on a single by Kouzmanoff. They tied it up the following inning on three straight two-out singles from Andrus, Rios and Fielder. The last hit snapped an 0-for-9 with runners in scoring position for Fielder.
"The A's grinded out their at-bats but fortunately we were able to grind all night," Washington said. "We were able to fight and put some runs on the board. I was very happy with our offensive execution."
T.R. Sullivan is a reporter for MLB.com Read his blog, Postcards from Elysian Fields and follow him on Twitter @Sullivan_Ranger. This story was not subject to the approval of Major League Baseball or its clubs.