Yelich setting tone atop lineup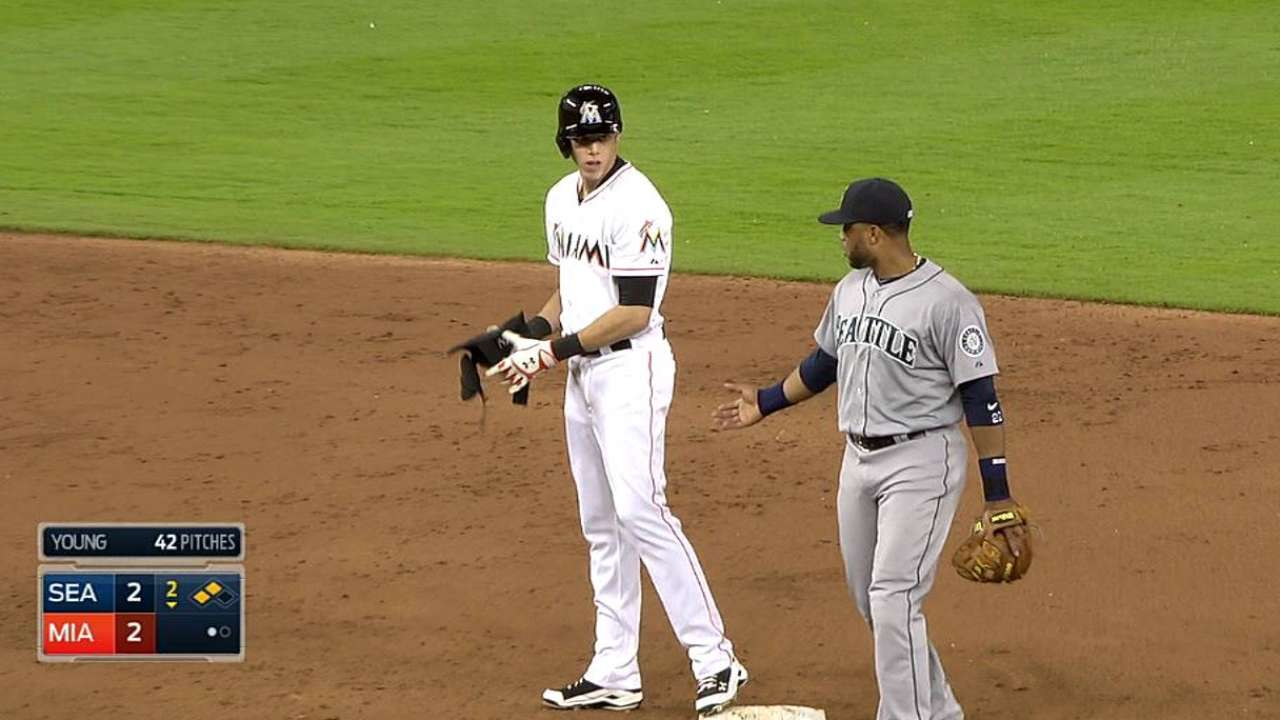 ATLANTA -- As the Marlins slogged through an awful April in 2013, Miami outfielder Christian Yelich honed his skills with Double-A Jacksonville. One year later, Yelich has helped revitalize the Marlins offense atop the lineup.
Yelich extended his career best hitting streak to 15 games in the first inning Monday against the Braves at Turner Field. Although Miami suffered a seven-game losing streak early on in Yelich's streak, his hot bat has helped the Marlins win four of their last five.
"Hitting streaks are good, but I'm definitely happier about us winning," Yelich said.
Should Yelich maintain his reliability as Miami's table setter, the Marlins can continue to rebound from a 100-loss season. The Fish entered Monday with a 9-10 record, which is already one win better than last season's 8-19 April.
Yelich entered Monday tied for fourth in the Majors with 15 runs scored, tied for 17th with a .333 (24-for-72) batting average and ranks 18th with a .407 on-base percentage. In 2013, Miami's leadoff hitters batted .229 (155-for-678) with 63 runs scored.
Yelich chalks up his success to simply doing what is required of a leadoff hitter. Miami's team batting average of .279 (48-for-172) with runners in scoring position, which was tied for fourth-best in the Majors entering Monday, also helps.
"That's basically your job when you hit at the top of the lineup -- get on for those guys behind you to drive you in," Yelich said. "They've been able to do that this year."
Marlins manager Mike Redmond described Yelich's impact in the leadoff spot as "huge," but he is also impressed by how well Miami's entire crop of young players have performed so far this season.
Marcell Ozuna has tallied 10 RBIs and 12 runs and is tied with Yelich for 17th in the Majors with a .333 (23-for-69) batting average. Adeiny Hechavarria ranks 25th with a .310 (22-for-71) clip, and he has already scored 11 runs. He did not score his 11th run last season until June 9 on his 186th plate appearance.
"They have a lot of confidence, which is great," Redmond said. "No panic. That's the beauty of our young guys. Probably because we got them some experience last year. They came into Spring Training kind of understanding what the big leagues is all about, and the comfort level for them is much better."
Joe Morgan is an associate reporter for MLB.com. This story was not subject to the approval of Major League Baseball or its clubs.