Pujols appreciates what 500 homers would mean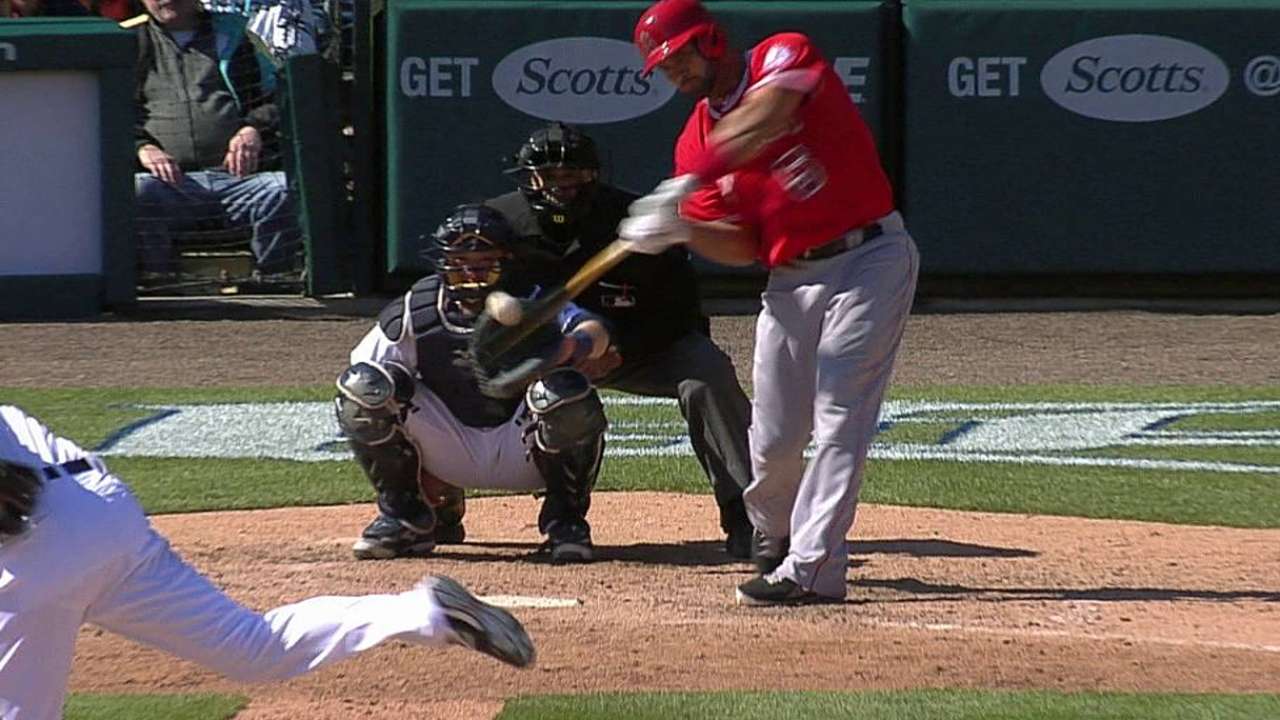 WASHINGTON -- Now that he's two homers away from 500, Albert Pujols' family will be in New York for the three-game weekend series against the Yankees. But the Angels' first baseman still has three games at Nationals Park, so Pujols' wife, Deidre, told him that if he hits No. 499, they're immediately boarding a flight for Washington, D.C.
"I told her, 'The way I'm hitting, you better get on a jet,'" Pujols joked before Monday's series opener against the Nationals, mainly tongue-in-cheek because he's simply not comfortable talking about his pursuit of 500 homers.
Pujols batted .280/.349/.587 with a team-leading six homers and 14 RBIs in his first 18 games, and said through a team spokesman on Saturday that he doesn't want to talk about becoming the 26th member of the 500-home run club until it actually happens.
Pujols doesn't want that to be confused with not having an appreciation for the milestone, however.
"There's been [almost 18,000 people] to play this game, and I'd be the 26th [to hit 500 homers]," Pujols said. "I'd have to be an idiot, or stupid, not to appreciate that. I do appreciate that. I don't want people to think, 'Oh, he doesn't care about it.' It's just that when I'm in the season, I don't want to get caught up in it. I don't know, man. The moment's going to determine everything."
Hitting it in New York would have special meaning to Pujols, simply because of all the history in the Bronx. But Nationals Park was where he reached another milestone, when he became the third-youngest player to reach 400 homers, on Aug. 26, 2010.
Cardinals skipper and ex-teammate Mike Matheny recently said Pujols "doesn't allow himself to enjoy much in the game, because he's always pushing."
Pujols agrees with that statement, and is quite proud of it.
"I wouldn't change a thing, I can tell you that," Pujols said. "It's not that I don't appreciate the moments. I do appreciate the moments, because I know what they mean. And all that appreciation comes with the hard work and the dedication. But at the same time, it's so tough during the season to try to appreciate stuff. Because you know that it's not about you. It's about this group that we have here. And that's what you need to think about. Whenever you start to think about you, then all that success and that caring you have for others starts fading. And I don't want to feel that."
Alden Gonzalez is a reporter for MLB.com. Read his blog, Gonzo and "The Show", and follow him on Twitter @Alden_Gonzalez. This story was not subject to the approval of Major League Baseball or its clubs.