Clippard's struggles undo Roark's bid for win
Reliever allows four Angels runs after starter's 6 2/3 shutout innings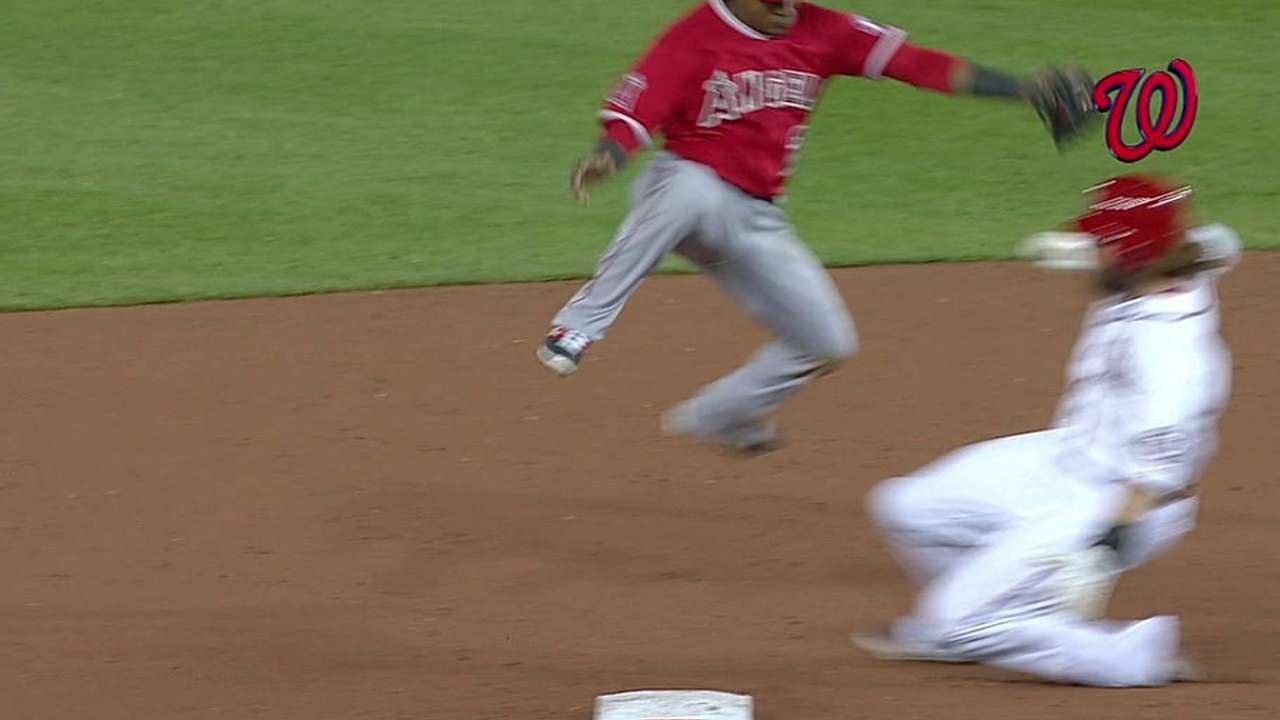 WASHINGTON -- All the hype at Nationals Park was about the meeting between Nationals left fielder Bryce Harper and Angels center fielder Mike Trout on Monday night, but the night belonged to Raul Ibanez, who had a three-run double as a pinch-hitter and helped the Angels defeat the Nationals, 4-2.
The Nationals had a 1-0 lead going into the eighth inning when the Angels went ahead against reliever Tyler Clippard. Albert Pujols led off the inning and hit a routine ground ball to shortstop Ian Desmond, who booted the ball for his eighth error of the season. Pujols then easily stole second base after Ian Stewart struck out. After Howie Kendrick singled and Brennan Boesch popped up to Desmond, Erick Aybar singled to right field, scoring Pujols.
Chris Iannetta walked to load the bases before Ibanez came up. One would have thought that manager Matt Williams would have brought in left-hander Xavier Cedeno to face Ibanez, but Williams says Clippard is his eighth-inning reliever and added that Clippard has a good track record against lefties. In fact, left-handed hitters are hitting under .200 against him.
"So I want to stay with him there," Williams said. "I want him to be our guy that shuts down that eighth inning. Tonight wasn't his night, though."
It looked like a great move at first. Ibanez swung and missed at the first pitch -- a changeup -- for a strike. But Clippard threw the same pitch, and Ibanez hit it to left-center field for a three-run double. Desmond was charged with his second error of the inning when his throw allowed Ibanez to advance to third base on the hit.
"It was a good changeup [to Ibanez]. The first one was in the same exact spot, swung through it. He is a guy that traditionally hunts fastballs, and I knew that," Clippard said. "I felt like I made a good pitch [with the second one]. I have to go and look at it. There was something where I was tipping, or you have to tip your cap to him. He made a good swing. Those things happen."
"I was not looking for an offspeed pitch," Ibanez said. "At that point, I was just trying to hit a line drive up the middle, hit whatever he threw. He's got a very good changeup, but a very good breaking ball, too, and a good fastball, so he's a tough pitcher. You have to respect his fastball. You can't just sit on one pitch."
Does Williams have any concerns about Desmond and Clippard, who are off to slow starts? The answer is no. Williams felt the first error by Desmond was a tough play, but Desmond said he is a Major League shortstop and should have made the first play.
"It wasn't that tough," Desmond said.
Desmond leads the Major Leagues in errors. He simply said he is not making the plays he needs to make.
"That's what I'm most mad about. Clippard did his job, and I wasn't able to help him out," Desmond said.
Williams said Clippard hasn't found his changeup this season, and he wasn't able to get the right-handed-hitting Iannetta.
"He's been a little inconsistent, certainly, with the location on his fastball, and the concerning thing there is that he had the righty-righty matchup and walked Iannetta," Williams said. "So we didn't help him out in the infield, either."
Right-hander Tanner Roark started for the Nationals and was outstanding. He didn't allow a run in 6 2/3 innings.
Los Angeles had opportunities to score against Roark in the second and third innings, but couldn't send anyone home. In the second, the Angels had the bases loaded with two outs, but starting pitcher Garrett Richards struck out to end the threat.
An inning later, Los Angeles had runners on first and second with nobody out, but Pujols hit into a double play, and Stewart flied out to center fielder Denard Span to end the inning.
"I felt like first-pitch strikes was the big thing for me tonight. The sinker was working well tonight. I kept attacking," Roark said.
Richards also was strong. He lasted six innings and allowed one run on one hit. The one run occurred in the fourth inning, without Washington collecting a hit. Richards lost control of his pitches and walked the first two hitters he faced. Then Richards hit Jayson Werth on the arm with a pitch to load the bases. Adam LaRoche followed and hit into a fielder's choice, but Span scored on the play.
"He was effectively wild today," Span said. "He had high velocity. His ball was moving a lot," Span said.
Desmond homered off Angels closer Ernesto Frieri in the ninth for the Nats' final run.
With the loss, the Nationals dropped their record to 11-9.
Bill Ladson is a reporter for MLB.com and writes an MLBlog, All Nats All the Time. He also can be found on Twitter @WashingNats. This story was not subject to the approval of Major League Baseball or its clubs.