Ibanez comes through in pinch to rally Halos in DC
Three-run double in eighth big blow in win; Aybar also clutch in inning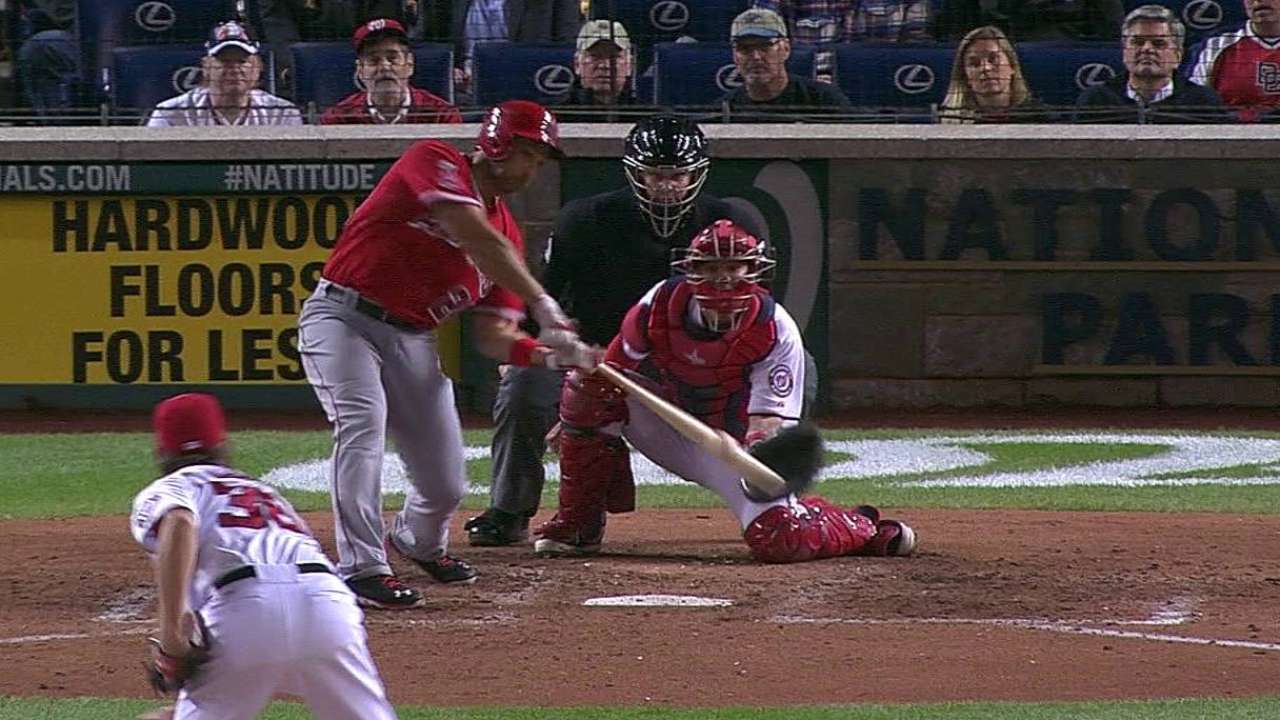 WASHINGTON -- The youth of this game was never more apparent than on Monday in the nation's capital, when the opener of a three-game series pinned the Angels and Nationals and was all about how the 22-year-old Mike Trout and the 21-year-old Bryce Harper -- the future faces of baseball, the current budding phenoms -- were meeting in a regular-season game for the first time.
Before the day had ended, Raul Ibanez had reminded everyone that the old guys can have their moment, too.
"These guys, they make me feel young," the 41-year-old designated hitter said, shortly after his pinch-hit double keyed a 4-2 come-from-behind victory for his Angels. "I have five kids at home. They're 12 and under, and I'm the biggest kid in the house, really. I feel right at home around these guys who are 22, 24, 25 years old. They definitely keep you young, and it's a lot of fun. They keep me knowing what songs are good. I can always stay young listening to the music."
Ibanez's bat played sweet music with two outs and the bases loaded in a tie game in the top of the eighth, when he took an 0-1 changeup from Tyler Clippard and smoked a liner over Harper's head in left-center field, clearing the bases shortly after Erick Aybar's game-tying single as the Angels (9-10) tied their April 2013 win total.
Prior to that, Ibanez had nine hits in 61 at-bats -- though one of those hits was the ninth-inning, game-tying three-run homer on April 12 -- and carried a .148/.212/.311 slash line.
"If there's anybody who deserves that, it's Raul," said Angels first baseman Albert Pujols, still two homers away from 500 for his career. "That can turn his whole season around. He needed that. I was really happy and really excited to see that. Raul is a great hitter, and he's going to hit."
Pujols didn't get a hit, but he contributed with his glove and, surprisingly, his feet.
The Nationals (11-9) were threatening off Garrett Richards in the fourth. The 25-year-old right-hander had trouble gripping baseballs he felt "weren't rubbed up" and issued back-to-back walks to Denard Span and Harper, then plunked Jayson Werth on an 0-2 count. After Washington got on the board with a fielder's choice groundout, Anthony Rendon hit a slow roller that Pujols barehanded cleanly and fired home to get Harper out at the plate, recording the second out and helping Richards get out of the inning with only one run across.
"That's a Gold Glover," Richards said after pitching six innings of one-run ball to move his ERA to 2.52. "He's more than capable of making plays like that. Surprised? Not really. He's a pretty sound defender."
The play got a lot more important in the eighth, when a shorthanded lineup that was shut out through 6 2/3 innings by Tanner Roark finally got something going.
The Angels -- with Kole Calhoun and Josh Hamilton on the disabled list, and the likes of Ibanez, Aybar and David Freese struggling mightily -- had amassed just three runs on 18 hits while striking out 24 times in the 25 innings that led to the eighth. But Pujols reached on an error by shortstop Ian Desmond, then got a good jump off Clippard and stole his first base since July 7 of last season to put himself in scoring position.
"He was looking over there, but I just thought it was the right time to do it," Pujols said. "You have to take a chance in this game. If you play this game scared, then you're in the wrong sport."
Pujols moved to third on Howie Kendrick's infield single two batters later, but Brennan Boesch flied out to shallow left field, and Aybar came to bat with the Angels four outs away from their first shutout of the year.
The switch-hitting shortstop entered the Interleague series batting .175, and noticed he needed to be more upright in his stance, so he showed up for early batting practice to work on it, then smacked two singles in his first three plate appearances. In the eighth, he saw a first-pitch fastball from Clippard and lined a single to right to tie the game.
"That's what you look for, to have games like that," Aybar said after his first three-hit game of the season and his first multihit game since April 11. "I came to work early today, and I saw it translate to the game."
Ibanez didn't show up early, because he wasn't even playing.
Instead, he sat on the bench for all of the first four innings. By the fifth, he started going down to the cage to take some swings and stay loose while the Angels were on defense. Angels manager Mike Scioscia had an opportunity to use Ibanez in the seventh, with one on and two outs, but instead went with Freese, hoping a bigger spot would materialize later for the veteran left-handed hitter.
"We know their closer and their setup guys are right-handed, with really power stuff, and Raul is a guy you might want to pop in there in a better situation," Scioscia said. "Sometimes it pops up, sometimes it doesn't."
Ibanez entered 3-for-6 with two career homers against Clippard, but Nationals manager Matt Williams chose to stick with his righty -- despite having three lefties in the bullpen -- because the 29-year-old right-hander has limited lefties to a .585 OPS in his career with a devastating changeup.
"He is a guy that traditionally hunts fastballs," Clippard said of Ibanez, "and I knew that."
Ibanez swung through the first changeup, then got another one, at 82 mph, and perfectly placed low and away -- but didn't miss it.
"I was not looking for an offspeed pitch," Ibanez said. "At that point, I was just trying to hit a line drive up the middle, and hit whatever he threw. He's got a very good changeup, but a very good breaking ball, too, and a good fastball, so he's a tough pitcher. You have to respect his fastball. You can't just sit on one pitch."
Alden Gonzalez is a reporter for MLB.com. Read his blog, Gonzo and "The Show", and follow him on Twitter @Alden_Gonzalez. This story was not subject to the approval of Major League Baseball or its clubs.