Danks pitches White Sox past Tigers in opener
Lefty allows one run over 6 1/3; two reviews aid seventh-inning rally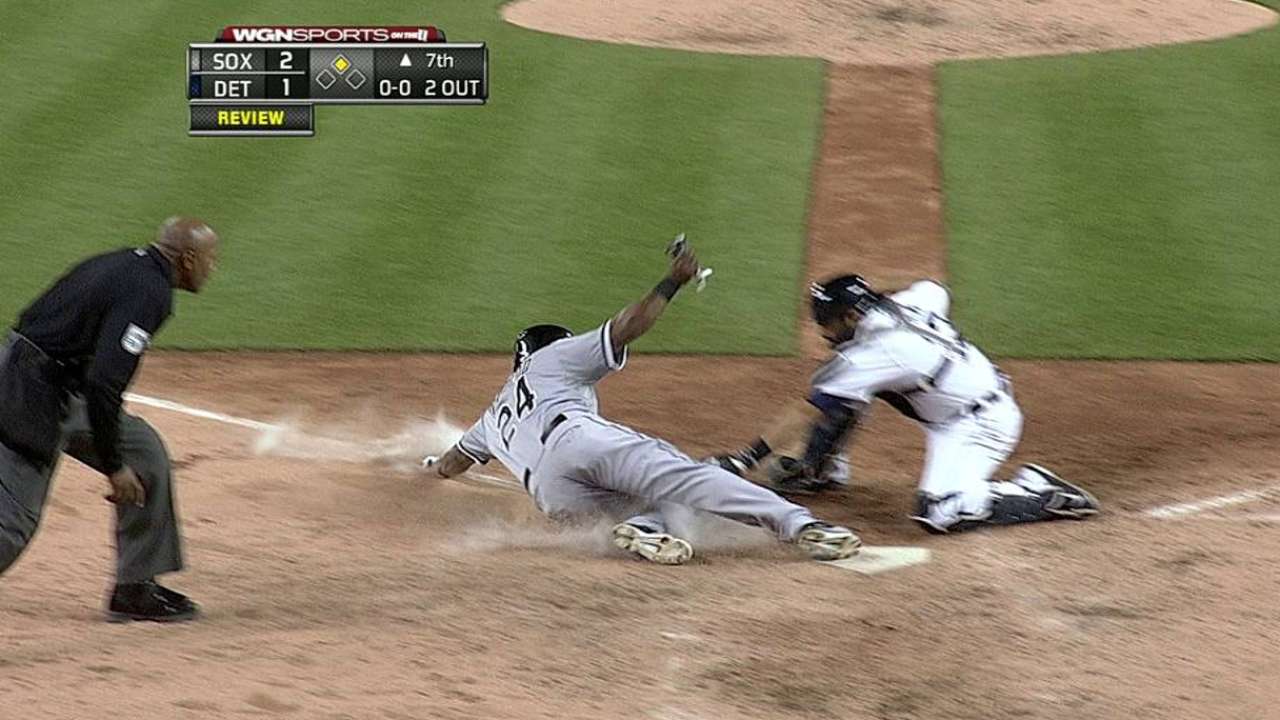 DETROIT -- When the ball initially left Rajai Davis' bat in the ninth inning of Monday's 3-1 White Sox victory over the Tigers at Comerica Park, it looked and sounded for a split-second that Detroit might have pulled off a gut-punching walk-off victory.
White Sox closer Matt Lindstrom (second save) knew differently immediately.
"I think he hit it off the end of the bat," Lindstrom said. "When I saw the contact, I said, 'That's not going anywhere.'"
Davis' fly ball, following Alex Avila's one-out double and a walk to pinch-hitter J.D. Martinez, found the glove of left fielder Alejandro De Aza. Ian Kinsler's ground ball to shortstop Alexei Ramirez finished off a second straight road victory for the White Sox (10-10).
Through the first six innings during this opener of a four-game set between American League Central rivals, the visitors had exactly three baserunners against starter Anibal Sanchez (0-2). Jordan Danks reached on an Austin Jackson error to start the game, De Aza walked with one out in the third and Marcus Semien started the fourth with a double.
Those meager fortunes all changed in the seventh.
The White Sox knocked Sanchez from the game with four hits and scored three times to erase a 1-0 lead, making a winner of John Danks (2-0). That rally also received a little boost from the replay system.
Conor Gillaspie started the seventh with a double to right and appeared to come around to score on Jose Abreu's ground-rule double down the right-field line. Torii Hunter had a long way to go to get to the ball and his slide came up short, but Hunter immediately signaled that the ball landed foul.
Detroit manager Brad Ausmus challenged the play, but the umpires ruled that the call stood via replay. Dayan Viciedo doubled home the go-ahead run, and then scored on Ramirez's single to left and a throwing error by Davis. But Viciedo was originally ruled out at home by umpire CB Bucknor, on a throw from Sanchez to Avila, as the White Sox right fielder stopped at third and then tried to advance on the wild throw.
Since White Sox manager Robin Ventura had lost his earlier challenge -- on an infield single by Nick Castellanos in the fourth inning -- he had to request for a crew chief review from Dan Iassogna. That review was granted and the out call was overturned.
"Kash is good. He got one," said Ventura of White Sox pregame instructor Mike Kashirsky, who is also involved with replays. "We're 50-50 tonight."
"Everything happens so fast. I feel good today. I held the ball better than the last time," said Sanchez, who fanned three and walked one over 6 1/3 innings. "The seventh inning, for me, was just a couple of mistakes, high balls. They were aggressive all night. They swing at a lot of first pitches. They found a hole."
Danks worked 6 1/3 innings and 101 pitches, allowing one run on six hits. He walked three, including two in the second to load the bases with nobody out, but escaped that inning by giving up just one run. His changeup kept the Tigers (9-7) off balance, and he took advantage of the aggressiveness of Avila, Andrew Romine and Davis in that second, when he retired the three on seven pitches after loading the bases, with five of those pitches coming in Romine's at-bat.
"Dodged a big bullet there," said a smiling Danks of the second. "Obviously, two walks in that inning are not good. But to get out of that one with just one run, where we were at, I guess you've got to take that. Try to keep myself out of those situations as best I can."
"He's been a good pitcher for a while," said Avila of Danks. "He's had some struggles when he's had his injuries and things like that. But for the most part, he has a really good changeup that he works along with his fastball.
Singles by Romine off of Danks and Davis off of Ronald Belisario put runners on first and third with one out in the seventh, but Kinsler hit the next pitch from Belisario for an inning-ending double play. Belisario worked a scoreless eighth before giving way to Lindstrom, who made things interesting before closing out the victory.
This win had a slightly bittersweet feel to it, with postgame news of White Sox ace Chris Sale going to the 15-day disabled list because of a flexor muscle strain in his left arm. But even that piece of news was encouraging when considering the worst-case scenario.
"I'm going to try to pick up the slack until then," said Danks of the return of his friend and rotation mate. "After we were down 1-0, I knew if I could keep it within a run or so, we had a chance. This team doesn't give up. This team plays hard and we really don't feel like we're out of any game.
"Sanchez threw the heck out of the ball today. It's fun to watch when it's not your offense out there. He did a great job and I'm glad we were able to hold them and those guys got some runs late."
Scott Merkin is a reporter for MLB.com. Read his blog, Merk's Works, and follow him on Twitter @scottmerkin. This story was not subject to the approval of Major League Baseball or its clubs.