Mets back above .500 thanks to shutout of Cards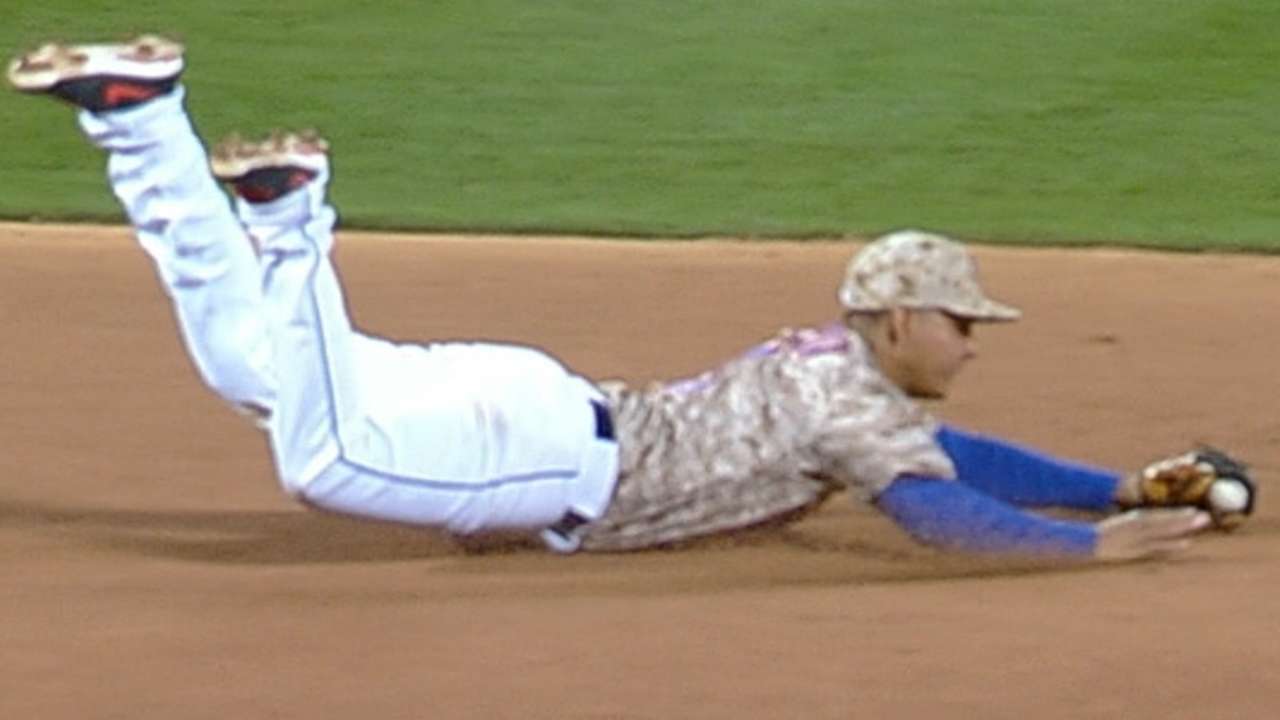 NEW YORK -- Through 19 games, the Mets continue to show their ragged edges at every turn. Their hitting is not where they want it to be. Their pitching has at times left much to be desired. They have hardly seized every opportunity in front of them, as manager Terry Collins readily admits.
But they are winning more often than not, and right now that's all that matters.
The Mets peeked back above .500 with a 2-0 win over the Cardinals on Monday, riding Jenrry Mejia's career-long scoreless innings streak, Travis d'Arnaud's improved hitting, some fine defense and Kyle Farnsworth's first save to victory at Citi Field.
From the start, Mejia was superb, striking out five over his first three innings. Showing no ill effects from the blister that forced him out of his previous outing after only 77 pitches, he buzzed his way through six innings without much issue.
"It bothered me a little bit, but last year I felt pain in here," Mejia said, pointing to the right elbow that required cleanup surgery over the offseason -- the insinuation being that if he could deal with that, he can deal with anything.
The Cardinals finally knocked Mejia out of the game by drawing back-to-back two-out walks in the seventh, but Scott Rice induced a ground ball to end that threat. After Carlos Torres pitched a scoreless eighth, Farnsworth entered and earned his first save as a Met.
Manager Terry Collins recently named Farnsworth the closer over Jose Valverde, who struggled in his attempt to replace injured ninth-inning man Bobby Parnell. After missing out on making the team in March due in part to poor velocity, Farnsworth has increased his fastball from the mid-80s to the mid-90s in a span of three weeks.
"I really don't look at that kind of stuff," Farnsworth said. "Arm strength comes over pitching in games and throwing. That's how arm strength comes along. So the looser you get, it's just one of those things. But I'm not concerned with velocity."
The Mets received all the offense they would need in the third inning, when David Wright's two-out single plated Eric Young Jr. (and also extended his hitting streak to 12 games). Insurance came in the form of d'Arnaud's RBI single in the sixth, though the Mets squandered a chance to do more with that rally after loading the bases with one out.
d'Arnaud finished with two hits, exorcising some of his early-season demons, but Curtis Granderson could not do the same, striking out three more times to sink deeper into what is now an 0-for-19 funk.
"I just need to get results," Granderson said. "I've just got to put the bat on the ball, put it in play, and hopefully, some good things will happen. That's the only thing really I can do."
For now the Mets are making up for Granderson's troubles with contributions from elsewhere. Collins singled out Rice and Torres for their performances on Monday, as they led a pitching staff that came through with its third shutout of the season and has not allowed a run in 17 innings. Shortstop Ruben Tejada came through with two fine defensive plays, including a highlight-reel double play to dampen the effects of a leadoff walk in the fifth.
But the star was Mejia, who increased his personal scoreless streak to 13 2/3 innings by pitching shutout ball into the seventh. Demonstrating better fastball command than he had in previous outings, he did not walk a batter until the fifth and struck out seven. He effectively shut down one of the best offenses in the National League, despite feeling the lingering effects of his blister.
Now entrenched in the rotation, Mejia should remain a significant part of it until his innings total begins climbing too high around midsummer. He is the embodiment of a team that did not know what to expect from him -- or themselves, in many ways -- just two weeks ago.
"He came to Spring Training bound and determined to be the fifth starter," Collins said. "There was a lot of talk this winter as to who it was going to be, and Jenrry put his mind to it. He got himself in great shape and … to pitch the way he did tonight, [it was] an outstanding job. We weren't sure what he was going to give us, and he gave us more than we expected, for sure."
Anthony DiComo is a reporter for MLB.com. Follow him on Twitter @AnthonyDicomo. This story was not subject to the approval of Major League Baseball or its clubs.