Red Sox unable to finish furious Patriots' Day rally
Winning run left in scoring position after comeback from six down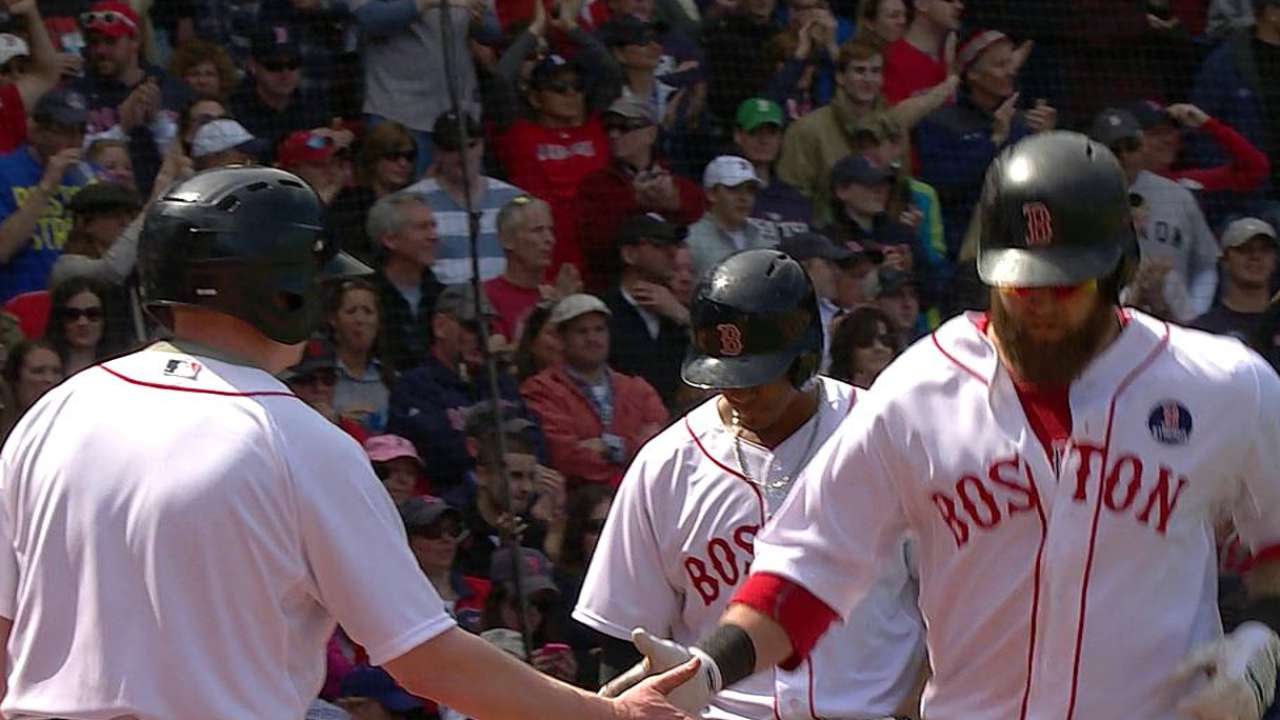 BOSTON -- The drama was building at Fenway Park on Monday afternoon, and it seemed like the Red Sox were on the verge of once again delivering an epic comeback against the Orioles.
This time, however, they fell just short in a 7-6 loss to Baltimore on Patriots' Day.
Considering they once trailed, 6-0, the Red Sox could not have asked for a better situation in the ninth inning. Down by just a run, Boston had the based loaded and one out, with the dangerous Mike Napoli digging in against Orioles closer Tommy Hunter. And this was coming on the heels of Sunday night, when the Sox came back from a 5-0 deficit to pull off a 6-5 win in walk-off fashion.
It was also Napoli who delivered the Red Sox a walk-off win on Patriots' Day last year with a double off the Green Monster.
This time, after working the count to 3-1, the slugger tapped an RBI groundout to second base, making it a one-run game and putting the tying and winning runs in scoring position. Hunter then got Mike Carp on a slow roller to first to end the game.
"I was just trying to get on base," said Napoli. "We were down a couple runs. I was just trying to stay short to the ball and get a pitch up I could handle. I wasn't going up there trying to hit a home run. I was just trying to stay short to the ball and get on base."
Despite the loss, it was a special day for anyone connected to the city of Boston. It was last year on Patriots' Day that tragic bombings marred the Boston Marathon.
This time, on a glorious spring day, the Marathon returned to normalcy. Runners dashed through Kenmore Square just beyond the ballpark, giving Fenway its typically festive Patriots' Day feel.
If Napoli or Carp could have delivered a walk-off win, the day would have been perfect. But one loss did little to tarnish an important day for a tight-knit community.
"Yeah, I mean, special day," said Napoli. "Of course, we wanted to go out there and win. We got down early. Our bullpen kept us in the game, kept chipping away, and we had a chance to win that game at the end of the game. So we fought hard, but it fell short. But we've got a big series [vs. the Yankees] coming up. We'll take it one day at a time and try to get on track."
Clay Buchholz is also looking to get on track. The righty was rocked for the second time in four starts, and he slipped to 0-2 with a 7.71 ERA.
Buchholz lasted just 2 1/3 innings, giving up seven hits and six runs.
"He was a little bit flat," said Red Sox manager John Farrell. "Couldn't seem to stop the momentum in that third inning. We get behind by those six runs and got in a hole. We did a great job of coming back. The bullpen did an outstanding job once again. But the six-run deficit in that third inning proved the difference."
After enduring shoulder problems in the middle of last season and then fatigue in the postseason, Buchholz is still regaining his arm strength.
"Not quite there," said Buchholz. "It feels like it's getting better. I feel like later -- well, there wasn't really 'later' in the game today -- but later in the past two games, if I wanted to reach back, there were 92s and 93s there. That usually comes pretty easy. I'm struggling with that a little bit right now. But that'll come together. It's still pretty early. We still have a lot of time left in this first half to pull it all together and go from there."
Reliever Burke Badenhop was a big bright spot for the Red Sox in this one, firing 3 2/3 shutout innings out of the bullpen to buy his team time to make a comeback.
In the fifth, the Boston bats, stifled early by Wei-Yin Chen, came to life. Jackie Bradley Jr. got Boston on the board with an RBI double to right. Brock Holt followed with a sacrifice fly, Dustin Pedroia ripped an RBI double to left, and it was suddenly a 6-3 game.
David Ross nailed a solo homer to left in the sixth against lefty reliever Zach Britton, and the deficit was down to two runs.
When Napoli launched one over the wall to open the eighth, it was a 7-5 game. And after singles by Xander Bogaerts and Daniel Nava, the Red Sox had a promising chance.
Jonathan Herrera was sent up as a pinch-hitter for Ross, but that didn't end well. Bogaerts was caught trying to steal third as Herrera struck out on a 3-2 pitch.
After nearly getting picked off second on the previous pitch, Bogaerts didn't make it very far toward third when he was caught in a rundown, unable to retreat to second because Nava was already there after an attempted double steal.
"It was a miscommunication," said Bogaerts. "Can't get an out there, you know? I mean, first and second, can't get an out right there. I guess I saw something I didn't really see."
But the gaffe by Bogaerts seemed forgotten when the excitement mounted in the ninth. Holt reached on a one-out infield single. Pedroia then cranked a double to left, and Orioles manager Buck Showalter ordered an intentional walk to David Ortiz.
Hunter ultimately got the job done, retiring Carp on a groundout with the tying and winning runs in scoring position. He certainly made it more interesting than the Orioles wanted.
"I was pretty calm," said Hunter. "I thought I threw some pretty good pitches. Make a mistake to Pedroia. These guys give you a little cushion, and the job's to go in there and close them out in the ninth. And that's kind of what happened."
Now, the 9-11 Red Sox get ready for a three-game showdown with the Yankees, which starts Tuesday night at Fenway.
"It seems like we go out one night and we hit and we don't pitch, and when we pitch, we don't hit," said left fielder Jonny Gomes. "For us, it's not clicking on all the cylinders. I think we're still doing all right."
Ian Browne is a reporter for MLB.com. Read his blog, Brownie Points, and follow him on Twitter @IanMBrowne. This story was not subject to the approval of Major League Baseball or its clubs.