O's ride six-run third to matinee win over Red Sox
With less than 12-hour turnaround, bullpen helps stave off late rally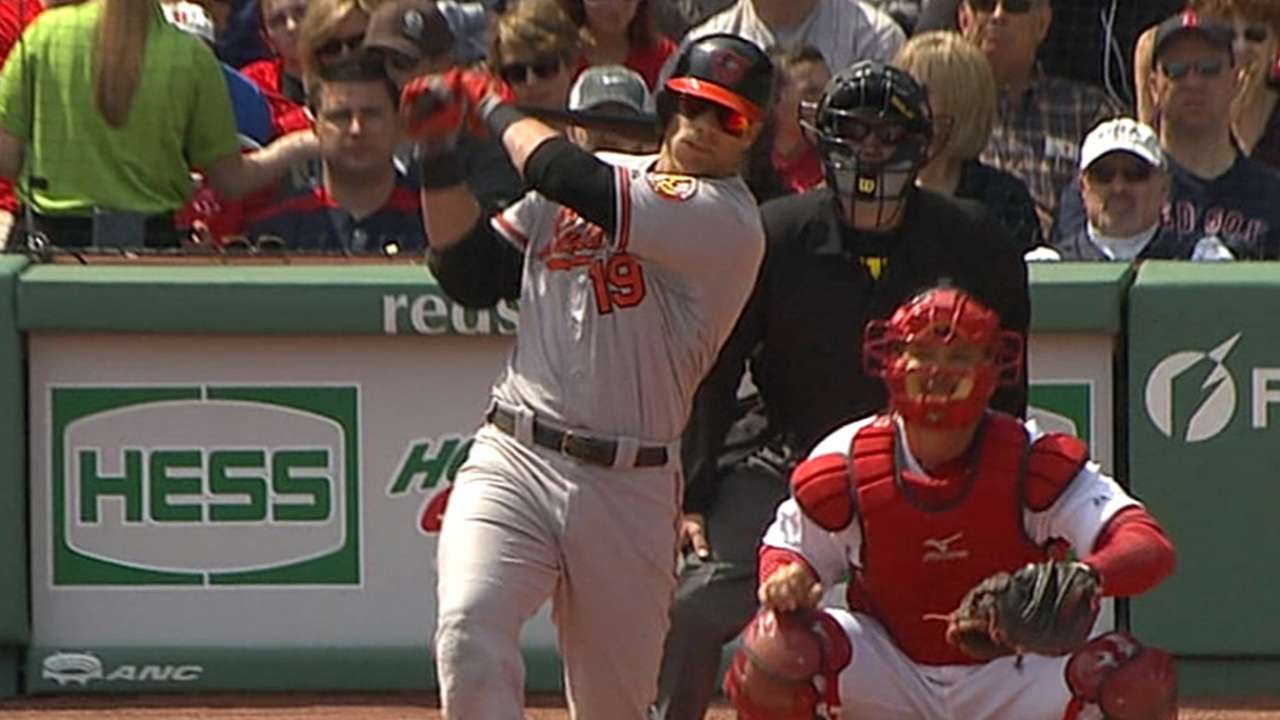 BOSTON -- With all eyes on the city of Boston, the sleep-deprived Orioles managed to fend off several furious rallies by the Red Sox in Monday's matinee, easing a tough loss less than 12 hours before and proving their mettle yet again.
The O's, who blew a five-run lead in Sunday night's walk-off defeat, had a 6-0 lead after the top of the third inning before barely hanging on for a 7-6 series-evening victory at Fenway Park, showcasing perhaps their own endurance in a game that coincided with the one-year anniversary of the Boston Marathon attacks.
"It's emotionally draining, both mentally and physically," Orioles catcher Steve Clevenger said of the four-game divisional set, which puts Baltimore at 9-9 as the club heads to Toronto. "It's a different animal in the AL East than any other place."
Monday morning's 11 a.m. ET start might have felt like a Spring Training schedule, but the game quickly took on a more important feel than a regular April day game, with a sellout crowd equal parts emotional and electric in the Red Sox's relentless rally attempts.
Leading, 7-5, the O's caught a big break in the eighth as the Red Sox, already with one run across, ran themselves out of the inning, then closer Tommy Hunter pitched out of a bases-loaded spot in the ninth.
"This is a lot of those same guys from '12," Hunter said, referring to the Orioles team that advanced to the American League Division Series. "We won quite a few one-run games, quite a few extra-inning games. This is not a team to ever give up on. And especially considering the circumstances -- playing last night, really late and waking up today. I'm on a pretty good team."
After Hunter gave up Brock Holt's one-out single, pesky Dustin Pedroia doubled off the Green Monster -- his fourth time on base -- and Hunter intentionally walked David Ortiz to get to Mike Napoli. Napoli grounded out to second baseman Steve Lombardozzi to score Holt and bring Boston within a run, but Hunter held it there as Mike Carp bounced out to first base to end it.
"You're in the East, the best in baseball," center fielder Adam Jones said of the impressive job by Hunter, who is 5-for-6 in save opportunities. "You're always one pitch away, especially in a one-run game, from being tied -- especially with this offense. They can tie the game up very, very quickly, or make havoc for you. They grind it out. That's the beauty of this game. That's why we love the competition, and we stuck it out."
The O's were fortunate in the eighth, as Darren O'Day -- tasked to protect a three-run lead -- served up a leadoff homer to Napoli. One out later, the Sox put pair of runners aboard with Xander Bogaerts' hit and an infield single from Daniel Nava. Nava's hit, which deflected off O'Day's glove, prompted manager Buck Showalter to go with lefty Brian Matusz. Matusz struck out pinch-hitter Jonathan Herrera and Bogaerts got caught up trying to advance to third base, with backup Clevenger firing to Lombardozzi at second base to get him caught in a brief rundown.
"There's two and three ways to run it. Because [Bogaerts] never committed himself, Stevie did a good job," Showalter said. "Pretty much as textbook as you want to see it done. He runs a little better than you'd think he does."
The heads-up play was followed by a key tack-on run from shortstop Ryan Flaherty, who singled in Clevenger off Red Sox reliever Craig Breslow. It was the only run Baltimore would muster up off Boston's bullpen, which held up well after starter Clay Buchholz struggled mightily.
The Orioles jumped out to an early lead, scoring six runs in the third inning to chase Buchholz from the game. The right-hander, who slept at Fenway Park given the quick turnaround, never looked awake in the morning contest, with the O's putting up seven hits before Buchholz exited.
"Every single day, these guys have an opportunity to do something special," Jones said, "and we're going to grind it out."
Chris Davis tied a career high in reaching base in his 17th consecutive game, drawing two walks to raise his total to 12. He also singled and scored in the third.
Things got started in Buchholz's final inning with five straight singles, beginning with Lombardozzi. Jones' groundout also scored a run, and Clevenger delivered an RBI double before Buchholz left in favor of Burke Badenhop.
"[Buchholz] was a little bit flat," Red Sox manager John Farrell said. "Couldn't seem to stop the momentum in that third inning. We get behind by those six runs and into a hole, but we did a great job of coming back. The bullpen did an outstanding job once again. But the six-run deficit in that third inning proved the difference."
Wei-Yin Chen was the second consecutive Orioles starter to dominate early, not allowing a hit until Ortiz's fourth-inning single. The lefty couldn't escape trouble in the fifth, however, with Boston again putting two men on with a walk and a single, and Jackie Bradley Jr. hitting an RBI ground-rule double into right field.
The Red Sox added on with a sacrifice fly, and Pedroia doubled down the left-field line to cut the O's lead to three. Chen got Ortiz to ground out to end the inning and his afternoon as the lefty exited in favor of right-hander Ryan Webb.
Webb struck out the side in the sixth before lefty Zach Britton came on and served up his first earned run of the year on a one-out solo homer from David Ross. Britton brought the go-ahead run to the plate in Ortiz, after a two-out single from Holt and Pedroia's walk, but he got Ortiz to ground into the shift to hold the lead in his first career back-to-back appearance.
"The one last night got away from us, and it started building up in the same situation again in today's game," Clevenger said, "but we kept our composure and threw strikes and made plays we needed to make."
"I'm impressed with both teams. There's a lot of pride involved," Showalter said of the game's intensity. "I was talking to Jonesy about the seventh inning, and he was gassed, absolutely gassed. To have him say that, it just tells you what a challenge it was for these guys, professional athletes. I start getting worried sometimes we are putting these guys in harm's way. There's got to be a better way to do it. But we'll take it."
Brittany Ghiroli is a reporter for MLB.com. Read her blog, Britt's Bird Watch, and follow her on Facebook and Twitter @britt_ghiroli. This story was not subject to the approval of Major League Baseball or its clubs.