MLB.com Columnist
Roger Schlueter
MLB Notebook: Crew headlines extra extras
Reynolds, Braun and Davis use solo shots to give Milwaukee win in 14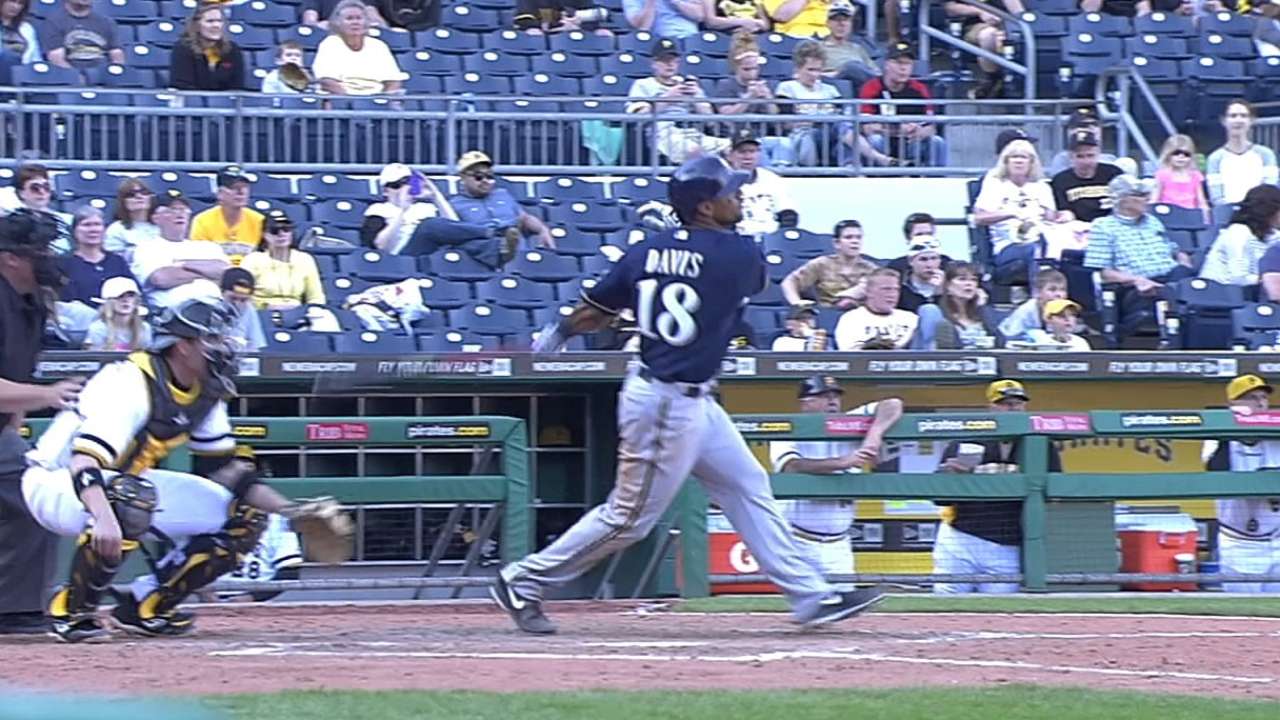 The 2013 season produced 243 extra-inning games, the most in any year since the Devil Rays and Diamondbacks joined up in 1998 to give the Majors 30 teams. Last season, 24 of the 243 came within the season's first 280 games. This year, thanks in part to a pair of 14-inning affairs on Sunday, there have been 29 extra-inning contests through the season's first 277 games. Four teams -- the Athletics, Dodgers, Angels and Mets -- have played in four extra-inning tumbles, with Oakland the only one of that quartet to have a winning record (3-1). On the bottom, the Padres, Reds and Indians have managed to get through their first three weeks without playing in a single extra-inning affair.
The Brewers used a pair of game-tying, solo homers from Mark Reynolds in the eighth and Ryan Braun in the ninth, and a go-ahead, solo home run from Khris Davis in the 14th to defeat the Pirates, 3-2.
Before this game, the Milwaukee franchise had been a part of eight victories in which it hit at least three home runs and had all of its scoring come from solo home runs. It had last happened in a 3-0 win against the Mets on September 16, 2012.
Braun's game-tying home run in the ninth was his second game-shifting, ninth-inning long ball in as many days (on Saturday, he hit a go-ahead, two-run home run). Both came against Jason Grilli, and give Braun seven career homers in the ninth inning that either tied the game or gave his team the lead (which includes walk-offs). Those seven since 2007 tie Braun with five others for the fifth most in the Majors. Miguel Cabrera leads with 13, Cody Ross has nine, and Dan Uggla and Brandon Inge each have/had eight. Jason Giambi, Alex Rodriguez, Paul Goldschmidt, Andre Ethier and Ryan Zimmerman also have seven.
Winning roll of the Dice
Making the third relief appearance of his career, Daisuke Matsuzaka fanned five in three hitless innings, adding his contribution to a Mets relief effort that finished with eight innings of four-hit ball. With the work, the Mets defeated the Braves in 14 innings.
Dice-K is the 18th Mets reliever to have an appearance with at least five strikeouts and no hits allowed. Jesse Orosco had three of these 18, and Randy Myers and Skip Lockwood each had two.
The Mets had last defeated the Braves in a game lasting as long as 14 innings on May 5, 2006. David Wright went 3-for-5 in that game (an 8-7 win), and on Sunday, he was 4-for-6, with one hit in two at-bats in extra innings. For his career, Wright is a .342 hitter in extra innings (third highest among active players with at least 100 plate appearances in the split). Among active players with at least 100 plate appearances in extra innings, some of the rate stat batting leaders:
• Batting average: Nick Markakis (.402)
• On-base percentage: Jason Giambi (.487)
• Slugging percentage: Albert Pujols (.719)
• OPS: Albert Pujols and Adam Dunn (1.145)
Oh, K!
Nationals right-hander Stephen Strasburg fanned nine against one walk in a six-inning stint. Strasburg has fanned 42 in 27 innings this season (14.00 K's per nine).
The franchise record for strikeouts in March/April belongs to Javier Vazquez, who struck out 58 in 2003. That April, Vazquez worked 39 2/3 innings, giving him a K/9 of 13.16, the highest for any Expos or Nationals pitcher in March/April (min. six starts).
Lucky seven
The White Sox used a seven-run ninth inning to turn a 9-2 stroll into a 16-2 blowout of the Rangers.
The burst represented the highest run-scoring ninth inning for Chicago since the club plated eight runs in a 13-2 victory over the Yankees on Sept. 13, 2002. Still, the seven runs in this ninth inning are just half of what it would take to establish a new American League record. The 1978 Angels (Sept. 14) and the 2001 Tigers (Aug. 8) share the record, having scored 13 runs in the ninth. Interestingly, those two games -- like this one -- saw the burst come against the Rangers.
The White Sox have scored 106 runs -- the most in the AL and tied with the Rockies for the most in the Majors -- and are on a per game pace that would give them about 162 runs scored by the end of April. They've only reached that tally in one previous March/April: 2000, when they scored 181.
Here and there
In the Yankees' 5-1, 12-inning victory over the Rays, the go-ahead run in the top of the 12th came on a bases-loaded walk by shortstop Dean Anna. Anna is the first Yankees player to plate a go-ahead run with a bases-loaded base on balls in the 12th inning or later since Andy Stankiewicz did it in the top of the 13th on Sept. 7, 1992, against the Orioles (he was also playing shortstop).
Miami's Giancarlo Stanton drew an intentional walk for the third straight game, giving him five for the season. The streak leaves Stanton one shy of the team record (set by Carlos Delgado in September 2005), and the five in 2014 match his season total from '13. Stanton leads the Majors in RBIs, is tied for the big league lead in home runs. He is 11-for-26 with runners in scoring position and 17-for-38 with men on base.
Homer Bailey fanned eight in six scoreless innings and picked up the win as the Reds defeated the Cubs, 8-2. Bailey is 7-0 in his past 10 starts against Chicago, with a 3.08 ERA. Dating back to 1914, two Reds starters have posted longer undefeated streaks against the Cubbies: Jack Billingham (8-0 in 12 starts from May 28, 1973, through April 30, 1977) and Jose Rijo (8-0 in 11 starts from May 21, 1990, through May 1, 1993).
Luis Sardinas (20 years and 339 days old) made his Major League debut, subbing in for Rangers shortstop Elvis Andrus. Since the start of the 2008 season, the Rangers have had three position players make their Major League debut before turning 21 -- Sardinas joins Andrus (20.223) and Jurickson Profar (19.195). No other team since '08 has that many.
Oakland's Josh Donaldson had a pair of doubles and a home run, drove in three runs, and helped the Athletics to a 4-1 win over the Astros. Among players with at least 600 plate appearances and 75 percent of their games at third since the start of the 2013 season, Donaldson's OPS+ since then is the second best in the Majors, behind that of the Tigers' Cabrera.
After going four consecutive games without an extra-base hit (the team's longest stretch since 1968), Philadelphia erupted for seven in a 10-9 victory against Colorado. In this game, Jimmy Rollins doubled and homered (and added a single to fall a triple shy of the cycle), and he now has 769 career extra-base hits. Four players with at least 67 percent of their career games at shortstop have reached 800 or more: Cal Ripken Jr. (1,078), Honus Wagner (996), Derek Jeter (849) and Joe Cronin (803). Rollins also currently sits behind Miguel Tejada and his 798.
Roger Schlueter is senior researcher for MLB Productions. This story was not subject to the approval of Major League Baseball or its clubs.