What's Next: A's, Brewers lead the pack
Oakland was expected to be a contender, but Milwaukee has been a surprise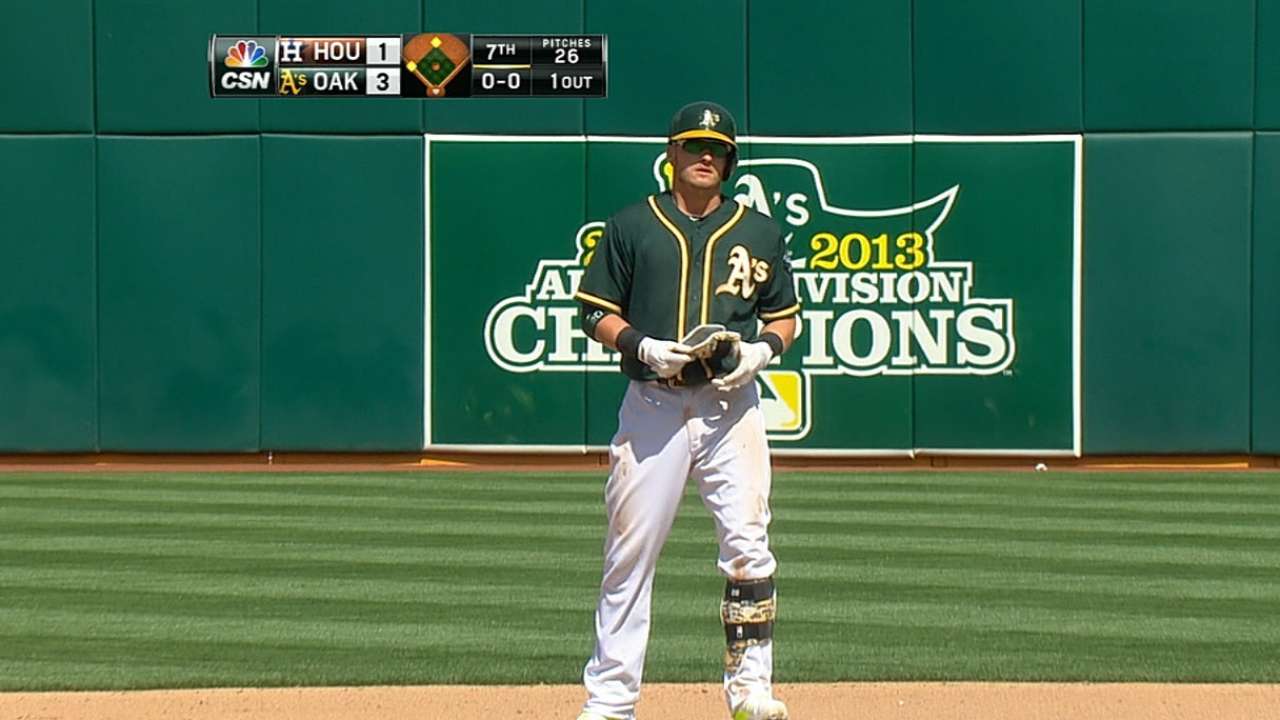 The Oakland A's are back-to-back American League West champions, so they're expected to be there. The Milwaukee Brewers are talented and putting it all together, even though they weren't expected to be there.
As Major League Baseball steams ahead into the fourth week of the 2014 season, one has to wonder What's Next for the teams with the best records in the AL and National League. For the A's and Brewers, the targets have been firmly embroidered onto the backs of their uniforms. How they respond this week and beyond could help dictate what goes down in October.
Oakland seems to be cruising along with its 2012 and 2013 M.O., showing off incredible pitching depth while smarting from a few key injuries, getting the key hit from anywhere in the lineup, catching the ball, knocking it out of the park on occasion and taking care of business at home, often in ludicrous walk-off fashion.
The A's beat the Astros on Sunday to take their third victory in a row, and they enter the week -- and series against division rivals Texas and Houston -- with an AL-best 13-5 record. They have two walk-off wins already this year and 26 since the beginning of 2012.
"That's one of the best characteristics of this team," A's shortstop Jed Lowrie said. "We had that last year, and we're off to a good start this year of really grinding out those last-inning at-bats and making it tough on the other guys, never making it easy on them."
The same can be said for the Brewers, who enter the new week with a fresh three-game winning streak of their own. Milwaukee has already won nine in a row this year and has vaulted to the top of the NL Central standings.
Already there's been drama, with a benches-clearing brawl against the Pirates during a 14-inning victory on Sunday afternoon. This week, the Brew Crew will stay home for three-game sets against the Padres and Cubs while trying to extend its NL- and MLB-best 14-5 record.
"Sometimes good teams find a way to win, and these are the types of games that we wouldn't have won over the last couple years that early in the season we're finding a way to win," Brewers slugger Ryan Braun said. "So, definitely encouraging."
Meanwhile, there are encouraging signs for teams and players elsewhere around the Major Leagues, and it should only continue this week.
We'll see if Angels first baseman Albert Pujols, for example, can become the latest player to reach the 500-home run mark for his career. All that's needed for Pujols, who hit No. 498 on Saturday against the Tigers in Detroit, to accomplish this feat this week is to hit two long balls in his team's six games on a road trip that will take the Angels to Washington to play the Nationals and to New York to take on the Yankees.
In less historic news, Marlins outfielder Christian Yelich has a chance to keep a good hitting streak going. Yelich has hit safely in 14 consecutive games and will try to go for 15 when his team hits the road for three-game series against the Braves and Mets.
"Winning," Yelich said, "is bigger than [keeping the hitting streak intact]."
Winning is what a couple of older pitchers have been doing despite the odds, and they'll try to keep it going this week as their remarkable early seasons continue.
Mark Buehrle of the Blue Jays, who turned 35 in March, enters the week with a 4-0 record, a 0.64 ERA, and a pretty good sense of humor. We'll see if he can improve to 5-0 in his next scheduled start, which is slated for Friday at home against the Red Sox.
Tim Hudson, who came back from an ugly ankle fracture last year and signed with the Giants, has been impressive in another category. The right-hander, who will turn 39 in July, is 2-1 with a 2.71 ERA and has not walked a batter in 30 innings -- a franchise record to begin the season. Hudson, who could make his next start Friday or Saturday at home vs. Cleveland, could only guess at why his command has been so good so far this year.
"I think mechanically I've been staying in line with the catcher a lot more than I have been," Hudson said. "I know I'm not quite as powerful off the rubber. Maybe because of that I'm staying more sound mechanically."
Hudson will likely pitch in an enticing Interleague matchup over the weekend, but before that, we'll see a host of marquee series, from the AL East battles between the Orioles and Red Sox and then Yankees and Red Sox, to the Central tussles between the Reds and Pirates, Royals and Indians, and White Sox and Tigers.
The Angels and Nationals could provide some Interleague intrigue, and Friday through Sunday will percolate even more with Royals-Orioles, Red Sox-Blue Jays and Reds-Braves.
On Monday, one of the best pitchers in the game will pitch for his team at home, and that team will lean heavily on him to put an end to a six-game losing streak. That would be Felix Hernandez and the Mariners. Hernandez, who enters the game against Houston with a 3-0 record, a 1.91 ERA and 39 strikeouts and three walks in 28 1/3 innings, is looking forward to the challenge.
So are the players around him, who are eager to snap out of their recent funk.
"It's a team," Mariners reliever Danny Farquhar said. "It's not pitchers or hitters or one guy. It's everybody doing their part. We're on a little skid right now, and we'll bounce out of that."
Doug Miller is a reporter for MLB.com. Follow him on Twitter @DougMillerMLB. This story was not subject to the approval of Major League Baseball or its clubs.