Miscues costly as O's fall to Red Sox in ninth
Three errors, including one on last play of game, doom Baltimore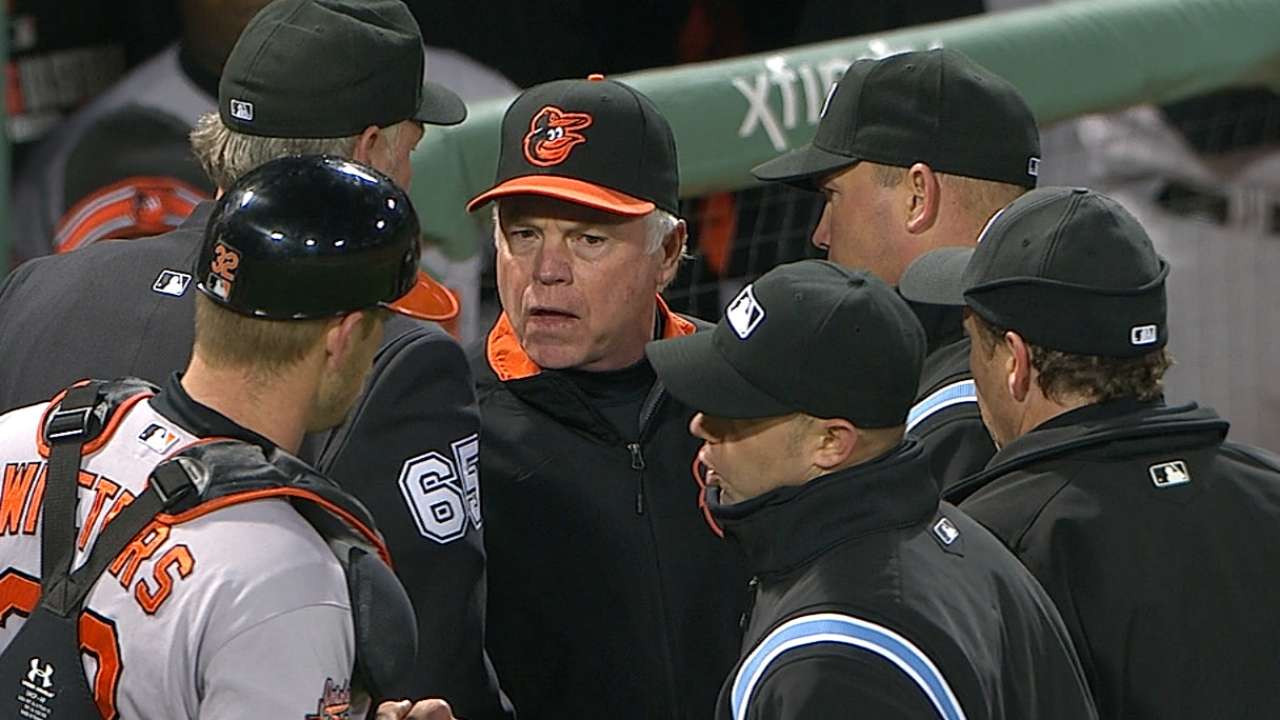 BOSTON -- The Orioles lost shortstop J.J. Hardy after the sixth inning. And he took the game's outcome with him.
It's impossible to tell if Baltimore's fate would have been different had Hardy not suffered a right hamstring injury running the bases in his fifth-inning at-bat. But the Orioles, who had a five-run lead and starter Ubaldo Jimenez carrying a shutout into the sixth, watched things unravel in ugly fashion after the anchor of their infield departed.
Baltimore committed three errors, the last charged to David Lough on his throw in from left field that allowed the Red Sox to complete the comeback and walk off to a 6-5 win that leaves the O's looking to earn a series split heading into Monday's finale of the four-game set in Boston.
"That's why [baseball is] so tough," said Jimenez, who exited after allowing three runs over 5 1/3 innings. "Sometimes you feel you have the game in your hand, and then everything disappears."
With the score knotted at 5, lefty Brian Matusz came on to work the ninth inning, and Boston came close to ending it on Dustin Pedroia's one-out double off the Green Monster. The ball, which appeared to deflect off a fan's hands, was nearly a home run. The umpires reviewed it and ruled that the play would stand as called, meaning the video was inconclusive. Pedroia moved to third on Matusz's wild pitch to David Ortiz, whom he then intentionally walked before being replaced by righty Darren O'Day.
O'Day hit Mike Napoli in the left knee to load the bases, and pinch-hitter Mike Carp sent a ball into left field that Lough caught on the run and fired toward home to try to get Pedroia -- who wasn't tagging on the play. Instead, the errant throw -- which Jonathan Schoop appeared to have a chance to cut off near third -- skipped by catcher Matt Wieters, allowing Pedroia to come home with the winning run as the Red Sox dugout piled out in celebration of yet another play gone haywire for the Orioles.
"I should have caught the throw," said Schoop, who moved from second base to third in Hardy's absence. "When the line drive went, I went to the base. As soon as he hit it, everybody was thinking it was a hit, and then I ran to the base, because I thought maybe we could catch him [off the bag] and get a double play there. And when he made the catch, I saw Pedroia make the tag. I wasn't able to react to the cutoff."
Manager Buck Showalter, who met with the umpires briefly on the field immediately postgame to ensure every Red Sox runner had tagged properly, said Lough's throw was a little off, and the manager wasn't sure what was going through Schoop's mind on the final play.
Unfortunately for the Orioles, it wasn't the only head-scratching play of the game.
Hardy's injury, which has the shortstop considered day to day, took full effect in lefty reliever Zach Britton's second inning. Britton replaced Jimenez after Jonny Gomes' three-run homer, and recorded the final two outs of the sixth before Boston tied it up in a sloppy seventh with a pair of unearned runs.
Britton, who has not allowed an earned run in 12 1/3 innings, gave up a one-out single to Brock Holt, and the Orioles committed their fifth error of the season on Ryan Flaherty's transfer miscue. Flaherty, who shifted to shortstop to start the inning due to Hardy's injury, caught the ball from Britton at second base, but dropped it while making the transfer, a newly enforced rule that allowed the Red Sox to have men safe on first and second.
"That's the way the rule is," Flaherty said of the hotly debated transfer play. "I didn't turn the double play like I should have."
Boston capitalized, with Pedroia singling and Ortiz knocking in a run to close the gap to one and prompt Showalter to insert Evan Meek. Meek got a grounder from Napoli, and Schoop fielded it cleanly, but his throw to home was off line, allowing the Red Sox to tie it up.
Showalter, who like many others around baseball has been confounded by the new interpretation of the transfer rule, said he never thought about challenging the play.
"It's a waste of time," he said. "That hasn't been overturned all year. I've got a young pitcher out there, a cold pitcher, it's 40 degrees. They would look at it for about thirty seconds, that's the good news. They haven't overturned one of those all year. Wasn't even worth challenging. Maybe in two weeks it will be. Which is what I'm hearing."
Meek struck out Daniel Nava to leave the bases loaded, and retired the side in order in the eighth.
The Orioles had a chance to go ahead in the ninth but squandered their second consecutive leadoff opportunity. Adam Jones doubled for his fourth hit of the night, off Red Sox reliever Andrew Miller and moved to third on Wieters' groundout, but Steve Lombardozzi -- who entered the game in the seventh due to Hardy's injury -- hit a dribbler back to the mound. Edward Mujica, on because Red Sox manager John Farrell thought the O's had called on Delmon Young to pinch-hit, struck out Lough to keep the game tied.
"The much-talked-about transfer play comes into our favor tonight," Farrell said of the play. "We're able to chip away two runs to tie things up. just a heads-up play by Pedey to get back and tag, and an errant throw is a difference in the end."
For five innings, it looked like this was the Ubaldo the Orioles had been waiting for. The right-hander dominated Boston early, not allowing a hit until Gomes' two-out double in the fourth. But it was Gomes who doomed Jimenez in his next at-bat, sending a 2-2 slider just on the right side of the foul pole down the left-field line for a three-run homer to bring Boston within two. The dinger, preceded by a long single from Ortiz and a walk to Napoli, chased Jimenez from the game.
"I felt my mechanics were working," said Jimenez who showed some encouraging signs in Sunday's start. "I was able to throw a fastball a lot, locating the fastball and the breaking ball for a strike, too."
The Orioles' offense worked Boston starter Jake Peavy for three runs in a 25-pitch first inning and chased him after 5 2/3 innings, marking the first time in four games the righty had failed to complete six. The O's scored five runs off Peavy, who had allowed four earned runs combined in 18 2/3 innings coming in.
Nelson Cruz got things started one out into the game, sending Peavy's first pitch of the at-bat into the Green Monster seats in left field. Wieters followed with an RBI single, scoring Chris Davis, to push it to two, with Hardy plating Jones on a deep sacrifice fly.
Lough, who was 4-for-34, extended the O's lead with a two-out ground-rule double in the fifth inning to score Wieters. Schoop doubled to open the following frame, scoring on Jones' third hit -- an RBI single that chased Peavy from the game. But it wasn't enough as the O's left 11 men on base and couldn't add on to their early lead, exposing a defense that was less than optimal.
"That was the difference in the game," Showalter said of his club throwing the ball around.
"That [transfer play] was one of them. There was something we could have done to not make it matter."
Brittany Ghiroli is a reporter for MLB.com. Read her blog, Britt's Bird Watch, and follow her on Facebook and Twitter @britt_ghiroli. This story was not subject to the approval of Major League Baseball or its clubs.