Astros search for spark after falling in Oakland
Houston limited to Gonzalez's solo homer as slow start continues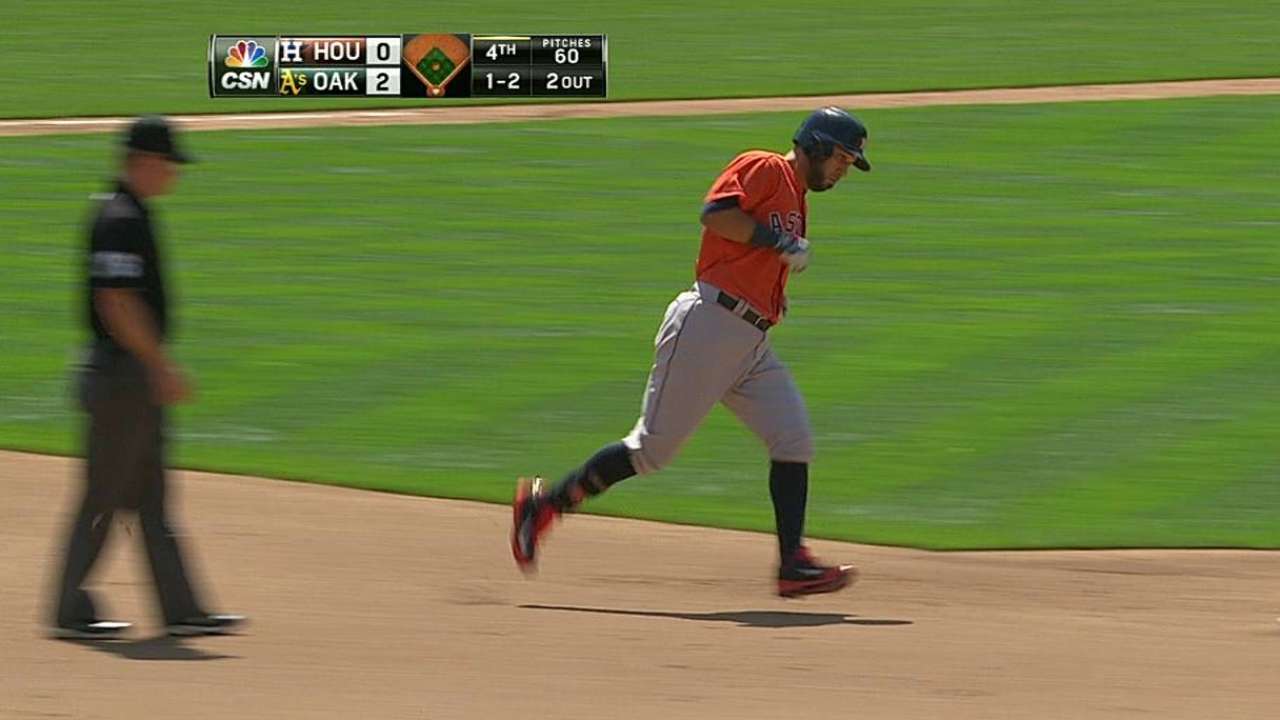 OAKLAND -- The consensus in the Astros' clubhouse on Sunday afternoon was the team has simply not lived up to its expectations through the first 19 games of the season.
Not that anyone thought the Astros would contend in the rugged American League West at this stage of their rebuilding process, but they were expected to take a step forward this season based on the experience their youngsters received last year and the additions that were made.
After the A's polished off a three-game sweep with a 4-1 win at the O.co Coliseum that was the Astros' seventh consecutive loss, Houston manager Bo Porter and some of his players expressed frustration and surprise at starting 5-14 for the second season in a row.
"It doesn't matter if it's the beginning of the year, middle of the year or end of the year, losing is always frustrating," Porter said. "We have an underperforming team right now. When you underperform and you make the mistakes we make, that's going to be the result."
Astros catcher Jason Castro was asked if he was surprised the team has gotten off to another slow start.
"I think we're definitely an improved team," he said. "We'll show it. It's still early. We're not worried, obviously. We're going about our business the way we know how to and will keep doing our work, and we'll start turning the tides here shortly."
Veteran pitcher Jerome Williams, who allowed two runs on five hits in three innings in relief, said the team needs to keep grinding.
"You look at the talent in this room, and we can compete with anybody," he said. "It's just not clicking. It's just got to click. Just have everything work at one time, and it will be fine."
The Astros were held to five hits, scoring a run in the fourth on a homer by Marwin Gonzalez. Jose Altuve led off the game with a bloop double, Dexter Fowler had an infield hit off starting pitcher Jesse Chavez's glove, and Gonzalez and George Springer added singles.
Houston went 1-for-8 with runners in scoring position Sunday and 4-for-26 in the series. They are hitting .149 in those situations this year.
"Hitting with men in scoring position, you have to be able to use the whole field," Porter said. "Again, when you get a pitch in those situations, you can't miss it. You take it. You can't foul it off, you can't swing and miss."
The Astros' best chance to add to their lone run came in the seventh, when they had runners at second and third with two outs for Castro, who flied out to left against reliever Sean Doolittle to finish an 0-for-3 day.
"We're close," Castro said. "We're getting guys on and need to get those timely hits. That's all it comes down to."
Astros starter Brad Peacock, a former A's farmhand, threw quite well in his first start of the season. He needed 83 pitches to work five innings and allowed five hits and two runs on Josh Donaldson's homer in the first. Donaldson went 3-for-4 with three extra-base hits and drove in three runs.
"I knew I was going to be on a pitch limit and just tried to get to five innings," Peacock (0-2) said. "I felt great today, though."
Chavez (1-0) allowed four hits and one run while striking out six, five of which came in a six-batter span between the fourth and sixth innings. He became the first pitcher in A's history on the Opening Day roster to allow one earned run or fewer in each of his first four starts while throwing at least six innings.
"It was just one of those days that I had to work," Chavez said. "We'd like them to all go that way like the first three did, but today was one of those days where I had to make pitches and see pretty much what I was made of as a starter. Fortunately today it worked out and our defense played great."
Springer singled to left in the first inning and has hit safely in each of his first five Major League games. The right fielder also made a spectacular diving catch in the first inning to run down a Coco Crisp popup near the right-field line.
"We just need to stick together and go out there and play hard," he said. "If we go down, we're going to go down swinging."
Castro, the team's leader, said the effort and preparation are still there.
"That's something you're never not going to see from us," he said. "We're going to put in the effort. The outcome might not be there all the time. It's tough when collectively we started off a little slow, but the effort is going to be there. Guys are putting in extra work trying to get through it, and that's all we can ask for."
Brian McTaggart is a reporter for MLB.com and writes an MLBlog, Tag's Lines. Follow @brianmctaggart on Twitter. This story was not subject to the approval of Major League Baseball or its clubs.