Royals' streak ends behind shaky Ventura
Rookie starter walks four and his wild pickoff throw leads to a run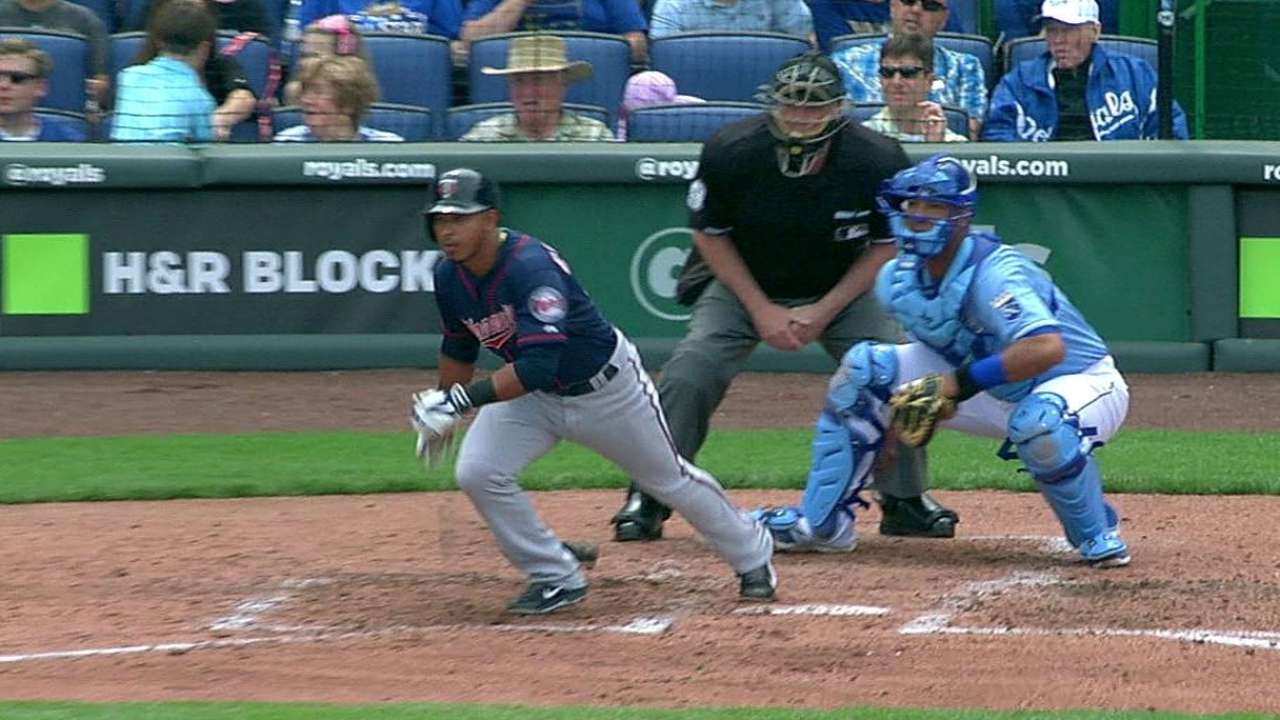 KANSAS CITY - Just when the Royals were threatening to make a charge, Brian Dozier got in the way.
Dozier, the Twins' second baseman, dove and started a crucial double play that helped the Twins stop the Royals' five-game winning streak, 8-3, on Sunday with an Easter crowd of 17,710 at Kauffman Stadium.
"That's a game-changer," said Twins third baseman Trevor Plouffe.
Plouffe did some game changing himself with two doubles, a triple, two RBIs and two runs.
It was Plouffe's two-run double that helped Royals rookie Yordano Ventura's day get off to a bad start. Dozier opened the first inning with a single, Joe Mauer walked and Plouffe's double to deep right center scored both of them.
Ventura's first Major League victory, last Tuesday at Houston, pulled the Royals out of a three-loss ditch they suffered at Minnesota and launched their five-game streak. But he couldn't get them to a sixth win.
Dozier's big play came after the Twins had gone ahead, 5-0, in the fifth inning. Alcides Escobar opened the Royals' half with a double and, after an out, Omar Infante singled him home. Eric Hosmer singled and there were two on base.
That's when Salvador Perez hit a shot up the middle.
"As soon as I hit the ball, I thought it was going to get through. He made a pretty nice play," Perez said.
Dozier dove, made the grab and, off balance, flipped unerringly to shortstop Eduardo Escobar at second base to start a double play that ended the inning.
"There's no telling what would have happened if that ball goes through right there," Royals manager Ned Yost said. "Salvy hit a ball as hard as you can hit it on the ground and Dozier made a great play."
Twins pitcher Phil Hughes escaped with just one run home.
"Salvador has been hitting the ball really well. He hit it hard and those are fun plays," Dozier said. "It was a play to get us out of the inning. It could have been a big inning."
By then, Ventura was already out of the game. He was pulled with no outs in the fifth inning after Plouffe's leadoff triple banged off the center-field wall and Chris Colabello singled him home. Ventura's line included four runs on six hits and four walks along with six strikeouts, not including a wild pickoff throw and wild pitch.
His control was off.
"He really struggled on repeating his mechanics. On days when he's going to be off, he's going to be off on his command," Yost said. "When he is off and when he has trouble, he flies open and drops his arm slot a little bit which creates kind of an upward appearance of the ball. When he's good, he stays closed and is strong downhill. He had trouble repeating that today."
Ventura knew it.
"I tried to concentrate and make adjustments throughout the game, but I'm not going to have good days every day," he said. "I was trying to make all the adjustments to try to go deep in the game and help us win."
Louis Coleman relieved Ventura in the fifth and, after a double play, gave up a solo homer to Josmil Pinto.
That ended the Kansas City bullpen's stretch of scoreless innings at 14 2/3, and was also the first home run given up by the 'pen in 41 innings this season.
Then the Royals shifted to Justin Marks, a left-hander up from Omaha making his Major League debut, and later used another rookie in Michael Mariot.
"At that point of the game, I knew I had to get through the game with Marks and Mariot," Yost said. "It was a case where I didn't want to use any of my big guys when we were down five or six runs."
Marks got through a scoreless sixth inning with two strikeouts, but gave up three runs in the seventh and the Twins were ahead, 8-1. Mariot finished up with two scoreless innings.
There was one last flurry for the Royals in the seventh. Justin Maxwell's single was followed by Escobar's home run, his second of the year. Escobar is hitting just two ticks under .300 as he strives to recover from a .234 average in 2013.
He's intent on getting back to the .293 average he experienced in 2012.
"Something like that -- and better. That's what I'm looking for," Escobar said. "It's kind of what I expected," Yost said. "He had a great year two years ago. We knew he was coming. He had an off-year last year but we expect good things out of all of our players."
That includes Billy Butler, who continued his climb out of a lengthy slump with two singles on Sunday. He's 6-for-14 in the last four games.
"Billy's almost back to being Billy a little bit," Yost said.
And the Royals feel like they're almost back to being the Royals they thought they were when the season began.
If nothing else, the five-game winning streak served to erase the stigma of three straight losses at Minnesota last weekend.
"The last week, we've played really good baseball," Yost said. "The three days before that we played bad baseball. And the seven games before that we played really good baseball. It was just that we strung together three bad games, but we came back and played two great series."
Dick Kaegel is a reporter for MLB.com. This story was not subject to the approval of Major League Baseball or its clubs.