Four-run 12th inning gives Yanks split with Rays
Anna's bases-loaded walk keys offensive onslaught in decisive frame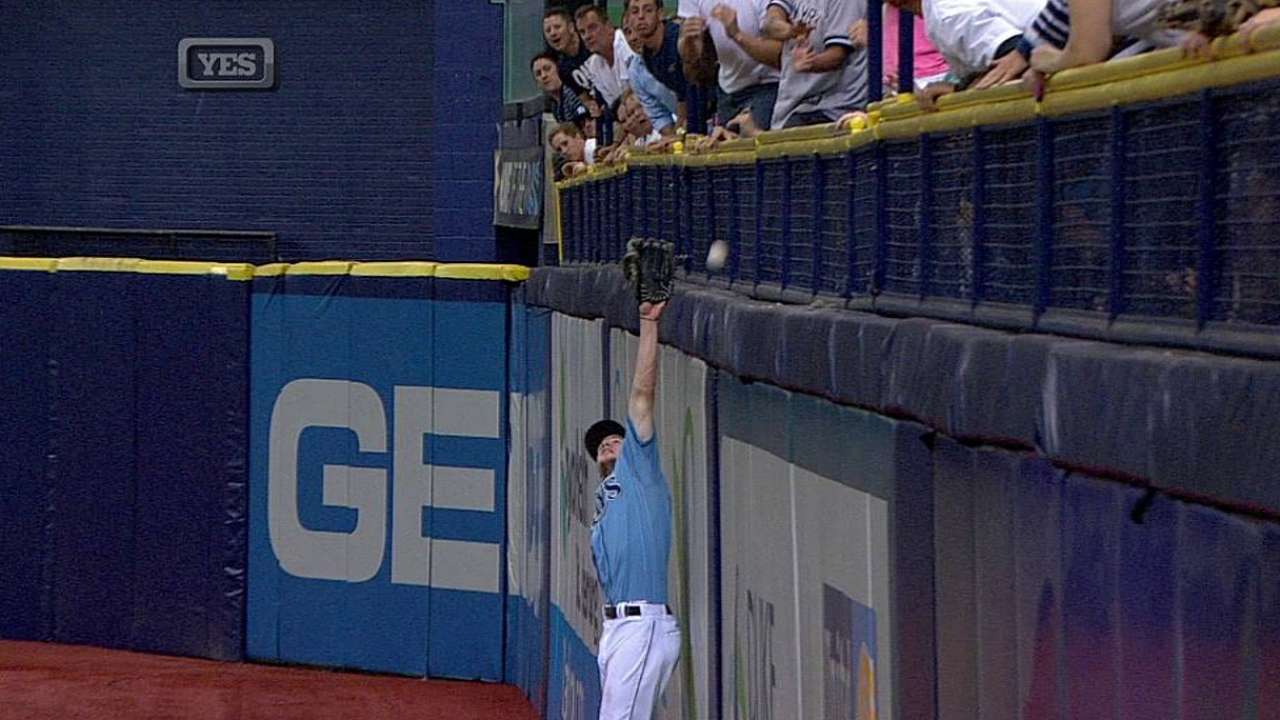 ST. PETERSBURG -- Dean Anna's cell phone has already been buzzing regularly with greetings from the friends and family members who tuned in to witness his mop-up inning of relief pitching on Saturday. After Sunday, Anna might want to consider upgrading his messaging plan.
The rookie infielder turned in a veteran at-bat, checking his swing to work a bases-loaded, full-count walk that forced home the go-ahead run in the 12th inning, propelling the Yankees to a 5-1 victory over the Rays at Tropicana Field.
"I was having fun. It's a fun at-bat," said Anna, whose free pass against C.J. Riefenhauser pushed home Brett Gardner with the deciding run. "Baseball's all about moments, and that was a moment right there. It was a fun moment -- and we prevailed and got the run in."
The Yankees' offense, held to just Gardner's video-reviewed RBI double in the fourth inning to that point, took Anna's lead and piled on. Carlos Beltran followed Anna's walk with a two-run single to center field off Josh Lueke, and Alfonso Soriano skied a run-scoring single into shallow right field.
"That's a big win, after winning the first game the way we did, and then to really get beat up the next two days," manager Joe Girardi said. "To bounce back and leave here 2-2, and you've got a day off tomorrow, you try to get ready for the Red Sox. I thought that was important."
The winning pitcher was Preston Claiborne, who was called up from Triple-A Scranton/Wilkes-Barre earlier on Sunday. He pitched around an Anna error in the 11th inning, before setting down Tampa Bay behind a four-run cushion in the 12th.
Sunday's victory snapped a two-game skid for the Yankees, who had allowed 27 runs over their previous two nights at the Trop. Anna, who mopped up the eighth inning of Saturday's 16-1 debacle, said that the win gives the Yanks something to build on.
"It's huge momentum to get this win and carry it on to Boston," Anna said. "It's going to feel good, for sure."
The Yankees threatened in the top of the 11th, as Derek Jeter singled to become New York's first baserunner since the sixth inning. Pinch-runner Ichiro Suzuki was initially ruled safe at second base on a steal. But Rays manager Joe Maddon successfully challenged the call and a video review determined Ichiro to be out.
"I'm taking a chance of getting a run there," Girardi said. "Ich probably has a better chance of stealing a base, and I'm trying to steal a base there. It's a hard decision to make. But with some of the inexperience I had from my bullpen, I went for it that inning."
A video-reviewed play in the fourth inning produced the Yankees' only run early on, coming off Rays starter Cesar Ramos, who worked five innings in his second outing of the year. With two outs and a runner at third base, Gardner lifted a deep fly ball that right fielder Wil Myers jumped at the wall to corral.
The play was initially ruled a catch and quickly challenged by Girardi. A review of two minutes and 17 seconds determined that Myers had caught the ball after it struck a part of the wall. The umpiring crew awarded Gardner a double on the overturned call, with Soriano given home plate.
"I wasn't sure exactly what happened, but I kept going and had to go back to second," Gardner said. "Thank goodness that we do have replay in place, because I would've been out with the fly out."
It stood as the game's only run through six innings, thanks to Vidal Nuno, who made a convincing argument to stick in the rotation following Saturday's news of a potentially serious elbow injury to Ivan Nova.
"Every day is an opportunity, just showing I can belong here and get people out," Nuno said.
Nuno blanked the Rays on three hits over five innings before running into a pitch-count issue, walking two and striking out six in a 69-pitch effort that didn't seem to wow Tampa Bay's manager.
"There really is no solid explanation," Maddon said. "I can't stand here and say that the Yankees pitched that great. We just did not have a good offensive day."
David Phelps recorded four clean outs in relief, but Tampa Bay tied the game with a run in the seventh, an inning extended when second baseman Brian Roberts bobbled a throw -- ruled to not have been a clean transfer by umpire Joe West.
"You've got to make the transfer, and he didn't do it," Girardi said. "He didn't have a grip on the ball, so that's why I didn't replay it."
Yunel Escobar greeted Adam Warren by rocketing a single past a diving attempt by Jeter, and pinch-hitter Matt Joyce cashed in the game-tying run with a sac fly.
New York's bullpen was splendid from there, as Shawn Kelley recorded six outs -- striking out four -- to push the game into extra innings. Claiborne also hurled two scoreless frames, a nice return to form after a rough spring knocked him to the Minors to open the year.
"The entire pitching staff did an incredible job keeping us in the ballgame," Claiborne said. "Then, the offense exploding and coming alive at the end -- that was huge for us."
Bryan Hoch is a reporter for MLB.com. Follow him on Twitter @bryanhoch and read his MLBlog, Bombers Beat. This story was not subject to the approval of Major League Baseball or its clubs.