Prospect DeShields sidelined by cheek fracture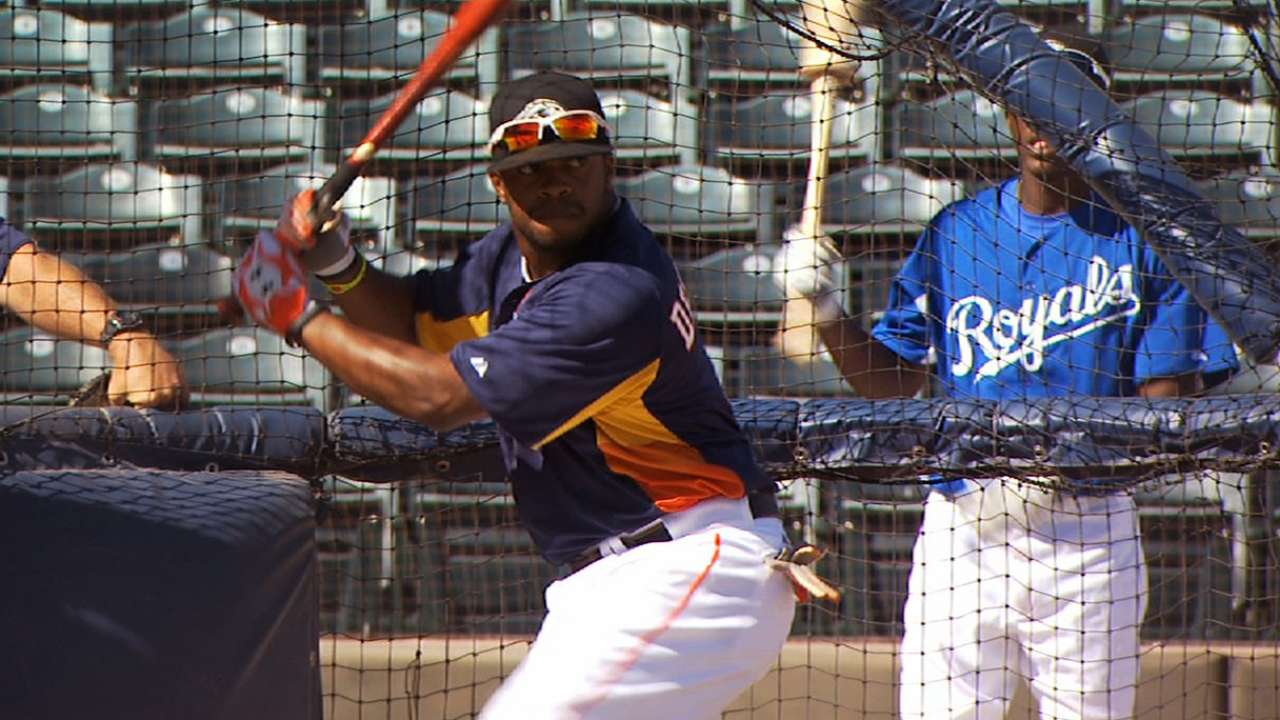 OAKLAND -- Astros outfield prospect Delino DeShields Jr. is expected to be out several weeks after suffering a broken cheekbone when he was hit in the face by a 90-mph fastball in Double-A Corpus Christi's game in Frisco, Texas, on Friday night.
Astros general manager Jeff Luhnow said Saturday that DeShields, the Astros' seventh-ranked prospect, has a non-displaced maxillary sinus fracture in his left cheek. DeShields was to be further evaluated later Saturday, but the team didn't know how long he'd be out.
"He's lucky, considering," Hooks manager Keith Bodie said. "It could have been horrific, could have been catastrophic. He never saw the ball out of the pitcher's hand and took a 90-mph fastball right in the face. You can imagine how lucky we are that he's only got a fracture of his cheekbone. His head looks like a beach ball right now."
Bodie said DeShields was released from the hospital early Saturday morning and spent the night at the team hotel, where teammates kept a close eye on him. Bodie said DeShields was resting with no problems, other than some major swelling.
To anyone that is concerned as you can see I'm doing fantastic! Blessed to see another day! Always smiling ??ol pic.twitter.com/C5koD0Z5t9

- Delino DeShields (@LinoDeShields) April 19, 2014
"I'm sure that when we get back to Corpus they may want to take a look at him in Houston and go from there," Bodie said. "He's going to be around us today, and we need to keep an eye on him. He did OK through the night, and that's good news. Hopefully he's on the road back to being mended."
Bodie suggested that the fact DeShields didn't see the pitch could be a silver lining.
"So it doesn't leave any lasting impressions imprinted in his mind in the future, where he might be leery," Bodie said. "On the other hand, it was just a horrible thing to see. It's going to be a very uncomfortable road back for him."
DeShields, 21, went 1-for-3 and is hitting .259 with two homers and four RBIs this season as the Hooks' starting center fielder.
DeShields hit .317 with five homers, 54 RBIs and 51 stolen bases last season at Class A Lancaster. Following the season, he made the move back to center field after playing a few seasons at second base.
Brian McTaggart is reporter for MLB.com and writes an MLBlog, Tag's Lines. Follow @brianmctaggart on Twitter. This story was not subject to the approval of Major League Baseball or its clubs.