Papi pens another chapter with game-winning blast
Slugger's clutch three-run homer in eighth propels Sox to series win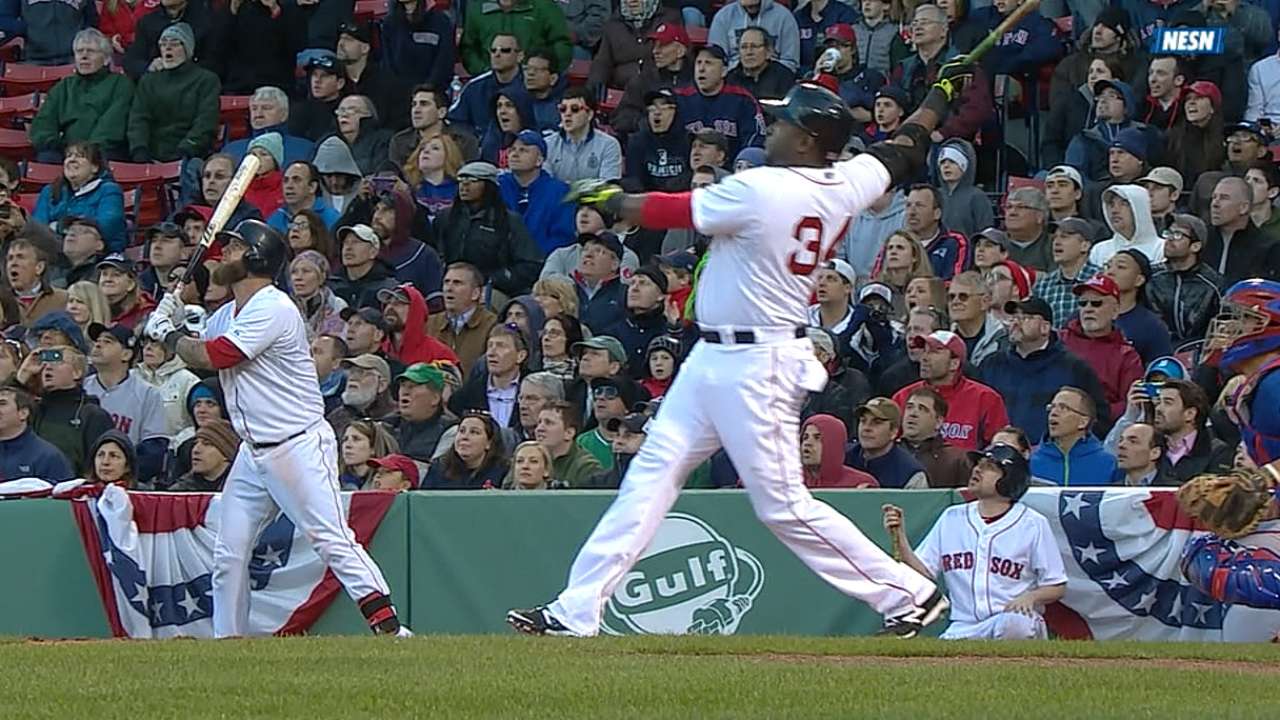 BOSTON -- You can't blame Rangers manager Ron Washington for the matchup he chose. Lefty Neal Cotts had faced David Ortiz six times over the years, and struck him out in five of them while not allowing a hit.
But when it comes to Big Papi, those matchup advantages tend to disappear for the opponent when the game on the line.
The man known for his legendary heroics in the clutch came through yet again for the Red Sox on a day they needed it, walloping a three-run homer down the line in right with one out in the bottom of the eighth to overturn a deficit and lead his team to a 4-2 victory over the Rangers.
At 38 years old, Ortiz is showing no signs of slowing down.
"Seen that before, right?" Jonny Gomes said after Wednesday's game at Fenway Park. "It seems like we're just trying to win a ballgame and he's adding to his Hall of Fame resume. He's a heck of a player -- a heck of a clutch player."
Wth the count 1-1, Ortiz got all of an 89-mph fastball. The only question off the bat was whether the ball would stay fair.
It was hit so high that it was hard to tell. But Ortiz stood and watched, and then broke into the 433rd home run trot of his career as the Fenway faithful -- who had only seen three hits by the home team on the day until that moment -- roared with approval.
The umpires reviewed the call on replay, and it stood after a mere 44.1 seconds of viewing.
"It was pretty close, but I knew it was fair," said Ortiz. "I wanted to make sure it was fair. I stayed watching it. I don't know why I keep hitting balls down the line like that."
And so much for his previous struggles against Cotts.
"His ball moves hard away and late, against lefties especially," Ortiz said. "But that at-bat I had against him the other night helped me out to make some adjustments today. It worked."
Meanwhile, Washington couldn't have been too stunned that his sound strategy didn't quite work.
"Ortiz is good, no doubt about it," Washington said. "I felt comfortable with Neal up there against him. David won. It was the right decision. David won. There's no more explanation than that."
As for Cotts, the one time he didn't make just the pitch he wanted against Ortiz, he paid dearly for it.
"I threw a fastball decently in, it was just down," said Cotts. "That's not a good place to throw it with him. I wanted it more in on his hands."
The win couldn't have come at a better time for the Red Sox, who completed their first homestand with a 2-4 mark and are 4-5 as they head to New York for a four-game showdown with the Yankees.
"Huge hit," said Red Sox manager John Farrell. "Hopefully this gives us a little momentum finishing out a series win here. We go on a long road trip, hopefully this is a jump start for us. So many times he's bailed us out and no different today. Particularly with a matchup that was way in favor of Cotts. Five at-bats previous, five strikeouts. And this time David got him."
Even when the umpires challenged, Farrell was confident the initial call would be confirmed.
"You know from our angle, it's extremely difficult to tell. Jerry Meals makes the fair call on the homer," said Farrell. "We felt like it would be inconclusive at best with any kind of replay that was available. We made a call ourselves to see what the video was showing. Thankfully David comes up once again huge for us."
The Rangers had just gone in front in the top of the eighth, as Elvis Andrus sparked the rally with a leadoff double against Andrew Miller. Andrus moved to third on a grounder that went off of Miller's glove and over to Xander Bogaerts, who took the only out he had at first.
Alex Rios put his team in front for the first time all day with a sacrifice fly to medium-depth center that broke a 1-1 tie.
Jackie Bradley Jr. made a strong throw home, but it was just high and a tad late.
"I've got to get it down," said Bradley. "I've got to make a better throw. But I felt good coming out. Just got to get it down a little bit."
The Red Sox quickly regrouped. And it was Bradley who started the winning rally with a walk, his third of the day. A.J. Pierzynski stepped in as a pinch-hitter for Gomes and blooped a single to right, pushing runners to first and second with nobody out.
Dustin Pedroia hit into a fielder's choice, and that's when Washington went to Cotts.
The Red Sox reveled in the result.
"You can't count the big boy out," said Jake Peavy, who gave the Red Sox 6 2/3 solid innings in a no-decision. "You can't count this ballclub out. We're going to grind it out and play all 27 outs. I know we're not clicking on all facets of our game, but we certainly are grinding it out just as we always have, and you see once again you put the big man up in a big situation and he comes through."
Ortiz has come through too many times in that type of situation to suggest he doesn't relish it.
"He just needs a stage to be set up for him to come to play. David's a Hall of Famer," Peavy said. "David is as good as anyone who's ever put this uniform on. I say that hands down. I know there's some great history here. I can't imagine anybody more clutch when you look at what he did in the postseason, in previous postseasons, what he's done throughout his many years here, once again today."
There will come a day when the Red Sox look for somebody else to put them on their back when the situation demands it. For now, they will gladly have Ortiz at the plate in the biggest moments.
"He shines the most when the lights are the brightest. It's nothing new," said Gomes.
And for the Red Sox, it also never gets old.
Ian Browne is a reporter for MLB.com. Read his blog, Brownie Points, and follow him on Twitter @IanMBrowne. This story was not subject to the approval of Major League Baseball or its clubs.