Tigers' offense limited in walk-off loss at LA
Martinez's RBI hit in ninth forces extras after Scherzer's sharp outing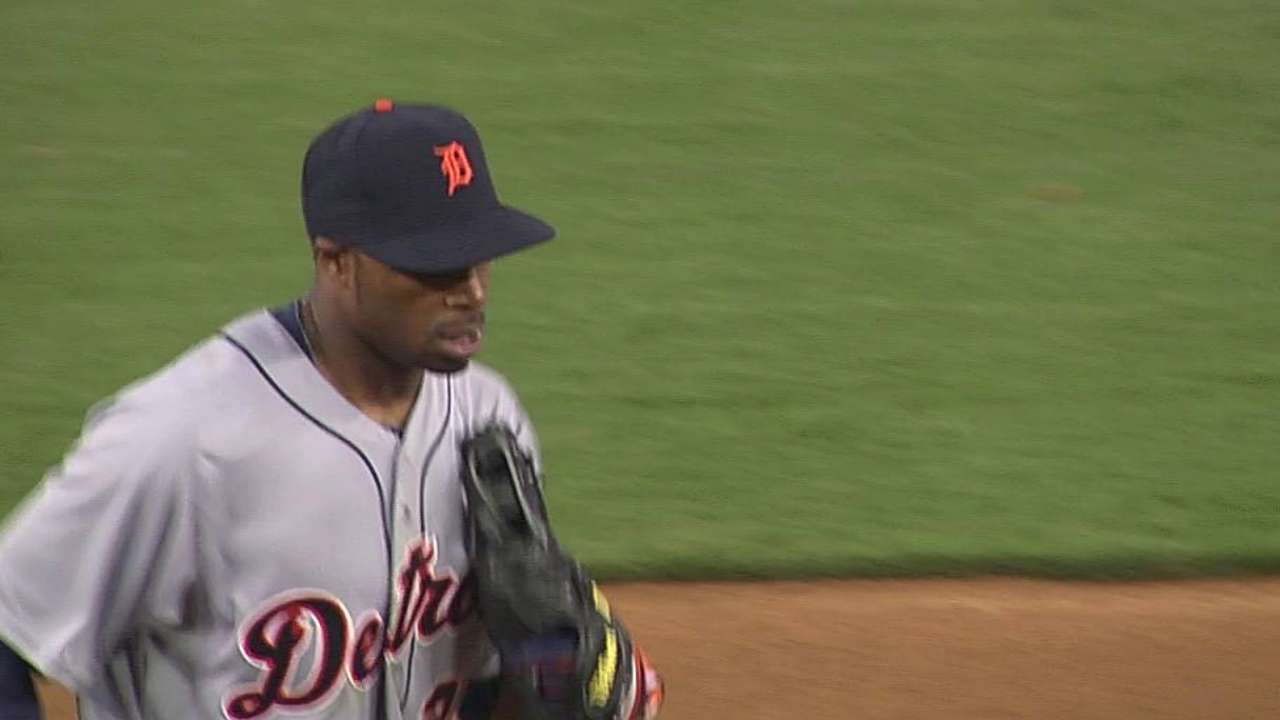 LOS ANGELES -- The Tigers went from American League day-game ball in chilly Detroit over the weekend to Interleague Play at unseasonably warm Dodger Stadium on Tuesday night. They ended up with very similar fortunes -- another strong outing from one of their aces, and a second consecutive low-scoring loss to show for it.
Their hot start from Opening Week, in turn, seems to be fading like the Carl Crawford liner to left field Tuesday night that skipped out of Rajai Davis' reach and rolled toward the corner as Chone Figgins sped home with the Dodgers' winning run in a 3-2 Detroit defeat.
They had enough offense to get Max Scherzer off the hook from a potential tough-luck loss, scoring a tying run on Victor Martinez's RBI single with two outs in the ninth inning and Kenley Jansen throwing upper-90s heat. They couldn't get the go-ahead run they needed.
As long as the Tigers' front-line starting trio delivers low-scoring outings, they have a chance. Though they've been consistent so far, the offense supporting them has been feast or famine, from two games with seven runs or more to three others with two runs or fewer. The last two games have fallen squarely in the latter category.
It was the first walk-off loss in Brad Ausmus' brief managerial tenure, but it was also his first regular-season road game, and thus the first time he could have a walk-off loss. It was not his first difficult loss.
"We've had some tight ones in the first six games, five of them by two runs or less," he said. "A loss is a loss, but sometimes when it's a close game and you end up losing by one or two runs, it makes you look back and wonder what you could've done differently. Either way, it's still a loss."
He had a couple of situations late. Martinez was thrown out at second after hitting the game-tying single off Jansen with two outs in the ninth, but Ausmus said it was a read that Martinez made with first-base coach and baserunning coordinator Omar Vizquel, who has the go-ahead from Ausmus to do so.
"Victor and Omar were in cahoots, just in terms of finding something they could take advantage of from the pitcher," Ausmus said. "It's not really a bad play, because if he's out, you've got [Austin] Jackson leading off the next inning."
Joba Chamberlain struck out the Dodgers in order in the ninth inning, showing a 95 mph fastball and a biting slider in the process. However, Chamberlain's leadoff walk to pinch-hitter Figgins in the 10th set the game-winning rally in motion.
Ausmus had his plan going in, turning to lefty Phil Coke for left-handed hitters Dee Gordon and Crawford. Al Alburquerque was warming up in preparation for Hanley Ramirez if first base was occupied, and Drew Smyly was readying for lefty hitters Adrian Gonzalez and Andre Ethier after that.
Gordon's popout on a bunt attempt gave Coke a quick first out. A 2-0 count to Crawford, who was 3-for-6 against Coke entering the at-bat, gave the speedy left fielder the chance for a quick ending.
Coke had to challenge Crawford or risk moving the go-ahead run into scoring position without a ball put in play. He threw a 94 mph fastball up but over enough of the plate for Crawford to slice it toward left with the authority to get past a diving Davis.
"It had a little fade to it," Davis said. "I guess it was hit solid. I certainly wasn't expecting it to skip like that, that much."
It was the fourth one-run decision in six games for the Tigers this year, but the first one they'd lost. All but one of Detroit's games have been decided by two runs or fewer. In three of those, the winning team scored three runs or fewer.
Until the ninth, Detroit's fate seemed positioned for a 2-1 defeat after Justin Turner's pinch-hit sacrifice fly off Scherzer in the seventh gave the Dodgers the lead.
The Tigers went hitless from the one-out mark in the second inning until Ian Kinsler legged out a double to lead off the ninth against Jansen, whose mid-90s cutter and upper-90s fastball rank him among the nastiest closers in the game. He not only pitched to Miguel Cabrera with first base open, he fanned Cabrera with three strikes at 98 mph or higher, sending down the two-time AL Most Valuable Player and Mariano Rivera save spoiler.
"I didn't want to put the winning run on, and I know how good Victor is," Jansen said. "I've seen [Martinez] long enough, he's an RBI machine. You don't want to pitch to Cabrera, and you don't want to get to Martinez, either."
His task, then, was only halfway complete. Martinez got enough of a 97-mph fastball on a 1-0 count to line a single just out of the reach of center fielder Matt Kemp as Kinsler came home.
"We had trouble getting the offense going," Ausmus said, "but Vic came up big there in the ninth. Unfortunately, that was all we could muster."
Scherzer allowed two runs on eight hits over seven innings. He now has 15 innings of two-run ball through two starts of his Cy Young follow-up campaign, but his winless record demonstrates how he could pitch better this year with worse results than his 21-3 mark from last year.
Though Scherzer, Justin Verlander and Anibal Sanchez are 4-for-5 in quality starts, they're winless this season. While Dan Haren, too, went unrewarded for six innings of three-hit ball, he remained unbeaten against the Tigers since 2008, with four wins and two no-decisions in six starts.
Jason Beck is a reporter for MLB.com. Read Beck's Blog and follow him on Twitter @beckjason. This story was not subject to the approval of Major League Baseball or its clubs.