Crawford's double picks up Dodgers in 10 innings
Haren strong in duel with Scherzer; Jansen surrenders lead in ninth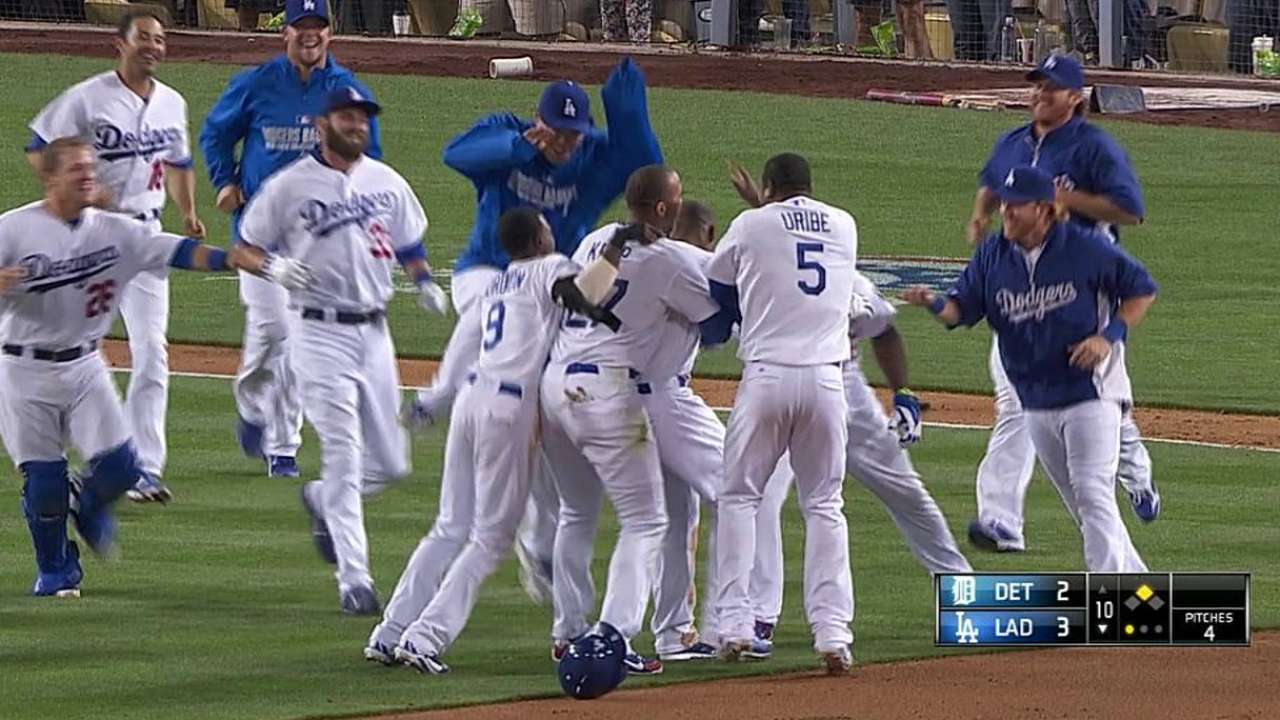 LOS ANGELES -- Dan Haren didn't get credit for the victory in his Dodger Stadium duel with the Tigers' Max Scherzer, but the Dodgers are looking to reap further benefits from their veteran right-hander's comeback.

"He's been sharp, what we've expected," manager Don Mattingly said after Haren allowed one run in six innings Tuesday night, and the Dodgers won in the bottom of the 10th, 3-2, on Carl Crawford's walk-off double.

Chone Figgins scored the winning run from first base when Detroit left fielder Rajai Davis couldn't cut off Crawford's hit with a dive. Crawford is 4-for-7 career against Tigers left-handed reliever Phil Coke.

Dodgers closer Kenley Jansen struck out reigning American League MVP Miguel Cabrera in the ninth but came an out short of his third save, as Victor Martinez tied it with a two-out RBI single to get the Tigers even at 2.

"That's a really tough lineup," Haren said.

He's 5-4 against them, having spent much of his career in the American League.

"A lot of those guys have had a lot of at-bats against me over the years," the three-time All-Star said.

Haren said he used mostly fastballs and cutters during in this outing, in which he allowed three hits and a walk and just one run, on a second-inning Austin Jackson homer that came off a split-fingered fastball.

"It wasn't too bad of a pitch," said Haren, adding that he didn't throw many more splits after that one. "With that lineup, anyone can get you."

Haren, who didn't allow an earned run in six innings for a victory in San Diego on April 2 in his Dodgers debut, said he didn't have the curveball he had against the Padres and didn't throw many against the Tigers. He worked Tuesday for the first time in a game with just-recalled catcher Tim Federowicz.

"He only caught me a couple of bullpens in Spring Training," Haren said. "I thought he did a real good job back there calling a game.

"I did my homework [on the Tigers] the past couple of days, and was able to execute that game plan with Fed."

Mattingly said Haren "has had good numbers" against Detroit, but he wasn't about to extend him past 96 pitches this early in the season.

"Not yet," the manager said. "I just felt like he did enough."

Haren said he "felt good, and strong, but I was getting a little bit fatigued at the end. It's the beginning of April, so we've got a long ways to go. I'm sure I'll be getting over 100 pitches soon."

He turned a 1-1 tie over to Chris Withrow, who pitched a scoreless seventh and stood to win it when pinch-hitter Justin Turner's short sacrifice fly scored Matt Kemp in the bottom of the inning for a 2-1 Dodgers lead.

But Martinez tied it in the ninth, and then pinch-hitter Figgins led off the bottom of the 10th by drawing a walk from reliever Joba Chamberlain (0-1). Enter Coke, who induced a Dee Gordon popout on a sacrifice bunt ahead of Crawford's at-bat.

"Against a lefty, throwing hard like that, it's always a battle," said Crawford, who went down the line to the opposite field. "I just wanted to stay short and get a good pitch to hit.

"When I saw the ball get by the outfielder, I knew Chone was quick enough to score."
Earl Bloom is a contributor to MLB.com. This story was not subject to the approval of Major League Baseball or its clubs.