Silent Braves spoil Harang's strong work
Ninth-inning rally falls just short on 40th anniversary of homer No. 715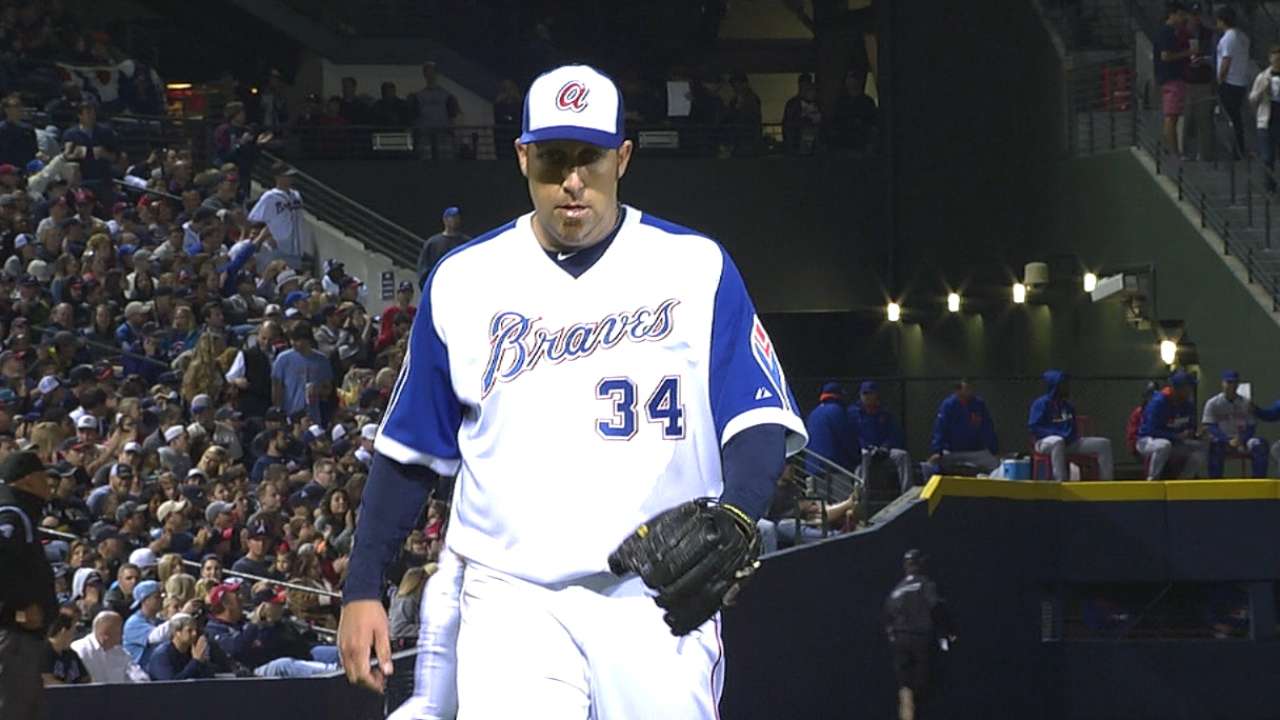 ATLANTA -- When the Braves entered this season with an injury-depleted starting rotation, there was seemingly reason to be concerned about the fact that Aaron Harang might have to make at least six starts in April.
But with the regular season now a little more than a week complete, the Braves have much more reason to worry about a slumbering offense that had been aiming to carry the load as the pitching staff got healthy.
Instead of delighting the sold-out crowd that flocked to Turner Field for Tuesday night's home opener, the Braves instead squandered Harang's latest gem by extending their offensive woes in a 4-0 loss to Bartolo Colon and the Mets.
"That's all you can ask from your starting pitcher, to give you a chance to win," Braves right fielder Jason Heyward said. "[Harang] went above and beyond that tonight."
While their offensive production proved to be futile most of the night, the Braves managed to make things interesting when they loaded the bases in the ninth with the help of two singles and a throwing error charged to Mets closer Jose Valverde. But Heyward ended the game by watching his potential game-tying grand slam fall into Juan Lagares' glove, approximately seven feet from the center-field wall.
"That's the way the game goes," Heyward said. "It doesn't matter what you do in your first few; mentally, you've got to be ready to come through in that next at-bat. You've got to put the other stuff behind you. You always want to be in that spot. We did a great job of fighting to get in that situation."
Though it showed some signs of life in the ninth inning, the Braves' offense has now been shut out twice and limited to two runs or fewer in five of this season's first seven games. Tuesday marked the first time Atlanta's pitching staff had allowed more than two runs.
Heyward is in the midst of an 0-for-22 stretch, and B.J. Upton's bid to begin this season in promising fashion has evaporated, as he has hit .138 and struck out in 13 of his first 29 at-bats.
Justin Upton provided some encouragement with a two-hit performance in Atlanta's home opener, which was preceded by a celebratory tribute on the 40th anniversary of Hank Aaron's record-breaking 715th home run.
Justin Upton's strong effort aside, Freddie Freeman (.391), Chris Johnson (.296) and Andrelton Simmons (.292) stand as Atlanta's only position players who have hit at least .290 thus far.
"We've got to put the whole lineup together and get the line moving," Braves manager Fredi Gonzalez said. "But there are some signs there."
Harang notched nine strikeouts and surrendered just two hits while limiting the Mets to one run over six innings. But the 35-year-old right-hander's 110-pitch effort was blemished when he issued two of his four walks and uncorked a wild pitch during the third inning.
After walking two of the first three batters he faced in the third, Harang managed to get to outs, putting himself in a position to escape unscathed. But after getting ahead of David Wright with an 0-2 count, Harang deposited a 2-2 slider in the dirt. The pitch deflected off Braves catcher Evan Gattis and went toward the backstop as Ruben Tejada raced home with what proved to be the decisive run.
"I tried to put [Wright] away with a 2-2 count," Harang said. "I threw a slider in the dirt. It took an awkward bounce and got away from him. Other than that, I felt good and kept them off balance. We just weren't able to work anything against Colon tonight."
The early one-run advantage was more than enough for Colon, who scattered six hits over seven innings. Freeman's two-out double in the first inning accounted for Atlanta's only extra-base hit.
"I felt great," Colon said. "Especially when you face a team as tough as Atlanta, you prepare to be very tough mentally, so that's how I felt today. I prepared very, very well for this game."
After Freeman was left stranded in the first inning, the Braves did not advance a runner past first base until the seventh inning, when Simmons singled with two outs and then took second base when the shortstop Tejada fumbled Ryan Doumit's grounder. But Heyward grounded out to end the threat.
"No, it's not Spring Training," Heyward said. "But just like the first week of Spring Training, some guys get off to a great start and some guys get off to a slow start. There's a little different bit of timing and adrenaline when you're coming into a season. I feel we're all showing signs of settling in and just going out there and playing."
The Mets extended their lead to 3-0 with a two-run seventh inning against Gus Schlosser. Travis d'Arnaud opened the frame with a fly ball that the wind seemed to guide toward center field. Justin Upton made an unsuccessful diving attempt to catch a ball that drifted toward his brother in center field. The miscue provided d'Arnaud a double and the chance to trot home when Tejada followed with the first of his two singles.
"It was up there a long time," Gonzalez said of d'Arnaud's fly ball. "We'll take a look at it tonight or tomorrow afternoon to see what went on."
Harang struck out six of the final eight batters he faced to extend the promise he created upon carrying a no-hitter into the seventh inning of the Braves' 1-0 win over the Brewers in his season debut.
It seems safe to say Harang has provided the Braves more than they could have envisioned when they signed him on March 24, just a few hours after he had been released by the Indians. The veteran has allowed just one run in the 12 2/3 innings that have encompassed his first two starts.
"I don't think you can ask for much more than that," Gonzalez said.
Mark Bowman is a reporter for MLB.com. This story was not subject to the approval of Major League Baseball or its clubs.