Royals unable to reward Ventura's strong debut
Rookie allows two hits in six scoreless frames, but offense quiet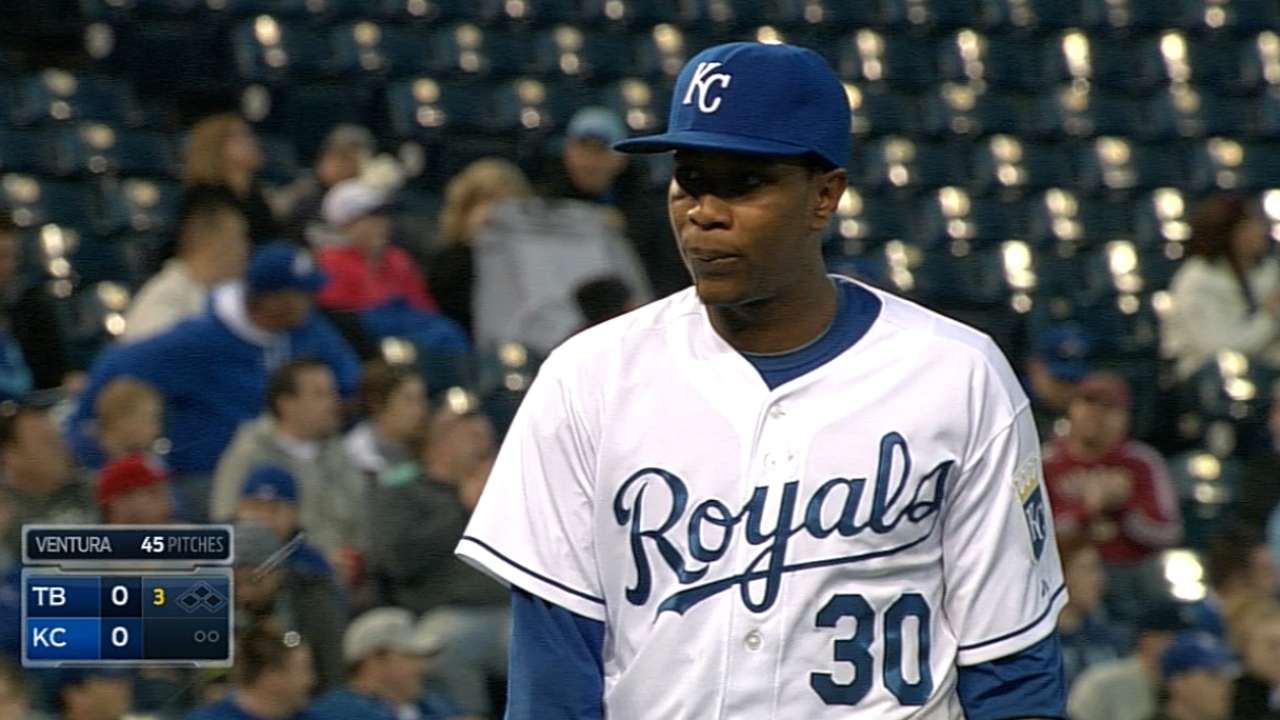 KANSAS CITY -- There's a reason that some of the Royals call rookie pitcher Yordano Ventura "Ace," and it's more than just a name borrowed from a movie. It's because the kid is just pretty darn good.
Ventura was practically perfect for six innings in a duel with another outstanding young pitcher, Chris Archer, on Tuesday night at Kauffman Stadium. When it was over, Ventura and the Royals were on the losing side, 1-0, but it had nothing do with their starting pitcher.
This was his first start of the season, pushed back by a rainout, and the delay didn't hurt him a bit. Limited to six innings and 95 pitches, Ventura worked six scoreless innings and gave up two hits and no walks with six strikeouts.
Ventura hadn't pitched since a Spring Training game 10 days before at Milwaukee.
"Even though there was a lot of time between pitching, that's my job to go out there and pitch," he said. "No matter how many days I get off I have to do my job, and I was glad I was able to do a good job tonight."
It was a classic duel between two hard-throwing young right-handers.
Ventura, 22, was occasionally hitting 100 and 101 mph with his fastballs. Archer, 25, frequently was clocking in the range of 94 to 95 mph. Both pitchers were mixing in enough change of speeds and breaking balls to keep the hitters from sitting on their heaters.
Each figures to be important in his franchise's future. Archer is signed to an eight-year deal that could be worth more than $43 million. Ventura is laboring at the opposite end of the spectrum, earning $500,500 this year, but with riches surely ahead.
Archer made it through seven scoreless innings, with most of his 91 pitches puzzling for the Royals. He gave up six hits, and all were singles.
"I saw some really big pitching on the other side," Royals manager Ned Yost said. "This guy had a big league two-seamer, 92 to 95 miles an hour, throwing strikes with it. Real efficient with the two-seamer and the slider. He had some nasty stuff working."
Not that Ventura didn't.
"Same," Yost said. "Ventura was really throwing good fastballs, triple-digits at times. Threw some good breaking balls but really had a good changeup working to really keep 'em off balance."
It all had to come to an end sometime, and on his chilly night with 13,905 fans in the stands, the deciding run came in the top of the ninth against Royals closer Greg Holland.
Wil Myers, the onetime Royals prospect, struck out all three times he batted against Ventura. Then he led off the ninth against Holland and hit a slow bouncer that third baseman Mike Moustakas roved over to grab in front of shortstop Alcides Escobar. The ball, though, never left Moustakas' possession.
"That's what you're looking for, a softly hit ball, but that's not the first time that somebody's hit one soft and got on first," Holland said. "Those things happen and you've got to deal with 'em, and, unfortunately, I didn't."
Moustakas was stuck with the ball, and Myers had a single.
"I should've had that play," Moustakas said. "I was fumbling in my glove a little bit and didn't get rid of it. Holly made a great pitch right there, and I just didn't make the play for him."
Myers stalled at first while Holland retired both Ben Zobrist and Evan Longoria, but he took second on a wild pitch, and James Loney worked a 3-2 count before sending a single up the middle past the diving Danny Valencia, filling in at second base for the injured Omar Infante.
"That's a tough play for Danny," Yost said. "That's a tough play for any second baseman. That wasn't a ball hit right at him; that was a ball hit up the middle, and he laid out and did everything he could do to knock it down."
Holland regretted that run-scoring, 3-2 pitch to Loney.
"With first base open and essentially the winning run on second, I [need to] get that ball down a little more," Holland said. "I've got to be smarter than that. I had the right mindset; I just didn't execute the pitch, and it cost us the game."
Myers was home, and the Royals had to face Rays closer Grant Balfour in their half of the ninth. Moustakas led off with a single, his first hit this year, but Balfour retired the next three batters to end it.
This was the Royals' fourth loss in the young season, and three of them have been by one run. Their offensive machine is not yet in gear.
In this game, they loaded the bases three times and failed to score. And they have not managed to hit a home run yet this season, making them the only Major League club without one.
Their saving grace Tuesday night, though, was the sterling performance of Ventura.
"He's really, really good," Myers said after his three whiffs. "I actually faced him in 2012 in the Futures Game here, and he's a lot better now than he was then. His off-speed was really good. He commanded all of his pitches."
Ventura was right on target.
"He threw like 62 strikes and 33 balls, and that's what we like about him," Yost said. "For a young guy, he commands for the most part three pitches. He can throw a fastball, curveball, changeup for strikes. At times he'll have issues with his breaking ball, but they're little mechanical issues that he can adjust and get back on it."
With Ventura's scoreless outing, the Royals' starting pitchers have a cumulative ERA of 1.94 in their seven games.
"I don't think you can be any happier with the starting pitching," Holland said.
Dick Kaegel is a reporter for MLB.com. This story was not subject to the approval of Major League Baseball or its clubs.