Murphy's hot hitting continues to spark Tribe
Right fielder contributes four RBIs to back Kluber's quality start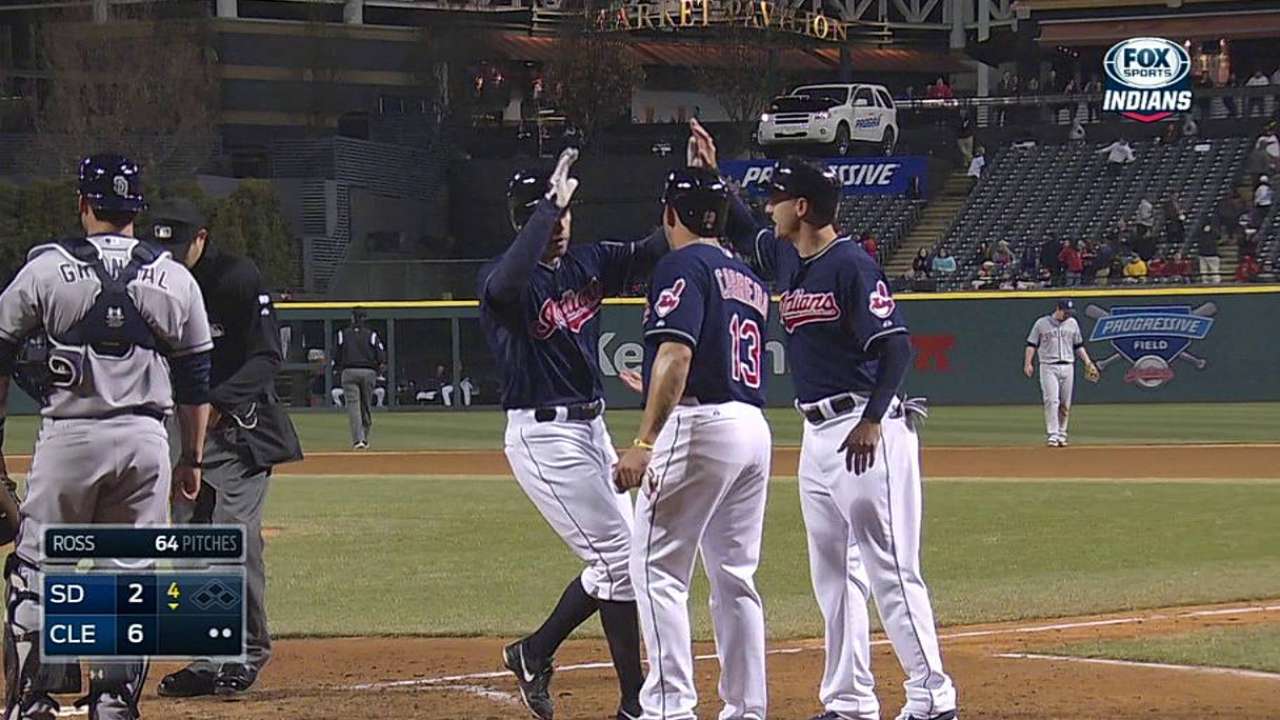 CLEVELAND -- David Murphy is not sure what happened in the indoor batting cage a couple days ago. For the first time in what has felt like ages, the Indians outfielder began to feel the kind of comfort with his swing that helped him thrive a few seasons ago in Texas.
That feeling was gone throughout last year with the Rangers and it remained absent during this past spring with the Indians. For at least the past two games, what was lost has been found, and Murphy is clinging to the hope that it will continue throughout this season.
"I don't know if the Lord is up there swinging the bat for me or what," Murphy said after the Indians' 8-6 victory over the Padres on Tuesday night. "I just stepped in the cage the other day and the feel was there."
Maybe the sun poking through the clouds on Tuesday afternoon was a sign.
For only the second time in this rain-soaked season, the Indians were able to have a normal round of pregame batting practice on the field. There were smiles on the field hours before a game in which things continued to go Cleveland's way.
Corey Kluber provided the Tribe with a quality start -- a first for the Tribe rotation since Opening Day on March 31 -- and Murphy powered the offense with a three-run home run and four RBIs on the night. The Indians made a handful of errors and reliever Vinnie Pestano labored in a three-run ninth for the Padres, but those setbacks would not get in the way of the win.
Closer John Axford sealed the victory with his third save of the year.
"We have a cohesive unit," said Indians outfielder Nyjer Morgan, who contributed three hits and two RBIs. "It's not going to be just one person, it's going to be a whole team unit. That's what's going to give us a lot of success."
While that is certainly true, Murphy is enjoying his individual turnaround right now.
After hitting .304 with an .859 OPS in 142 games for the Rangers in 2012, Murphy labored throughout last season, hitting just .220 with a .656 OPS in 147 games. Cleveland still took a chance on the 32-year-old outfielder with a two-year contract worth $12 million, bringing him into the fold as the new right fielder.
During Spring Training, though, Murphy's woes persisted. He hit .204 with only 17 total bases in 18 Cactus League games, convincing Indians manager Terry Francona to send Murphy to the Minor League side for a day late in camp to garner a pile of at-bats in an effort to get both his swing and confidence going again.
Murphy felt improved, but then slipped into a 2-for-14 slump to start this season.
"I felt so terrible most of Spring Training," Murphy said. "I didn't feel like I necessarily resembled a big league hitter -- even the first few games of the season."
Murphy's recent fortunes began to turn around during an early round of hitting in the indoor cage on Sunday. Following that session, the outfielder churned out four hits (the ninth time in his career he has had at least that many) in a loss to the Twins. A rainout of Monday's game against San Diego could have washed the feeling away.
Then, in the fourth inning against the Padres, Murphy drove a 3-1 pitch from right-hander Tyson Ross into the right-field seats for a three-run home run, pushing Cleveland to a 6-2 lead. The blast came in the aftermath of a missed-catch error by Ross, who had only two of his seven runs charged as earned in his 5 1/3 innings.
That blast, which was Murphy's first homer of the season, followed a three-run showing by the Indians in the third inning. Cleveland scored that trio of runs without a hit, capitalizing on a throwing error by Padres second baseman Jedd Gyorko.
Murphy later added a run-scoring double in the sixth inning.
As pleased as Francona has been with Murphy's recent showing -- the outfielder is 6-for-8 with three extra-base hits and five RBIs over the past two contests -- the manager warned against making too much about such a small grouping of at-bats.
"It just kind of goes to show you, at the beginning of the year, how things can get skewed," Francona said. "You have a couple really good games and, all of a sudden, people are writing that you're off to a good start. But I do think it allows everybody, especially new guys, the chance to relax and then play their game, which is good."
Kluber sidestepped harm throughout his six innings, during which he scattered nine hits, struck out eight and ended with no walks. The right-hander allowed the leadoff man to reach in each of the first four innings, but it only came to bite him in the last frame in that series. In the fourth, Gyorko came through with a two-run double with one out.
Gyorko came through with an RBI single in the sixth inning, but Kluber headed off the field with a quality start. The Indians can only hope that is the beginning of a turnaround for the starting staff, which turned in a 7.66 ERA as a group over the previous six games.
"As a rotation, as a whole," Kluber said, "you can ask any one of us and we're not satisfied with the way we've started out the year. It's a long year. It just so happened that we had however many games where we didn't do so hot, and it just happened to fall in a row. It is what it is. We've just got to move forward from it, make the adjustments and look to improve."
In Murphy's case, he is hoping his recent discovery will last a while longer.
"Like I said the other day, it's one game," Murphy said. "I'll say now, it's two games. It's early in the season, but I don't know. Hopefully something's working here and it will continue. ... It's night and day. I haven't felt this feeling in a while."
Jordan Bastian is a reporter for MLB.com. Read his blog, Major League Bastian, and follow him on Twitter @MLBastian. This story was not subject to the approval of Major League Baseball or its clubs.