Early miscues costly as Padres fall to Indians
Gyorko contributes three RBIs; Nady's solo homer sparks late rally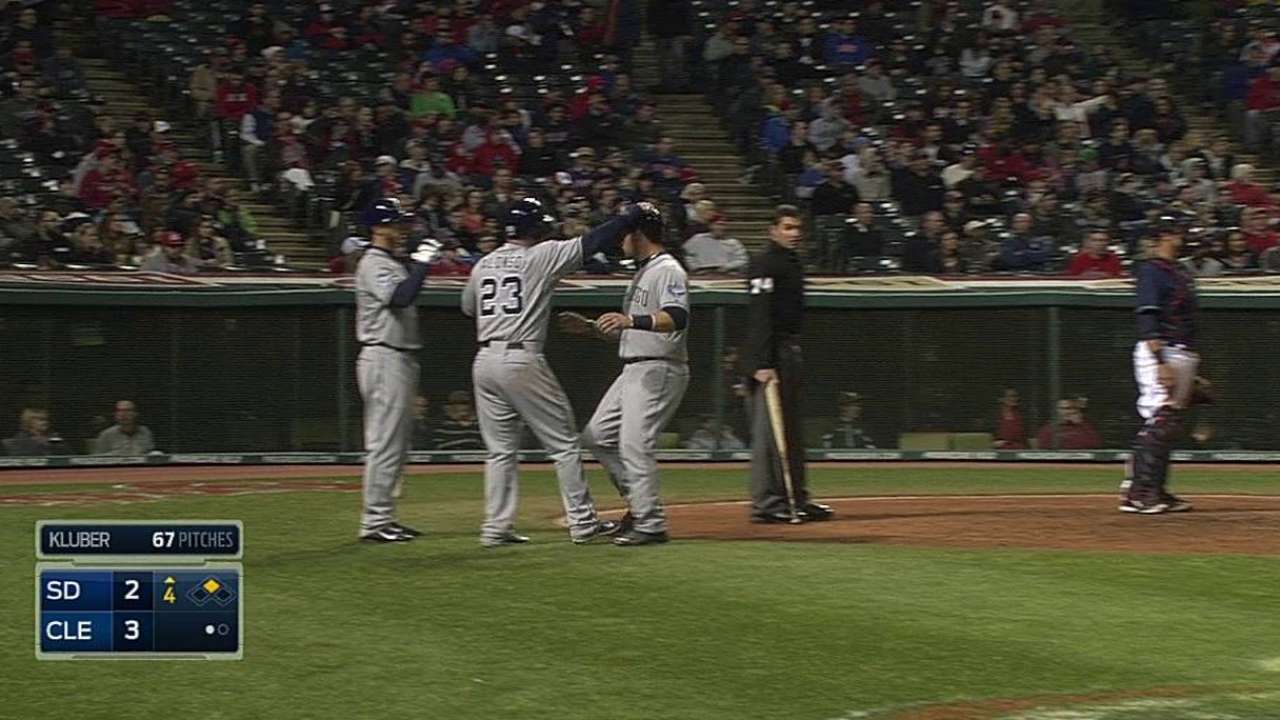 CLEVELAND -- There was no need to hammer away at the popular punching bag the Padres' offense has become at this point in the season, though better at-bats Tuesday didn't result in an end to their early season misery by any means.
The primary culprit this time was defense, as two errors paved way to two big innings for the Indians as they built an early lead before hanging on for an 8-6 victory over the Padres before a crowd of 9,029 at Progressive Field.
The anemic offense that had caused Padres manager Bud Black grief so far this season -- the team went into its seventh game with 12 runs -- combined for a season-high 15 hits and a multitude of chances to score more runs, especially early.
This time, the defense let them down.
"Those two errors cost us," Black said.
A throwing error by second baseman Jedd Gyorko in the third inning allowed the Indians (4-3) to score two unearned runs. One inning later, starting pitcher Tyson Ross dropped a throw from first baseman Yonder Alonso at the bag covering first base on a ground ball to the right side. That led to three more unearned runs.
All told, those two errors led to five earned runs. There was a passed ball and two wild pitches by Ross to boot, adding to as uneven a game as the Padres (2-5) have played this season, even if their offense kept them afloat, especially as they scored three runs in the ninth inning to make it interesting.
But Ross (1-1) struggled with his command and tempo as he allowed seven runs (two earned) on five hits with five walks in 5 1/3 innings, leaving after throwing 94 pitches.
"That was a tough one for me," Ross said. "I couldn't find my rhythm and I struggled with my fastball command."
Yet for all of his troubles Tuesday, his night might have gone differently had he not dropped the toss by Alonso in the fourth inning.
With one out, Asdrubal Cabrera grounded a ball to the right side to Alonso. Ross, as pitchers are trained to do from the first day of Spring Training, got over to first base in plenty of time to cover the bag. When Alonso tossed him the ball, Ross simply missed it, as it glanced off his glove.
"It was a matter of taking my eye off the ball and worrying about missing the bag," he said.
David Murphy hit a three-run home run later in the inning.
Just one inning earlier, Ross began the inning by walking the Nos. 8 and 9 hitters, Yan Gomes and then Murphy. After a passed ball put runners on first and third, Nyjer Morgan, who reached base four times, grounded a ball toward the hole between first and second base. Second baseman Gyorko made a pretty nice sliding pick of the ball, then pivoted to throw to second base to get the force.
But Gyorko's throw ended up in left field as a run scored. That prolonged an inning when the Indians (4-3) would score two more runs.
"I felt if I made a good throw, we still get him [Murphy]," Gyorko said. "I took a chance but made a bad play."
The offense, which ranked last in baseball runs entering Tuesday's game, got a career-best four hits by Yasmani Grandal and a career-high three doubles Everth Cabrera. Gyorko knocked in three runs and Xavier Nady hit a home run during that ninth inning that left the Padres three runs short.
"We're getting there," Gyorko said. "We'll keep getting better. The at-bats are better and I think that we are getting close."
The Padres put the leadoff hitter on in each of the first four innings against Kluber (1-1), who was a 2007 Draft pick the Padres. He was later traded to the Indians as part of a three-team deal that sent outfielder Ryan Ludwick to San Diego from the Cardinals.
"For whatever reason, I had a lot of traffic early on in the game. I was able to work around it and I think that gives you a little bit of a confidence boost when you get into some trouble early on and you're able to come out of it, work out of it," Kluber said.
The Padres failed to score early and finished 3-for-17 with runners in scoring position.
"I like the way we swung the bats … there were guys with good swings. It was a good offensive night," Black said.
Corey Brock is a reporter for MLB.com. Keep track of @FollowThePadres on Twitter. This story was not subject to the approval of Major League Baseball or its clubs.