Once again, teammates go to bat for Lynn
Starter improves to 2-0 thanks to Molina, Holliday, balanced attack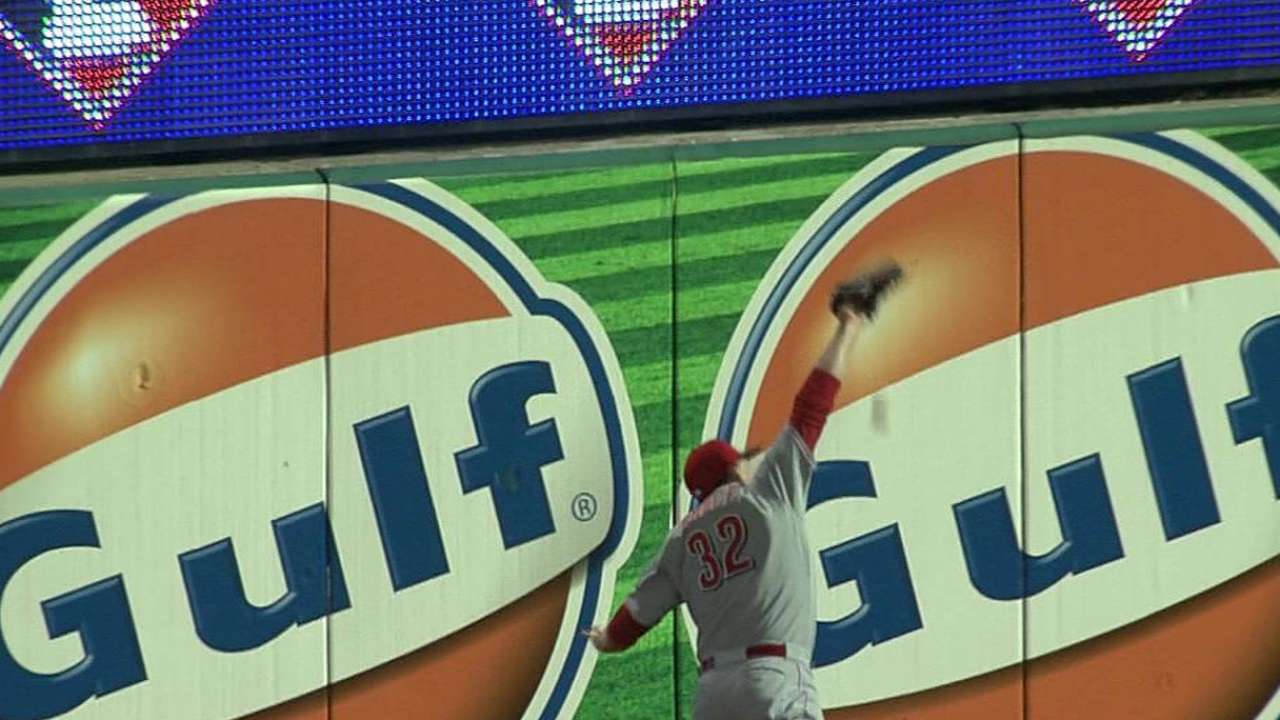 ST. LOUIS -- Tuesday night unfolded much like Act One between Lance Lynn and Homer Bailey, who met in a 13-run affair last week in Cincinnati. Lynn again served up three first-inning runs, only to exhale as his offense erased the deficit by frustrating Bailey.
The recipient of nearly six runs of support in his starts a year ago, Lynn needed every bit of that help in his first outing and also in this second one. The Cardinals obliged with a balanced show of production, ensuring a series victory by defeating the Reds, 7-5, in front of 40,672 fans at Busch Stadium.
"Resilient," manager Mike Matheny said. "I think, I hope, that label fits them extremely well. They don't let the score necessarily dictate the way they go about their at-bats. When they keep their head down and just keep going, it's amazing what they can do."
As potent an offense as the one the Cardinals featured a year ago, they didn't have a come-from-behind win of at least four runs until Aug. 15. This year, it took until the eighth game.
The Cardinals did it, too, with a wide cast of contributors and equal parts power and peskiness. Representative of the depth of the Cardinals' lineup, seven of the eight starting position players reached base at least once, five contributed multihit games, five drove in at least one run and four different players scored.
"You could see the innings that got started tonight, they started all different ways with hits, walks, what have you," said Peter Bourjos, who recorded his first three-hit game as a Cardinal. "It's a pretty complete offense. There are so many different ways to score runs, and if we're constantly putting pressure on the defense or the pitcher, eventually you're going to break through."
Matt Holliday's two-out, two-run double in the sixth capped the comeback and positioned Lynn to move to 2-0 this season despite giving up eight runs in his first 11 innings. He's fortunate that he's twice matched up against Bailey, who has had similar trouble finding his footing to start the season. Though Bailey exited his start on Tuesday with the lead, he allowed the Cardinals to whittle away most the good the Reds' offense had done early.
The Cardinals then finished the job against the Reds' bullpen. Regardless the outcome on Wednesday, the Cardinals will now have won 26 of their last 31 home series against Cincinnati.
"They've been good against us here, in St. Louis in particular, at taking advantage of RBI opportunities," Reds manager Bryan Price said. "If there's been a nemesis for us, against this team in particular in St. Louis, it's been avoiding the big inning."
The Reds had a promising start, jumping on Lynn to score three times in a 28-pitch first inning. Unable to fool the Reds with his fastball in his first start, Lynn tried mixing more off-speed offerings in early. It didn't help.
Jay Bruce, who clobbered a two-run homer off Lynn last week, delivered a two-run triple off a curveball this time. Ryan Ludwick followed with a sacrifice fly.
"They're an aggressive team early and often, and I just have to make better pitches," Lynn said. "That's just part of getting into the flow of the game. So far, at the beginning of the game, sometimes I haven't been able to get the rhythm that I like. I've had it later in games. I need to get a better rhythm coming out of the gate."
Starting strong was not so much a problem for Lynn last year, whose first-inning ERA (3.55) was lower than those for each of the four subsequent innings.
"Obviously, these last two haven't started exactly how he's wanted to, but he's done a better job as he went," Matheny said. "We just need to get him a little bit sharper right when he heads out of the gate."
The Reds pushed their lead to four in the second inning, but watched the Cardinals erase it entirely as they batted around in the bottom half of the frame. Yadier Molina jump-started the scoring with a solo homer, his third home run in eight games this season. A year ago, he didn't hit No. 3 until May 27.
Singles by Matt Adams and Bourjos gave the Cardinals continued life, and Lynn was able to extend the inning by keeping out of a double play on a botched sacrifice bunt. Matt Carpenter followed with an RBI single before Kolten Wong tied the game with a two-run triple.
"The at-bat before that, I was just trying to see how he was attacking me," said Wong, who went 81 at-bats before collecting this first career RBI. "He threw that curveball to me and I saw it out of his hand and I put a good swing on it to do something."
Wong would reach base three times in the game, just as he had on Monday.
Lynn allowed the Reds back in front in the fifth with his continued problems retiring Joey Votto and Bruce -- the two are now a combined 8-for-10 against Lynn this year -- but he managed to pitch the Cardinals through the sixth. That final inning was his only clean one in an 112-pitch effort.
Getting through it, though, allowed Lynn to be the benefactor of Holliday's go-ahead hit off Logan Ondrusek. Bruce had a bead on Holliday's deep fly ball to right, but in a moment that brought flashbacks of Nelson Cruz, it sailed just past his glove and off the wall.
"I catch that. I should. I expect to," Bruce said. "I just jumped a tad early. Error or not, it's a ball I should have caught. I take a lot of pride in defense and that side of the game."
Bourjos' RBI single in the seventh gave the Cardinals' bullpen a hint of insurance that it wouldn't end up needing. Randy Choate, Carlos Martinez and Trevor Rosenthal each pitched a scoreless inning.
Jenifer Langosch is a reporter for MLB.com. Read her blog, By Gosh, It's Langosch, and follow her on Twitter @LangoschMLB. This story was not subject to the approval of Major League Baseball or its clubs.