Offense finally delivers only to see Cards hit back
Bruce helps stake Bailey to four-run lead, but doesn't handle key fly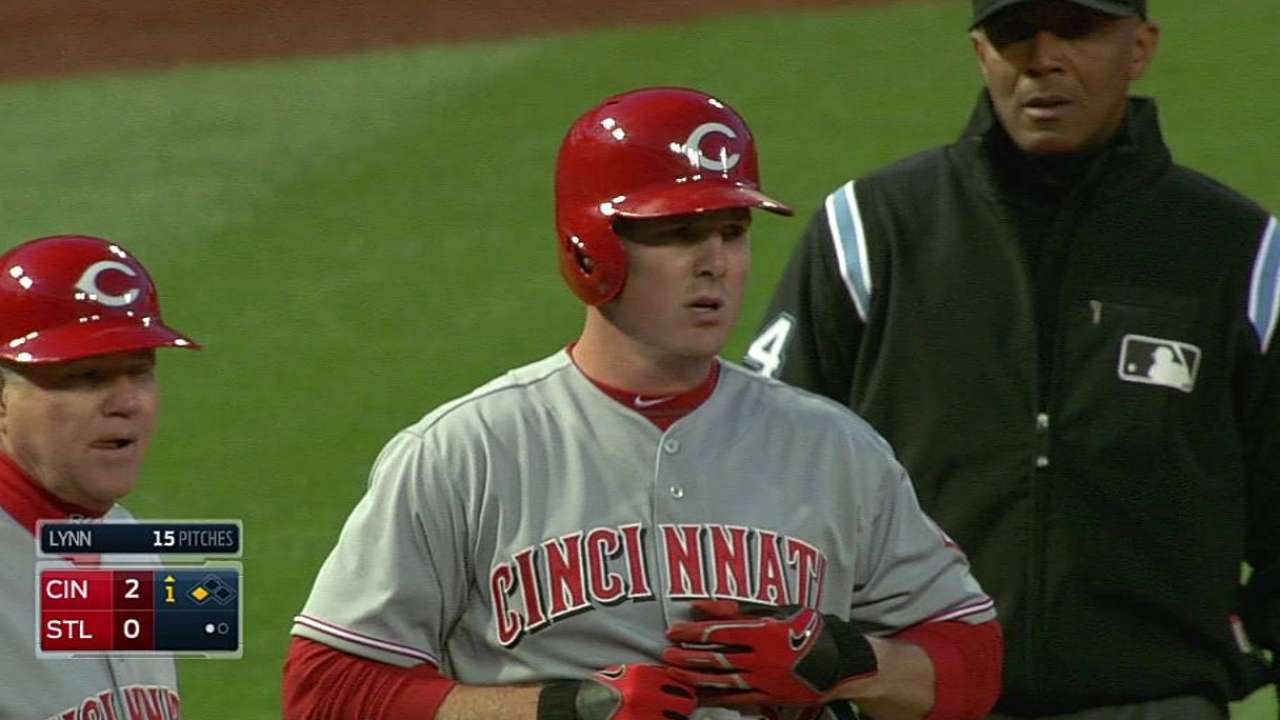 ST. LOUIS -- Reds manager Bryan Price has only two hands and 10 fingers. Just when it seemed Tuesday that one leak was stopped when the offense perked up, Price saw two more drips spring on the club with its pitching and defense vs. the Cardinals.
This 7-5 Reds loss to St. Louis at Busch Stadium proved extra unfortunate because the lineup provided leads of 4-0 through two innings and 5-4 through the fifth. Neither one held up as Cincinnati dropped the first two games of the three-game series.
"We've had a couple of games where we've been able to score some runs. We just haven't been able to hold the opponent down," Price said. "I just saw some better things offensively. Unfortunately, we weren't able to take advantage of the lead and maintain it."
In the St. Louis sixth against Reds reliever Logan Ondrusek, Peter Bourjos led off with a double inside the right-field line and went to third base on a sacrifice bunt. Matt Carpenter was hit by a pitch and Matt Holliday lifted a two-out fly ball to the warning track in right field. Jay Bruce appeared to have a bead on it, but the ball kissed off of his glove as he made a small leap.
It was scored as a two-run double that gave the Cardinals a 6-5 lead.
"I catch that. I should. I expect to," Bruce said. "I just jumped a tad early. Error or not, it's a ball I should have caught. I take a lot of pride in defense and that side of the game."
J.J. Hoover gave up two hits and two walks in the seventh, including Bourjos' one-out RBI single to left-center field that made it a two-run game. Hoover escaped more damage by leaving the bases loaded.
The Reds (2-6) are 1-4 on the current road trip with one game left to play.
"Across the board, we just need to get better," Reds starter Homer Bailey said.
Before Tuesday's game, Price had his four veteran hitters -- Bruce, Joey Votto, Brandon Phillips and Ryan Ludwick -- in his office for a private chat. The details were not revealed, but with the lineup hitting .224 entering the night, it probably didn't hurt to talk.
"It was just a conversation, not a motivational gung-ho speech or anything," Price said.
In last week's matchup vs. Bailey at Cincinnati, Cardinals starter Lance Lynn gave up three first-inning runs. Lynn did likewise on Tuesday as the Reds took another 3-0 lead, with Bruce's two-run triple to the right-center-field gap and Ludwick's sacrifice fly doing the damage.
It became a 4-0 game in the second after Devin Mesoraco's first at-bat of the season yielded a one-out double to left-center field. Mesoraco scored on Billy Hamilton's RBI single up the middle.
"They made a couple good swings early on," said Lynn, who gave up five runs over six innings. "They're an aggressive team early and often, and I just have to make better pitches. That's just part of getting into the flow of the game. So far, at the beginning of the game, sometimes I haven't been able to get the rhythm that I like."
Like the first showdown vs. Lynn, Bailey did not hold the lead and it came apart in a four-run Cardinals second that brought nine to the plate. The inning started with Yadier Molina's homer to left field. After a second run scored, Kolten Wong's two-run triple to right field made it a 4-4 game.
"Tonight I definitely felt like I deserved a loss," Bailey said. "I guess you can always say, 'It's still early,' but every single game counts. We're just in a bad knoll right now. It seems like when we hit, we don't pitch. When we pitch, we don't hit. It's kind of the way things have been going right now."
Bailey lived on the edge as he gave up two hits to start the third inning, and after an infield hit and a walk to begin the fourth, he got a strikeout of Holliday and Allen Craig's 5-4-3 double play started by a very nice diving stop from Todd Frazier.
With 99 pitches through five innings, Bailey was lifted for a pinch-hitter in the sixth. He finished with four earned runs and nine hits with two walks and five strikeouts. Although he had won two of his previous three starts to the Cardinals, he is 5-11 lifetime with a 5.01 ERA against them.
The Reds' tough times in St. Louis continue. Now that the Cardinals have taken the first two games of the three-game series, Cincinnati is 3-26-2 in series at Busch Stadium since 2003 -- including 0-for-the-last-6. Their last series win at St. Louis came in September 2011.
"They've been good against us here, in St. Louis in particular, taking advantage of RBI opportunities," Price said. "They got some guys in scoring position and did what they've done the last couple of years and drove them in. We couldn't avoid the big inning. If there's been a nemesis for us, against this team in particular in St. Louis, it's been avoiding the big inning.
"We have to make better pitches. We have to play a better game all the way around."
Mark Sheldon is a reporter for MLB.com. Read his blog, Mark My Word, and follow him on Twitter @m_sheldon. This story was not subject to the approval of Major League Baseball or its clubs.