Hart homers twice as Mariners win home opener
DH drives in four in Safeco Field debut; Paxton exits with lat strain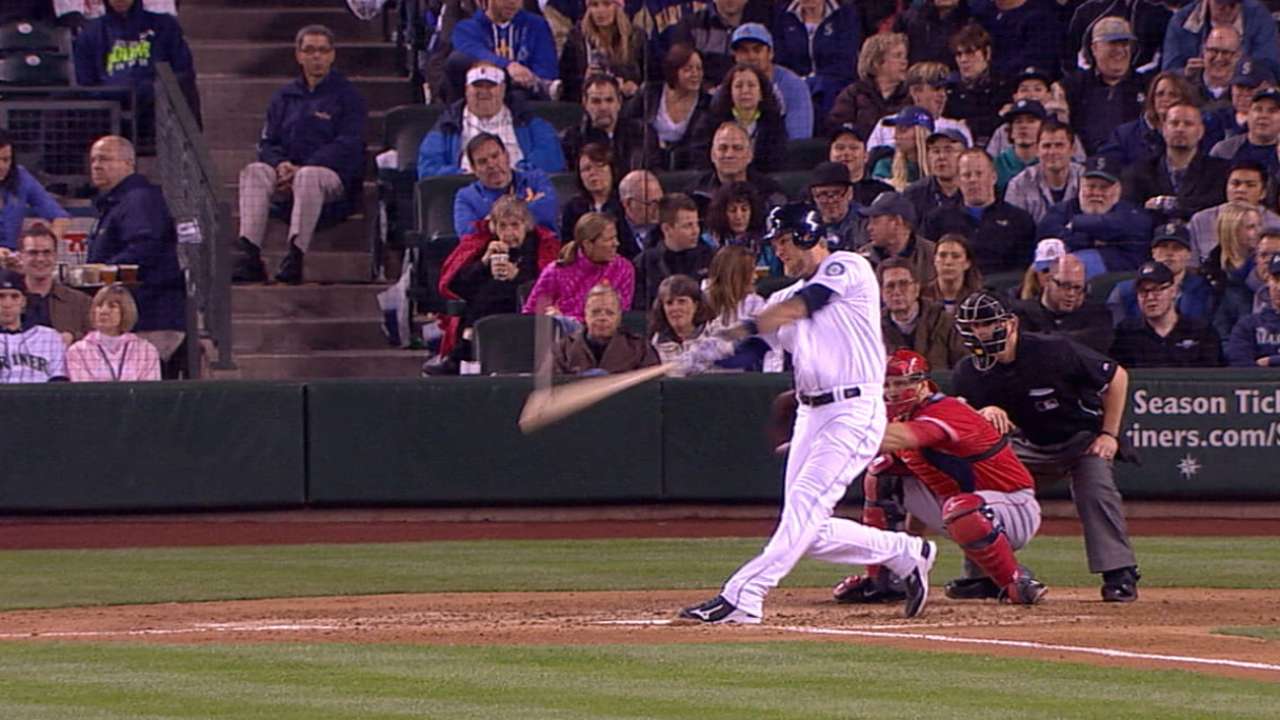 SEATTLE -- Corey Hart clubbed two home runs to rally the Mariners to a 5-3 victory over the Angels on Tuesday's Opening Night at Safeco Field, though the win was dampened by an injury that sidelined starting pitcher James Paxton.
Paxton held a 4-3 lead in the top of the sixth when the promising rookie southpaw was taken out of the game with what preliminary reports indicated was a strained lat muscle behind his left shoulder.
But with Hart going deep twice -- a three-run shot in the third inning and a solo blast in the seventh -- the Mariners hung on for the victory to improve to 5-2 on the season, including four straight against the Angels.
"It was unbelievable," said Hart, who was hitting .167 coming into the game after missing all of last season following a pair of microfracture knee surgeries with the Brewers. "I haven't had a whole lot of good baseball moments lately.
"So many guys have been swinging the bat well. For me, I'm just trying to find a rhythm and get something going. It was nice to do it, especially Opening Night in front of a crowd. At least they know when it's going good, it's going good for me."
Relievers Yoervis Medina, Danny Farquhar, Tom Wilhelmsen and Fernando Rodney held the Angels hitless for the final four frames to preserve Paxton's win in front of a sellout crowd of 45,661, though Rodney had to dig in to record his second save after walking the first two batters in the ninth.
Paxton, 25, is 2-0 with a 2.25 ERA this year and 5-0 with a 1.75 ERA in six Major League starts. Though Mariners officials are concerned about his situation pending an MRI exam on Wednesday, the youngster sounded optimistic after the game.
"I don't think it's going to be a big deal," Paxton said. "It's not like it's a real pain, it's just a little soreness, so we'll see what's going on tomorrow."
Hart, who signed a one-year, $6 million free-agent deal with $4.65 million in potential incentives, now has three home runs and five RBIs in five games. It was the 15th multihomer game of Hart's career, but first since Sept. 29, 2012.
"That was great," said the 32-year-old. "So many guys on this team have been chipping in, and I haven't been one of them. So it was nice to find contact tonight and be able to help out. I was getting kind of tired of watching everybody else help out."
The new designated hitter capped a four-run outburst in the third with his majestic shot to left field off Angels southpaw Hector Santiago, who is now 0-2 with a 7.71 ERA after two starts against Seattle.
That rally came after Angels catcher Chris Iannetta couldn't handle what would have been an inning-ending strikeout of Brad Miller. Instead, Miller sprinted to first to keep the frame alive, Robinson Cano walked, Justin Smoak laced an RBI single and Hart drove a sinker over the fence after fouling off a pair of 0-2 offerings.
"We gave them four outs," said Angels skipper Mike Scioscia. "He struck out Miller. I think he was trying to go away and lost it inside and Chris couldn't quite get it. And then he walks Cano and they got some big two-out hits after that. Last week in California, they really were hot with two outs and guys in scoring position and they carried it through that inning."
Hart then drove a Fernando Salas pitch over the center-field wall with two out in the seventh for a 5-3 lead and the bullpen did the rest.
"It was kind of a shock," Farquhar said of Paxton's early exit. "I looked at the board and he was at like 58 pitches and then he got pulled. That's a big hit for us. He's really good."
But the bullpen was equally good, with only four walks marring four hitless innings. Two of those walks came from Rodney, who then struck out Josh Hamilton and Howie Kendrick before getting Raul Ibanez to fly out to left. Farquhar, who threw 1 2/3 innings of key relief, said the relievers are quickly meshing.
"Man, it's exciting down there," Farquhar said. "We've got a group down there that when Corey Hart hit that home run, we went nuts. Obviously the stadium went nuts, too. It's cool. Everybody is involved and everybody is excited."
Things didn't start or end nearly as well for Paxton. The fireworks from pregame ceremonies had barely died down when the Angels provided some of their own with back-to-back first-inning homers by Albert Pujols and David Freese for a 3-0 lead.
That snapped Paxton's 16-inning scoreless streak dating back to last year, but he settled in and retired 14 straight batters before Kole Calhoun led off the sixth with a single.
Paxton then had a 1-0 count on Mike Trout when trainer Rob Nodine and manager Lloyd McClendon hustled out to the mound and removed him after a brief conversation.
Until that point, the youngster showed again what he could do when locked in.
"I was a little excited obviously with what was going on here. I just left some pitches up," he said. "When you make mistakes to hitters that good, they're going to make it hurt. I kind of calmed myself down between innings and went out there and got back to doing what I do."
Smoak went 2-for-4 with a double and his team-leading ninth RBI. He is batting .321.
Cano scored a run after walking in the third, but his six-game hitting streak came to an end with an 0-for-3 night in his home debut.
Greg Johns is a reporter for MLB.com. Follow him on Twitter @GregJohnsMLB as well as his Mariners Musings blog. This story was not subject to the approval of Major League Baseball or its clubs.