Giants' bats stay hot behind strong Hudson
Veteran pitches eight solid innings; Belt goes yard in home opener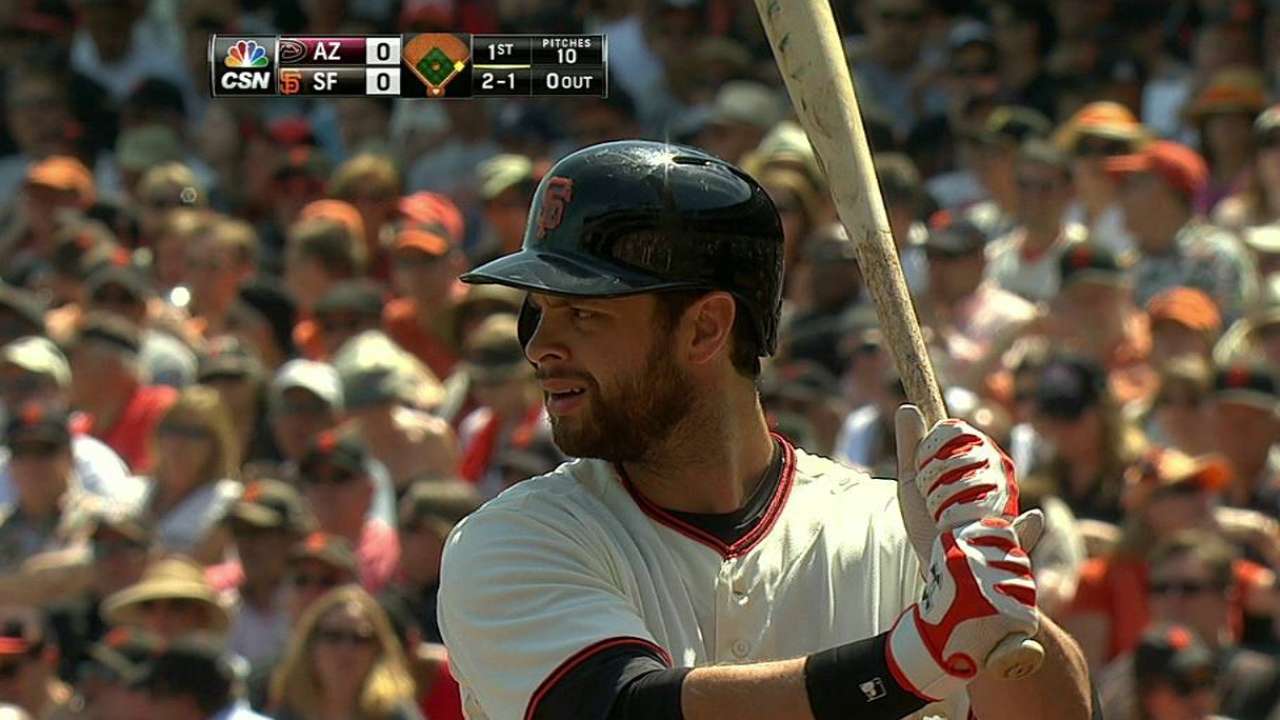 SAN FRANCISCO -- The Giants' offense gained some legitimacy Tuesday.
They entered their home opener against the Arizona Diamondbacks leading the Major Leagues in homers and ranking third in the National League in scoring. But playing at AT&T Park threated to stifle the Giants' impressive offense. It happened last year, when they finished next-to-last in the league in homers and 12th in scoring at home.
But under sunny skies and an atmosphere reeking of optimism, the Giants maintained their robust production in a 7-3 triumph as Brandon Belt lashed a two-run homer in the first inning and each of the first seven Giants in the batting order hit safely or scored.
This provided ample support for Giants starter Tim Hudson, who defeated Arizona for the second time in a week. Hudson, who limited the D-backs to three hits in 7 2/3 shutout innings last Wednesday, made his first Giants home appearance and worked eight innings, the most by a San Francisco starter this season.
A partial list of luminaries who appeared as the Giants began their 57th home schedule in San Francisco conveyed the sense that this was a special day, as all home openers are. Batkid, who captured America's imagination last November when he went on his ersatz yet earnest crime-fighting spree, was on hand to throw the ceremonial first pitch. Bryan Stow, the Giants fan who was brutally beaten outside of Dodger Stadium after the 2011 opener, watched the game from a private box. Barry Bonds, the all-time home run leader who helped tutor Giants hitters for a week during Spring Training, watched his pupils from a field club-level seat.
They and other Giants partisans certainly relished what they saw as the club improved to 6-2, including 4-1 against Arizona.
The Giants hiked their total of runs to 47, the most they have scored through eight games since 2003.
Belt pulled into a tie with Arizona's Mark Trumbo for the Major League lead in homers. They have five apiece. Belt also became the first Giant since Jose Cruz Jr. in 2003 to hit five homers in San Francisco's first eight games, according to STATS.
Leadoff batter Angel Pagan continued to galvanize the offense while lengthening his season-long hitting streak to eight games, including six multi-hit games.
Hudson, the Majors' winningest active pitcher with 207 victories, was well-qualified to describe the Giants' offensive surge. The veteran newcomer has noticed the effect of a deeper, healthier, more polished lineup.
"Guys are having great at-bats every inning throughout the game," Hudson said. "They're not really taking a lot of at-bats or innings off. As [an opposing] pitcher, that'll wear on you over the course of a game. Over the course of 100 pitches, when you have every hitter grinding out at-bats, at some point you're going to break. I think that's just a product of our guys keeping pressure on the pitcher from the start of the game to the end."
The Giants' knack for two-out scoring reflects that relentless approach. They tallied four runs Tuesday with two outs, hiking their total in those situations to 32. Michael Morse and Brandon Crawford each hit two-out, two-run singles in the third and fifth innings, respectively.
And as for pressure, the Giants have avoided the self-imposed kind.
Prone to inconsistency in his first couple of big league seasons, Belt has adjusted mentally and mechanically. The latter changes have been well-documented.
"I've got more balance than I've had in the past and it's enabled me to get better contact," he said.
Unlike many hitters, Belt hasn't let AT&T Park's pitcher-friendly dimensions intimidate him.
"I think it's just being here for so long -- it seems like a long time; it's only been a couple of years -- you know the park," he said. "You know what you're going to get."
As they did in 2012, when they won their second World Series in three years, each Giants player has resumed believing in the next hitter and avoiding the pitfall of burdening himself with obligations.
"Last year, we'd try to do too much," said Crawford, who shrugged off a four-strikeout performance Sunday at Los Angeles and collected two hits. "I think there's a little more sense of trust this year."
Confidence has enveloped the Giants when Hudson works. He continued displaying his mastery of the pitching art, extending his season-long streak of consecutive innings without a walk to 15 2/3.
"He throws a lot of strikes, but his ball is moving all over the place," Trumbo said. "It's really hard to anticipate what he's going to throw in any given count. You just try to be ready to hit from the outset. Both games he's gotten into real nice rhythms and it makes it tough. You get into a hitter's count and [the ball] moves just enough to get off your barrel and you're running down the line wondering what happened. ... If he's capable of pitching like he did today, that's a tough matchup for anyone."
Chris Haft is a reporter for MLB.com. Read his blog, Haft-Baked Ideas, and follow him on Twitter at @sfgiantsbeat. This story was not subject to the approval of Major League Baseball or its clubs.