Astros unable to find timely hits against Blue Jays
Houston falls in series opener after offense struggles with RISP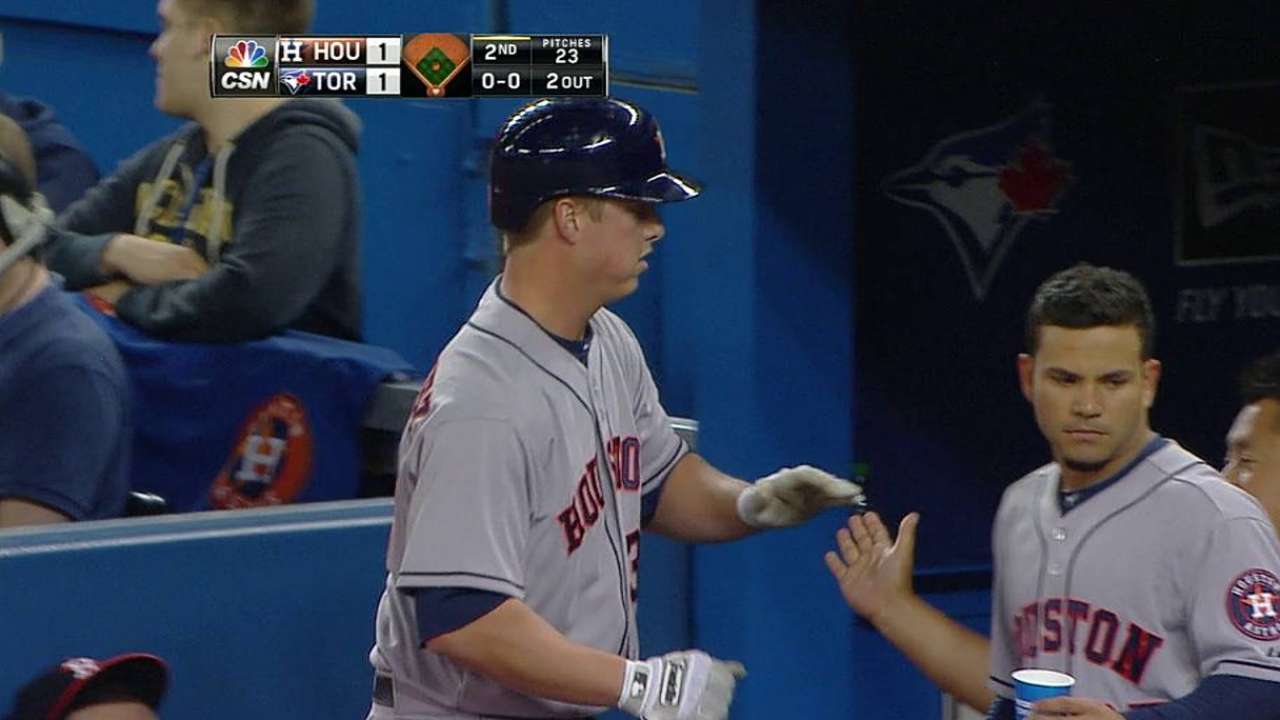 TORONTO -- The Astros haven't been able to come up with many timely hits with runners on base this season, a theme that continued north of the border.
Entering Tuesday's contest with an American League-worst .159 batting average with runners in scoring position, the Astros put up another zero in that department against the Blue Jays, and it cost them.
Houston struggled to capitalize when it needed to most, going 0-for-14 with runners in scoring position, while left-hander Kevin Chapman allowed a pivotal two-run homer to Melky Cabrera in the seventh inning of a 5-2 series-opening loss to the Blue Jays at Rogers Centre.
"[We] just have to get a big hit," manager Bo Porter said about his club, which is now hitting .121 with RISP. "I mean, we had our opportunities. We had men on base; we had men on base with less than two outs and when you get into those situations, you have to capitalize."
Houston had plenty of chances against Blue Jays starter Mark Buehrle, who labored through most of the night after a stellar performance in his first outing of the season. The Astros put runners on base every inning against Buehrle, but by the time the left-hander was pulled from the contest, Houston only had put one run across the board on a second-inning sacrifice fly from Matt Dominguez.
Buehrle, who improved to 2-0, allowed one run on eight hits, while walking one and striking out three. He was yanked after 81 pitches with one on and one out in the sixth inning, but reliever Steve Delabar retired the next two batters to help get Buehrle off the hook.
The Astros had some quality at-bats against the veteran, recording three doubles on the night, and Buehrle knows he was lucky to escape with the line he had.
"I was up in the zone and wasn't getting ahead in the count like I was last start," said Buehrle, who threw 8 2/3 scoreless frames against Tampa Bay in his first start of the season. "I'm fortunate to get away with one run in 5 1/3 innings. That could have been a game where I gave out eight to 10 runs."
Things didn't get much better for Houston once Buehrle exited, and the club ended the contest leaving 10 men on base.
For all of Houston's struggles at the plate, it was in a position to win until Cabrera made Chapman pay for a seventh-inning mistake. Chapman hung an 0-2 slider to Cabrera, which he deposited over the wall in left field for his fourth homer of the season to give Toronto a 5-2 lead and its bullpen all the insurance it needed.
"I think Chapman will let you know that he probably should have made a better pitch than that," Porter said. "Obviously, it ended up being a home run and that's not a pitch that you want to make 0-2. If you were way ahead, you have some pitches to play with, see if he's going to expand, but again, give Melky credit, he put a good swing on it and hit it out of the ballpark."
Houston threatened to strike back in the top of the eighth, putting two runners on with one out for pinch-hitter Dexter Fowler. But Fowler hit a soft grounder back to Blue Jays reliever Brett Cecil, who threw the ball home to nail L.J. Hoes at the plate. The play was challenged then reviewed by the umpiring crew, but was confirmed after one minute and 26 seconds.
Cecil then struck out Jonathan Villar to end the threat and strand two Astros.
Houston made things interesting the inning before, too. Down, 3-1, in the seventh, the Astros put the first two runners of the inning on base and scored one on a Jose Altuve groundout. But Blue Jays reliever Aaron Loup retired the next two batters and that was as close as the Astros would get.
Astros starter Brett Oberholtzer, meanwhile, got off to a shaky start, allowing a first-inning homer to Blue Jays slugger Jose Bautista, his fourth of the season, which gave Toronto an early 1-0 lead.
Oberholtzer cruised through the next two innings and the score remained tied, 1-1, until the fourth, when a misplayed ball by Astros left fielder Robbie Grossman allowed Toronto to jump back in front.
With one on and one out, Dioner Navarro ripped a line drive to left that Grossman attempted to play off a hop, but the ball bounced over his glove and rolled to the wall, allowing Edwin Encarnacion to score from first base and give the Blue Jays a 2-1 lead. Navarro recorded a double on the mishap.
"Playing on turf, obviously the ball is going to bounce a little bit higher and that was one of those plays, if he gave himself more room, he catches the ball on the hop," Porter said. "He kind of got caught in between and the ball ended up bouncing high and got over his head."
Following Navarro's double, Oberholtzer retired six straight batters before getting lifted for righty Josh Zeid in the sixth inning after issuing back-to-back one-out walks.
Navarro greeted Zeid by lacing another double to left, which once again scored Encarnacion from first, putting Toronto in front, 3-1.
Oberholtzer lasted 5 1/3 innings, allowing three runs on three hits and fell to 0-2 on the season.
Chris Toman is a contributor to MLB.com This story was not subject to the approval of Major League Baseball or its clubs.