Gio sharp again as Nationals blank Marlins
Lefty allows three hits, whiffs five over six; Rendon drives in three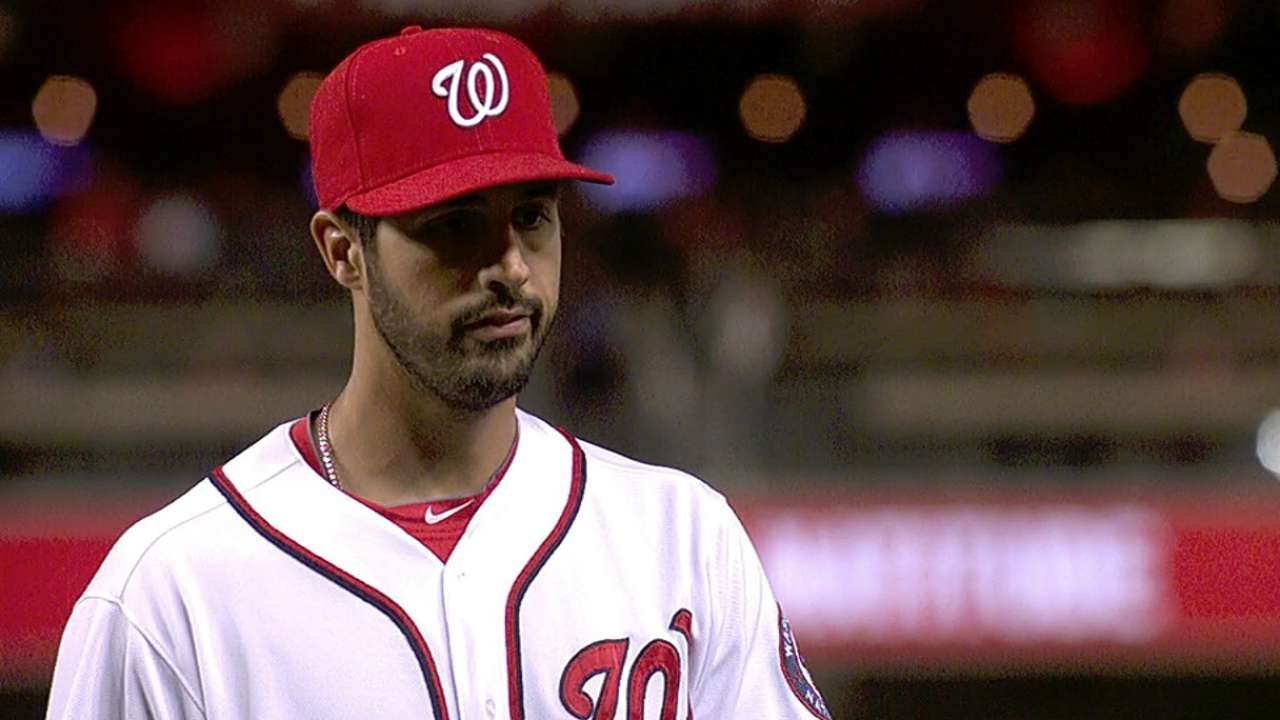 WASHINGTON -- Left-hander Gio Gonzalez pitched six shutout innings as he helped the Nationals blank the Marlins, 5-0, at Nationals Park on Tuesday night.
The Nationals have won five of their first seven games.
Gonzalez (2-0) threw a lot pitches early, but he settled down and retired the final 10 hitters before leaving the game. Gonzalez allowed just three hits, and the only time the Marlins made a serious threat against him was in second. Miami had runners on first and second with one out, but Reed Johnson flied out to Denard Span in center field and right-hander Henderson Alvarez flied out to right fielder Jayson Werth.
Manager Matt Williams thought about sending Gonzalez back out for the seventh to face Garrett Jones, but decided against it because the Nationals had a lengthy bottom of the sixth and scored two runs.
"He competes every time he goes out there," Williams said. "In his last couple of starts, he throws a lot of pitches, but when he has to lock it in, he locks it in. He has been good."
In his first two starts, Gonzalez has allowed one run over 12 innings. It helps that catcher Jose Lobaton is encouraging him to throw the changeup a lot more than he has.
"I'm just mixing it up," Gonzalez said. "Jose has been doing his homework, making me throw all three of my pitches. The offspeed -- going in and out, just mixing it up. It's fun throwing to him."
Washington took the lead in the bottom of the first inning off Alvarez. After Werth doubled with two outs, Adam LaRoche singled to left, scoring Werth.
The Nats added two unearned runs in the sixth off Alvarez, showing once again how aggressive they can be under Williams. Before the game, Williams told the team that Alvarez can throw the ball in the dirt, so look to advance an extra base whenever possible.
With runners on first and third and two outs, Alvarez threw the ball in the dirt. It look like LaRoche was going to be thrown out at second base, but second baseman Jeff Baker dropped the ball while taking a perfect throw from catcher Jarrod Saltalamacchia. That allowed Bryce Harper to score and LaRoche to be safe at second.
"Alvarez is not a guy you can really steal bases on, but he throws balls in the dirt," Williams said. "It's something we talked about before the game. If we get an opportunity to do that, be ready for it and be alive for it. It was part of the game plan going in.
"... We have to make sure we take advantage of those opportunities. So as long as we are prepared for it or expecting it, then we are able to do it. It's those little things within the game that we want to make sure that we are good at."
LaRoche then came home on a single by Anthony Rendon.
"We made a mistake in there, and gave them an extra out and they capitalized on it. We talked about having to eliminate our mistakes," Marlins manager Mike Redmond said. "When you play teams like this, you give them an extra opportunity, they usually capitalize on it."
Two innings later, Rendon made it a five-run game in the eighth. With left-hander Mike Dunn on the mound, Rendon doubled off the left-center-field wall, scoring Werth and LaRoche.
Rendon is off to a hot start, going 11-for-27 (.407) a home run and eight RBIs. He also has been doing the job defensively. In the seventh, Reed Johnson tried to bunt his way on, but Rendon, filling in for Ryan Zimmerman at third, made a great play charging in and threw out Johnson.

"I did it a good amount of time in college. I guess I still have a little bit left," Rendon said.
Rendon has been playing third lately because Zimmerman is dealing with right shoulder issues.
"We don't want Ryan down, but if something like this happens and he has to be out a couple of days, we not only have Anthony, but we have Danny [Espinosa], who can play Gold Glove defense up the middle," Williams said. "That's one of the reasons both of them are on our team."
Relievers Jerry Blevins, Drew Storen, Tyler Clipppard and Aaron Barrett took care of Miami the rest of the way.
Bill Ladson is a reporter for MLB.com and writes an MLBlog, All Nats All the time. He also could be found on Twitter @WashingNats. This story was not subject to the approval of Major League Baseball or its clubs.