Rangers give Perez plenty of support vs. Red Sox
Score nine runs over first five innings, turn five double plays behind him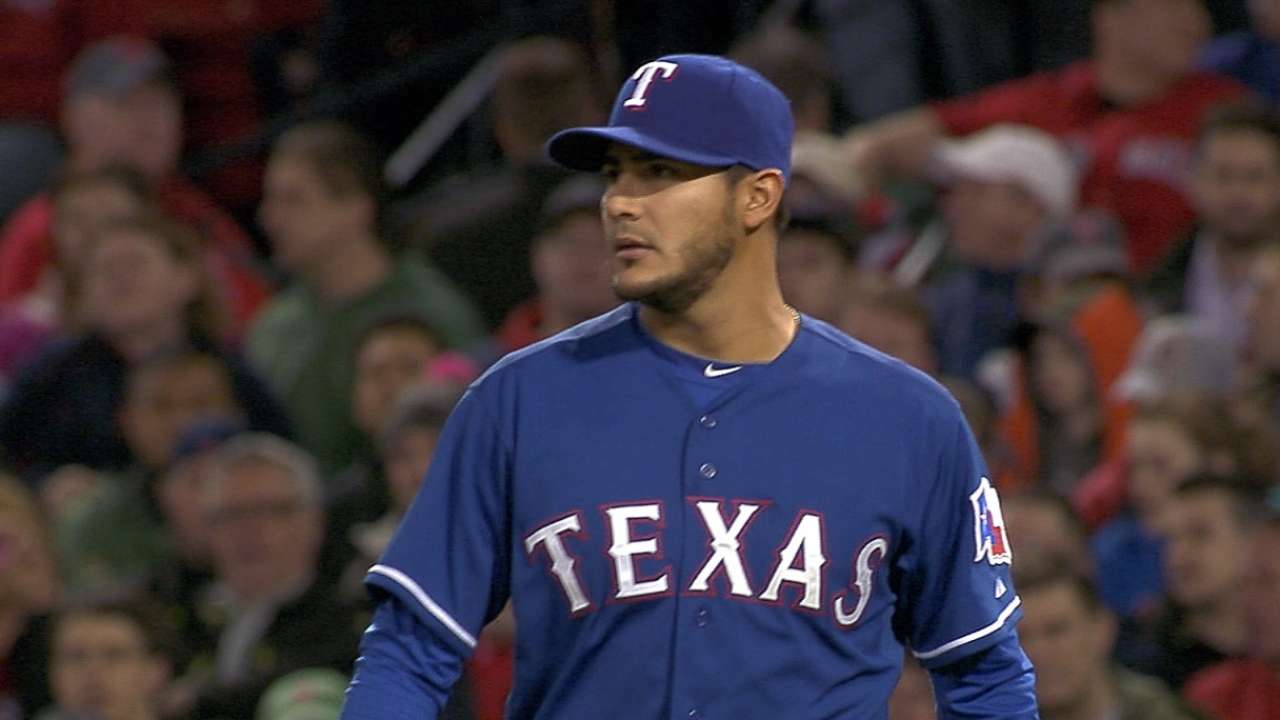 BOSTON -- Rangers pitcher Martin Perez accomplished quite a feat on Tuesday night, when he allowed the leadoff hitter to reach base in seven straight innings.
That can often lead to disaster, but Perez had two things going for him on a cool New England evening. He received some big run support early from his offense and he was able to keep getting the Red Sox to hit into rally-killing double plays.
The combination helped Perez earn his first win of the season in a 10-7 victory over the Red Sox at Fenway Park. The Rangers led 9-1 after five innings before holding on at the end for their second win in five games on a road trip that ends on Wednesday afternoon.
Perez went 6 1/3 innings, allowing four runs on eight hits, three walks and three strikeouts. He was able to get the Red Sox to ground into five double plays, tying him for second most by a Rangers pitcher in one game. Matt Harrison holds the Rangers record with six against the Yankees on April 15, 2011. Perez is now tied for second most, along with George Medich in 1982 and Kevin Gross in 1995.
"A pitcher's best friend and he was able to use it tonight," Rangers manager Ron Washington said of the double plays. "You don't want it to happen all the time like that, but he was able to take advantage of it tonight. He really threw the ball well."
Perez knew coming in that he had to keep the ball down and not let the Red Sox hitters take advantage of that left-field wall. So he came out from the beginning relying on his sinker and that was the pitch that kept bailing him out of trouble inning after inning.
"I'm not a power pitcher, I'm a ground ball pitcher," Perez said. "I throw good pitches down in the zone and that's what happened. When you have conviction and throw good pitches, that's what happens. You stay on the attack."
Adrian Beltre, who started at designated hitter, was 2-for-3 with two RBIs for the Rangers, but had to leave the game after five innings with tightness in his left quad muscle. It's a similar problem to one that forced Beltre to miss a week in Spring Training and he is flying back to Texas on Wednesday to be examined by Dr. Keith Meister to see the extent of the injury.
Shin-Soo Choo was 2-for-3 with two walks and Prince Fielder was 2-for-5 with two RBIs. But the guy who started everything was catcher Robinson Chirinos, who was making his third start behind the plate. He led off a five-run third inning with a home run off of Red Sox starter Felix Doubront, the second of his career and first since Aug. 3, 2011. He also had a double and scored another run in the fifth.
"Thank God for a great day," Chirinos said. "I couldn't ask for a better day."
The Rangers were 6-for-14 with runners in scoring position after going 0-for-8 in those situations in a 3-1 loss on Monday.
"Yesterday we had some opportunities, tonight we had the big innings," Choo said.
Doubront walked Choo to lead off the first but had retired six straight hitters before Chirinos, his teammate from winter ball in Venezuela, took him deep over the left-field wall on a full-count fastball.
"We were getting good pitches to hit and trying to stay in the strike zone," Chirinos said. "I know he sometimes has a hard time throwing strikes so we just made him put it in the strike zone and put good swings on it."
After Josh Wilson grounded out, Choo singled to left. Doubront struck out Elvis Andrus, but Fielder bounced a double over first base to score Choo. Beltre brought him home with a single. After Alex Rios singled, Donnie Murphy doubled home a run, then walks to Michael Choice and Robinson Chirinos forced in another. Doubront was done after that with the Rangers leading 5-0.
"I gave up the homer to start, being too perfect and overthrowing ... started trying to do too much," Doubront said. "I was feeling comfortable with my arm. My body feels really good. Like I said, I was trying to do too much. It's hard to explain. I don't know what happened. It's one of those games."
The Rangers added three more in the fourth and an RBI double by Choo gave the Rangers a 9-1 lead after five. The game didn't end comfortably. The Red Sox had baserunners on in every inning, and the leadoff hitter on in eight of nine innings. Perez got double-play grounders in five of the first six innings.
But when the double plays stopped, the Red Sox made it interesting with three in the seventh and three in the ninth. Joakim Soria finally put it away by striking out Mike Napoli.
"In this ballpark, late in games, those guys have taken away a lot of ballgames," Washington said. "We needed every run tonight."
They also needed every double play.
T.R. Sullivan is a reporter for MLB.com. Read his blog, Postcards from Elysian Fields, and follow him on Twitter @Sullivan_Ranger. This story was not subject to the approval of Major League Baseball or its clubs.