Norris rescues A's in 11th with clutch three-run blast
Johnson can't hold lead in ninth, but Oakland pulls out third straight win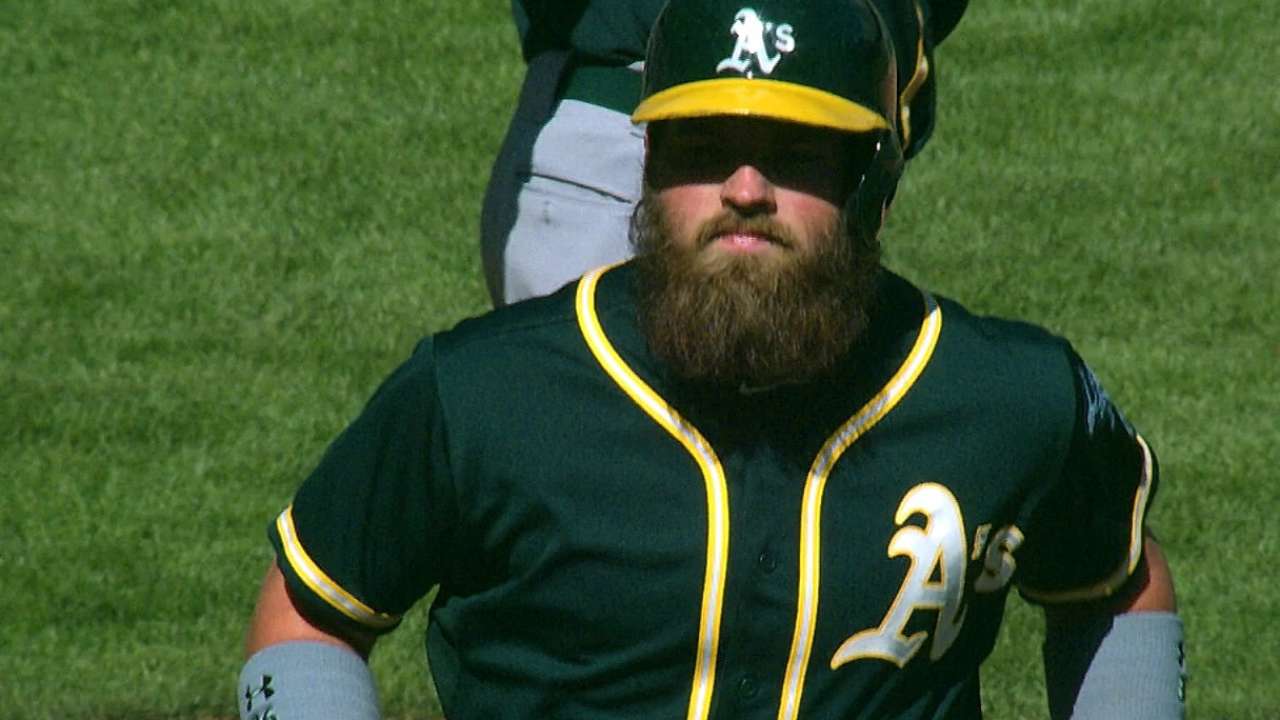 MINNESOTA -- Jim Johnson unraveled again, but his catcher saved the day.
What a wild one it was at Target Field, with Derek Norris' 11th-inning three-run homer off righty Jared Burton giving the A's a 7-4 victory over the Twins on Wednesday, extending Oakland's winning streak against Minnesota to eight games.
Eight of the catcher's career 18 home runs have either tied the game or given the A's the lead, and this one was especially needed, following yet another ninth-inning meltdown from Johnson, who allowed two runs to erase a two-run lead.
Norris didn't even start the game, coming off the bench in the top of the ninth inning to pinch-hit for John Jaso against lefty Brian Duensing.
"It's tough to come in a game like that. It's not easy," said manager Bob Melvin. "You always have to calculate a late-game move like that, because it's not like you're in the flow of the game, but he does a nice job and gave us a heck of an-bat. Since he's been here, he's had a way of coming up big in those situations."
"It's crazy," said Josh Donaldson. "You just never know with this team if you're going to be in the game at some point, so you should just expect to be. That's a prime example right there. He comes up with the biggest hit of the game."
Norris' homer marked just the third hit from A's batters after the first inning, when they strung together a pair of game-opening walks and four consecutive hits off veteran Phil Hughes before the right-hander even recorded the first out.
Hughes was forced to throw 44 pitches during the hit parade that was the first inning, though he managed to get through five frames on 104 pitches total without any further damage.
Still, it appeared enough had been done, and A's righty Jesse Chavez was on cruise control for much of his seven innings of work, allowing just one run on Jason Kubel's second-inning homer in a career-high nine-strikeout performance. Lefty Sean Doolittle allowed a solo shot to Brian Dozier in the eighth, but Luke Gregerson completed the inning in advance of the eventful ninth.
Johnson loaded the bases on a pair of walks and a hit before surrendering another -- this one a blooper to shallow left field -- to Eduardo Escobar. Yoenis Cespedes made a quick throw to third to try to nail a diving Kurt Suzuki, but he was ruled safe. Melvin challenged the call, but the umpires ruled that the play would stand, and that would do it for Johnson.
"I saw some balls up again," said Melvin, who wasn't ready to say whether a ninth-inning change is in the works. "The last thing he wants to do is walk a couple guys. Now you're at the mercy of a bloop hit like it was, and I just had to go get him. I didn't feel great about it, but I had to do it. We'll keep working to get him right. We thought he was after the last couple times and it just wasn't his day today."
"I've been throwing too many balls, walking way too many hitters," said Johnson. "I'm behind in the count. Fastball's not commanded well, and, I don't know, ball's kind of moving on me a little bit erratic at times. It's not pretty right now.
"Personal things aside, the team comes way before me. If they want me to do whatever, I'll do whatever. I feel like I just need to get a little momentum going. It's just frustrating because I feel like I've been doing everything I can. I only know one way to do it, and I'm going to fight like hell."
Johnson was replaced by Dan Otero, and Brian Dozier greeted him with a sacrifice fly to right field, where Josh Reddick quickly unleashed the ball toward home on a close play at the plate. Suzuki was deemed safe to tie the game, a ruling that stood following a review.
Otero got out of the inning without the Twins doing any further damage, but the drama only escalated from there, with the benches clearing in the 10th following Donaldson's inning-ending strikeout. Lefty Glen Perkins had some words for Donaldson, who stepped toward the pitcher to respond as both benches emptied.
The sides began parting as relievers ran out from the bullpen, and both were issued a warning. Perkins appeared to have an issue with Donaldson admiring a long foul ball in the at-bat.
It only delayed Norris' heroics, which made the A's 2-0 in extras this year and on a three-game winning streak heading into Thursday's series finale.
"I'm just sticking with my approach, seeing something out over the plate and just trying to hit a line drive to drive a run in," said Norris, "and fortunately I got underneath it a bit and carried it out of the park for a home run."
"That would've been a real tough one to lose, but to be able to come back after a dramatic swing in the ninth inning and keep our wits about us and get some good at-bats was big," said Melvin. "It was a good win."
Jane Lee is a reporter for MLB.com. Read her blog, Major Lee-ague, and follow her on Twitter @JaneMLB. This story was not subject to the approval of Major League Baseball or its clubs.