Matinee vs. Orioles gets away from Yankees
Nova, bullpen struggle vs. AL East rivals; Soriano, Johnson go deep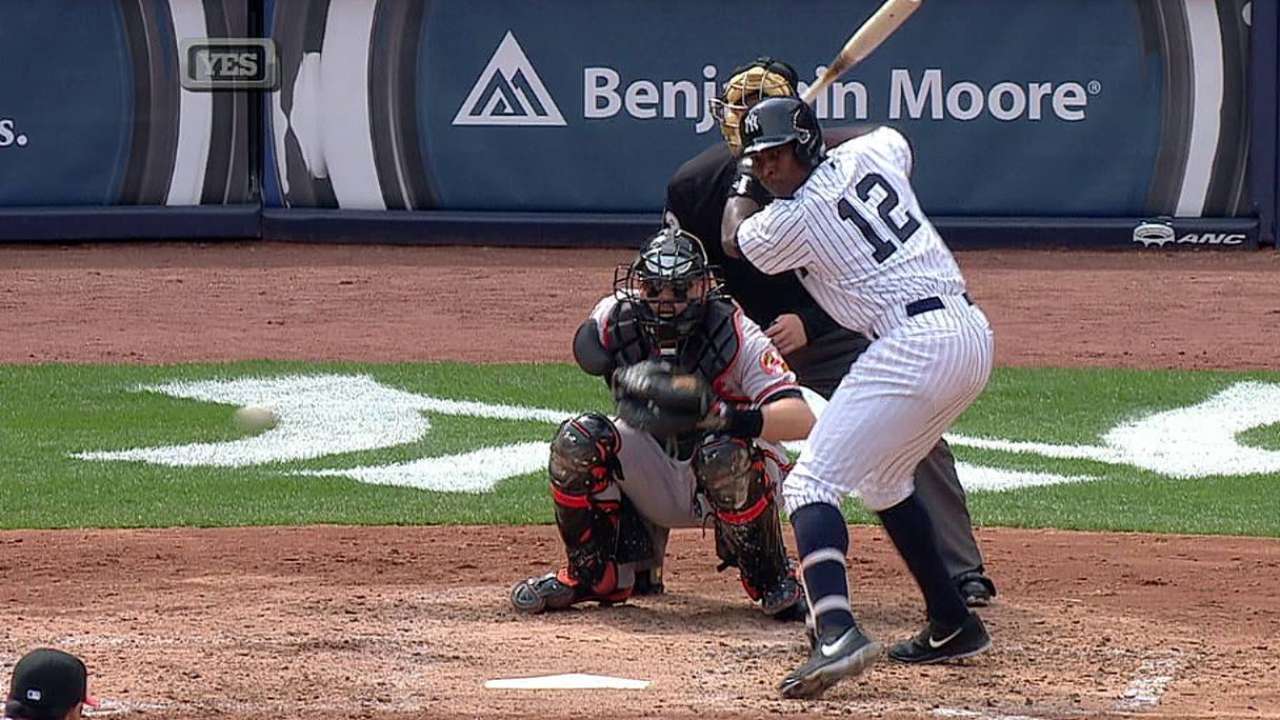 NEW YORK -- The celebratory atmosphere of the Yankees' home opener had burned off by Tuesday afternoon, as three members of the Core Four returned to their respective retirements, no ceremonial first pitches requested for this matinee contest.
That is not to say that the Yankees wouldn't have liked a little more help on the mound. Ivan Nova was thumped for seven runs and left in the fourth inning as the Orioles took healthy rips, producing a 14-5 rout on Tuesday at Yankee Stadium.
"It wasn't a good day, so we've got to figure out what's going on," Nova said. "I don't feel so good to be pitching the way I pitched today. No excuse today; I was throwing the ball up in the zone, and you get hit that way when you throw the ball up in the zone."
Adam Jones, Delmon Young and Matt Wieters all homered for the Orioles, who collected 20 hits in the contest -- 10 coming off Nova, who lasted just 3 2/3 frames. Baltimore piled on against Vidal Nuno, who allowed seven runs in 3 1/3 innings of relief.
"Today just wasn't a good day all around," Yankees catcher Brian McCann said. "We just didn't play well."
Everyone in the Orioles' starting lineup had at least one hit and scored one run, a barrage that started with three first-inning runs. The frame took a turn when shortstop Derek Jeter couldn't get a glove on Young's potential double-play ball. A sacrifice fly by Chris Davis and Jones' two-run homer to deep center followed.
Asked to evaluate Jeter's effort on Young's ball, ruled a single, Girardi said: "He dove. He did everything he could to make a play. It seemed to get through the infield really quickly, but he did everything he could."
Nova continued to struggle. Ryan Flaherty reached on a second-inning bunt that was fielded by Francisco Cervelli, making his first career start at first base, but Nova hesitated coming off the mound and was unable to get to first base in time for the play.
"I confused myself a little bit there, and that's a play you should make," Nova said. "It's a play we work on a lot in Spring Training."
Flaherty scored on Jonathan Schoop's RBI double, and the Orioles sent nine men to the plate in the fourth, producing three more runs. That chased Nova, who walked none and struck out three in a 61-pitch outing.
"His sinker didn't have a lot of sink to it and it was up in the zone, and his curveball wasn't very sharp," Girardi said. "That's not a very good combination for him, seeing that those are his two bread-and-butter pitches. He just wasn't sharp today."
"It's my consistency," Nova said. "Maybe my release point is not the same every time, so it's something I've got to work on."
Pitching with a healthy cushion, Baltimore starter Wei-Yin Chen allowed four runs and nine hits in five innings, good for his first win of the year.
"We strung some good at-bats together and got some things done -- stayed on our feet," O's manager Buck Showalter said. "Wei-Yin toughed out five innings. He's better than that, and hopefully he will be, for us to get where we want to get."
The Yanks made a little noise at the plate, but not enough to patch over their pitching issues. Alfonso Soriano slugged a fourth-inning homer, tying Duke Snider for 50th place on the all-time home run list with 407.
Jacoby Ellsbury banged another three hits, improving to 12-for-22 since beginning the season 0-for-7, and Yangervis Solarte kept the Yankees marveling at his story with another two doubles.
Solarte is the first player since 1900 with at least six doubles through the first seven games of his career, according to the Elias Sports Bureau.
"I like what I see," Girardi said of Solarte. "He's played extremely well. He's taken advantage of this opportunity, and we'll keep running him out there."
Carlos Beltran put the Yanks on the board with a first-inning RBI single and New York got the game within three runs in the fourth, cutting the deficit to 7-4. But Nuno was hammered in long relief, allowing four runs on four hits in the sixth inning and serving up Wieters' two-run shot in the eighth.
"It's not having my tools today," Nuno said. "The guys are squaring it up. I took a rough one today, but it's not going to faze me."
With most of the stadium already spilling out to the subway platforms and the Major Deegan Expressway, Kelly Johnson hit his first Yankees home run in the eighth inning. By that point, the page was already being turned to the series finale.
"They hit the ball pretty well today," Cervelli said. "They made a lot of noise with the bats. It's one of the days when anybody who pitches is going to get hit, so we'll see you tomorrow. We're going to come fresh and play a good game."
Bryan Hoch is a reporter for MLB.com. Follow him on Twitter @bryanhoch and read his MLBlog, Bombers Beat. This story was not subject to the approval of Major League Baseball or its clubs.