Orioles score early, often in win over Yanks
Jones, Young, Wieters all go deep; Chen gets first win of 2014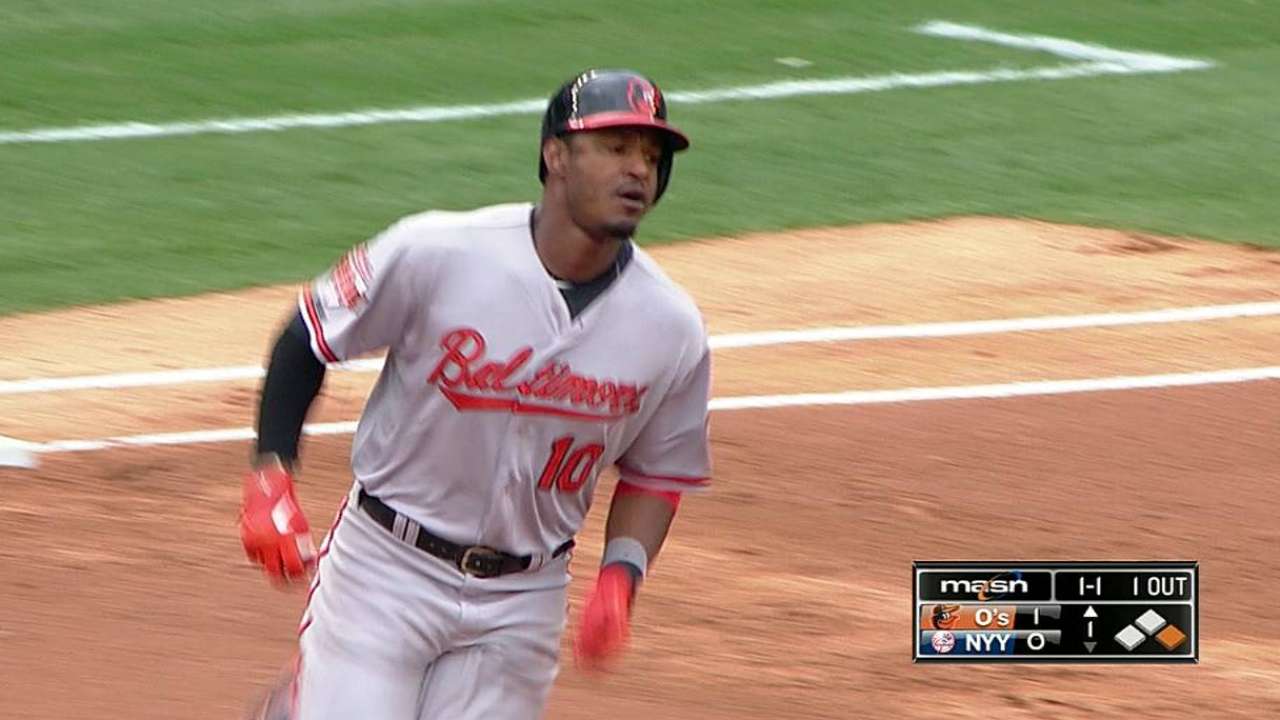 NEW YORK -- The return of the long ball. The resurgence of the offense. Raking from the bottom of the order.
Call it what you want, Tuesday's win was a refreshing sight for the run-starved Orioles (3-5), who hit their season high by the end of the fourth inning and piled on en route to a 14-5 series-evening win over the Yankees.
"We needed it," manager Buck Showalter said of the barrage of runs.
The 20-hit victory was a well-balanced attack, with Baltimore collecting its first multi-homer game of the season via two-run bombs by Adam Jones, Delmon Young and Matt Wieters. The O's got RBIs from eight of their starting nine, notched 20 hits for the first time since May 10, 2011, and surpassed their run total from the previous four games combined.
"I'm not going to make excuses," Jones said of the Orioles' sluggish start to the season. "The Yankees lost the first two games to the Astros. Are the Yankees done? You've got to be kidding. ... We don't buy into it as players. It's kind of just go with the flow and understand that this game is long, and the game's hard and look at the results."
The Orioles jumped on Yankees starter Ivan Nova with a three-run first inning, capped by Jones' first homer of the season. Leadoff man Nick Markakis got things going with a single, scoring the first run of the game on Chris Davis' shallow fly ball to center field. Jones let loose on a 1-1 fastball to score Young, who had singled in his first at-bat of a three-hit afternoon.
"Two things: [Nova's] sinker didn't have a lot of sink to it and it was up in the zone, and his curveball wasn't very sharp," Yankees manager Joe Girardi said. "That's not a very good combination for him, seeing that those are his two bread-and-butter pitches. He just wasn't sharp today."
The O's got at least one hit from every member of the starting nine and scored seven off Nova, who allowed another run in the second on Jonathan Schoop's double and exited during a three-run fourth.
"Jonathan's going to be fine. So is Ryan [Flaherty]," Showalter said. "It's just, they've got so much want-to going on right now, and sometimes you can't get in the flow of letting it happen. And try as you may, you can't get them to look at the big picture, so you've got to keep making sure that they get confidence from the confidence you have in them."
Though he was the only starter not to drive in a run, Flaherty, who was 1-for-21 entering Tuesday, matched a career high with three hits.
"The guys at the top of the order do it enough that it's nice when the bottom half is contributing and putting some runs across," Flaherty said.
The offense didn't slow down when Nova exited, with Young launching a ball into the left-field stands for a two-run shot as part of a four-run sixth. Wieters went yard on Vidal Nuno's 0-2 offering in the eighth, extending his hitting streak to eight games.
Orioles starter Wei-Yin Chen was the benefactor of all that offense, picking up his first win in his second start of the year. Chen went five innings and allowed four runs on nine hits, striking out three and throwing 102 pitches.
"[Chen] threw more breaking balls and changeups and had command of the fastball," Showalter said. "He threw a lot of balls across the plate that went for base hits. He's trying to go down and away and just jerked the ball across the middle half. That's not him."
Chen allowed a first-inning run, but he then held the Yankees in check until a three-run fourth that started with a leadoff homer from Alfonso Soriano. He said through his interpreter that his fastball command wasn't on.
"Also, I need to get more changeup speed," Chen said. "This time, I felt a little bit worse than the last outing, but its something I will work on and try to get better at going into my next outing."
Chen was followed by right-hander Josh Stinson, who threw 2 1/3 scoreless innings to give the offense a chance to get to work. Lefty Brian Matusz followed him, giving up a solo homer to Kelly Johnson in the eighth inning.
"It was a lot of fun," Davis said of all the offense. "It was a long game, but it was long in a good way. [We are] hitting the ball really well, playing good defense and giving our pitchers a chance to get their feet wet and give some guys some looks. That's what it's all about."
Brittany Ghiroli is a reporter for MLB.com. Read her blog, Britt's Bird Watch, and follow her on Facebook and Twitter @britt_ghiroli. This story was not subject to the approval of Major League Baseball or its clubs.