Abreu's first two HRs among six for White Sox in rout
Hits three-run shot in seventh, two-run blast in eighth; Garcia hits pair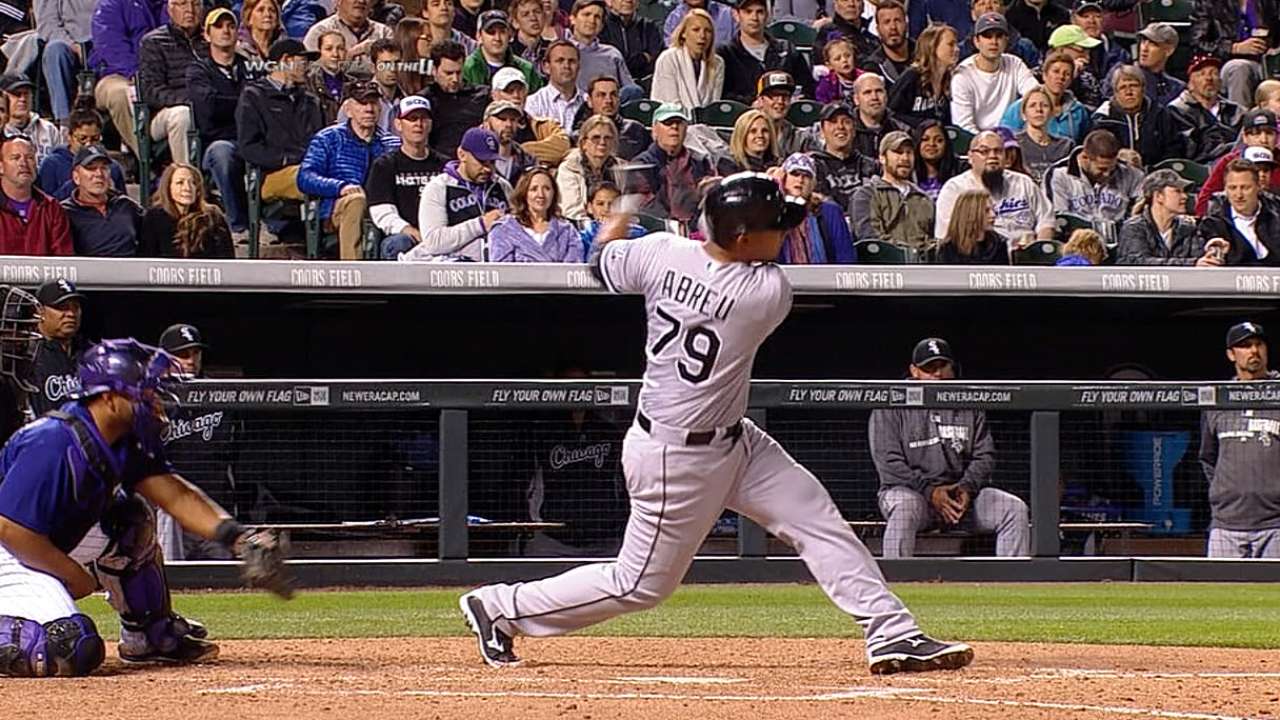 DENVER -- No-decisions have been the norm for White Sox left-hander Jose Quintana, the bane of his brief Major League existence, really. Jose Abreu made sure Quintana would escape that fate again Tuesday by belting a three-run homer on a 12-pitch at-bat in the seventh that blew the game open for the White Sox.
They pounded the Rockies, 15-3, at Coors Field, scoring 11 runs in the final three innings and belting six home runs, including the first two of Abreu's career.
Quintana has 28 no-decisions dating back to the 2012 season, the most in the Majors and a total that includes his first start this season. However, he was able to savor a victory Tuesday night thanks to his teammates' slugging onslaught.
The White Sox fell one short of the club record for home runs in one game (seven in 1955 against the Kansas City Athletics). The last time they hit six was June 24, 2009, against the Dodgers.
In addition to Abreu, a Cuban defector whom the White Sox signed for $68 million in October, Avisail Garcia also hit two home runs. He and Abreu became the first pair of White Sox players to each homer twice in a game since Paul Konerko and Juan Uribe did it June 8, 2004, against the Phillies.
Garcia and Tyler Flowers homered off Franklin Morales in a three-run second. Abreu, who had five RBIs, fell into an 0-2 hole before fouling off six straight 2-2 pitches in his 12-pitch encounter with Chad Bettis, who was brought on to face him. Abreu eventually lofted a three-run homer into the tunnel down the left-field line that put the White Sox ahead 7-2 in the seventh after the Rockies cut a four-run deficit to two.
"That at-bat was very, very important to me," Abreu said through translator Lino Diaz. "I feel like I fought for that, and it gave me a lot of confidence to that. But definitely an at-bat that obviously changed the result of the game. It kind of gets you in the right set of mind, the right momentum."
Bettis said, "You have to take a lot into account, especially when he's fouling everything off. I had one pitch he hadn't seen, which was the curveball. He's fouling off six pitches in a row. At that point, you're trying to look at anything, something that's leaning to what he's looking for. The changeup before the curveball, it could have been a little bit better pitch. That curveball four inches further down, it's a completely different result."
Garcia, who had a career-high four hits, homered in the eighth for his first career multi-homer game, and Alexei Ramirez followed with a homer.
It was the first time the White Sox hit back-to-back homers this season, both shots coming off beleaguered Rockies reliever Wilton Lopez, who gave up eight hits, including three homers, and six runs while retiring just two of the 10 batters he faced in the eighth.
He gave up a two-out single to Marcus Semien, who had a career-high four hits, and Abreu followed with a two-run shot, this time to right-center.
"That's something I wasn't looking to do," Abreu said. "The pitch took me that way. But that is something I'm going to have to do to face all the pitching. They're going to pitch me in different places, so I have to be able to hit the ball to all parts of the field."
Abreu hit three homers in 56 at-bats in Spring Training. He went without a home run in his first 29 at-bats in the regular season before dramatically ending that drought against Bettis.
"We should never press for things," Abreu said. "I always give myself a little bit of time. I don't like to feel pressed. I feel like we always have time to do things."
Troy Tulowitzki's one-out double in the sixth scored Brandon Barnes, who had singled, to cut Chicago's advantage to 4-2. But Quintana, who gave up a solo homer to Michael Cuddyer in the fourth, got him to ground out, and third baseman Conor Gillaspie snared Wilin Rosario's low liner just before it hit the infield dirt to end the sixth.
Quintana gave up five hits and two runs in seven innings and got 14 outs on ground balls.
"Q pitched great," White Sox manager Robin Ventura said, "especially in this ballpark to be able to do that."
And at Coors Field, where home runs are somewhat commonplace, the two Abreu hit were notable, the focus required before ending that 12-pitch at-bat for his first home run followed by his opposite-field shot.
"He's more than a slugger," Ventura said. "He's proven to us when he's been in Spring Training, his approach is a little more middle, the other way. But he can pull it. He hits it a long way if he gets a hold of it. Most of his stuff is [that of a] professional type hitter. It's not just go up there swing as hard as you can. He's just a good hitter."
Jack Etkin is a contributor to MLB.com. This story was not subject to the approval of Major League Baseball or its clubs.