Honorary Bat Girl guest judges revealed
Longoria, Freeman, Sandoval on panel to help voting in sixth annual program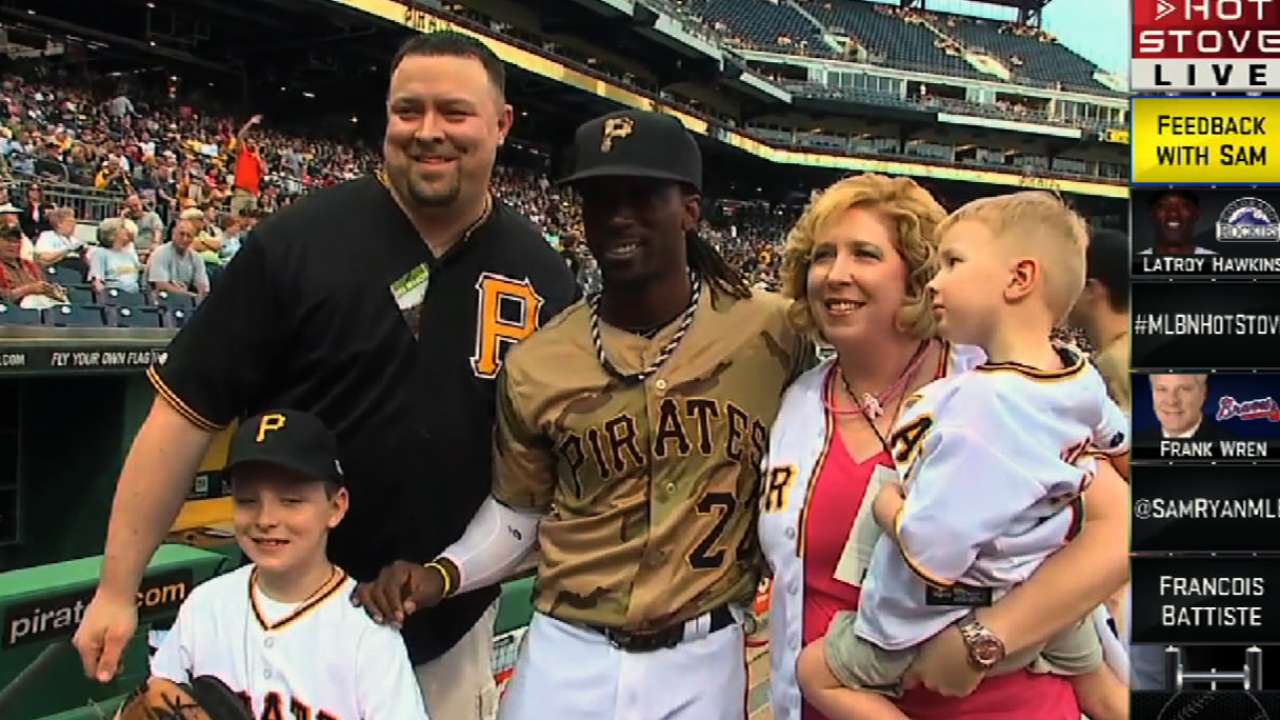 Voting is underway through Monday in the sixth annual Honorary Bat Girl program at honorarybatgirl.com, and the first thing you notice is that it is impossible to single out one nominee.
There are 228 pages of names and photos, representing each of the 30 Major League Baseball clubs. Each nomination, usually by a family member or friend, tells the story of a courageous survivor in a world where breast cancer is diagnosed in about one of every eight women.
"Life is a mess we bravely go into every day," said the person who nominated his mother, Kathy Allen, as part of "OperationSmile" in hopes of recognition for her as the Indians' Honorary Bat Girl. "You remember the good things and the days you do have."
This is really about joining their collective fight as much as it is deciding on which 30 nominees will be recognized by their respective clubs on Mother's Day (May 11) or during another game next month. To help fans in the selection process of those 30 Honorary Bat Girl winners, MLB has announced its 2014 Guest Judging Panel:
Evan Longoria of the Rays, Freddie Freeman of the Braves, Pablo Sandoval of the Giants, country music superstar Jason Aldean and MLB Network host and reporter Sam Ryan. The program also includes widespread support from players throughout the Majors who are personally committed to the fight against breast cancer.
"Major League Baseball is honored to recognize some of our strongest and bravest fans each year through our Honorary Bat Girl program," Commissioner Bud Selig said. "The Honorary Bat Girl nominees exhibit tremendous courage in the face of cancer and it is a great privilege to use the combined power of Major League Baseball, its clubs and players, Stand Up 2 Cancer and Susan G. Komen For the Cure to recognize them across the league on Mother's Day. I would like to thank the guest judges who will use their visibility and personal cancer experiences to help select and bring attention to our eventual winners."
Longoria is intimately involved in cancer research with the Moffitt Center in Tampa, Fla., and has an upcoming cancer charity walk.
"There is not one adult person who hasn't been affected in some way by this disease," said Longoria. "I want to be a part, in some small way, of the search for a cure to all forms of cancer. I am honored to be a part of this group."
Freeman lost his mother to cancer and said, "From personal experience, I know how much strength it takes for someone to fight cancer. I'm excited to participate in this campaign to recognize a number of those inspiring individuals across the country and provide a platform for their stories."
Sandoval appeared in a recent Stand Up To Cancer spot. The woman who served as his host-mother while he was in the Minor Leagues adapting to American culture is a cancer survivor.
"When I played for the Class A San Jose Giants, I lived with my host family, Donna and Ed Musgrave," Sandoval said. "They helped me with a new language, a new culture and really became my family. When we found out that Donna had cancer, we all joined together and battled as one."
Aldean lost a close family friend to breast cancer. Ryan's mother is a breast cancer survivor.
"According to statistics, about one in eight women in the U.S. will develop breast cancer during their lifetime," Ryan said. "When the disease hits your family and loved ones, you no longer think of the statistics, you think about survival, courage, strength, support and love."
Fans were invited to share inspirational stories that they or loved ones have experienced or currently are experiencing that provide hope and motivation in the fight against breast cancer. Additionally, fans shared the reasons they want to represent their favorite team as its Honorary Bat Girl.
During MLB's annual Mother's Day national day of recognition, one Honorary Bat Girl per club will take part in pregame activities, be honored during an on-field ceremony and receive pink MLB merchandise with two tickets to the game. For clubs that are away on Mother's Day, another home game in May will be selected to recognize their Honorary Bat Girl.
The Honorary Bat Girl program was introduced in 2009 to raise additional awareness and support for the annual "Going to Bat Against Breast Cancer" initiative celebrated on Mother's Day. In five years, thousands of unique testimonials have been submitted and more than four million fan votes have been cast.
Going to Bat Against Breast Cancer is an MLB initiative supported by its charitable partners Stand Up To Cancer and Susan G. Komen. This initiative raises awareness about the breast cancer cause, while also raising funds to support breast cancer research.
Mark Newman is enterprise editor of MLB.com. Read and join other baseball fans on his MLB.com community blog. This story was not subject to the approval of Major League Baseball or its clubs.