Flip the switch: Tough springs give way to hot starts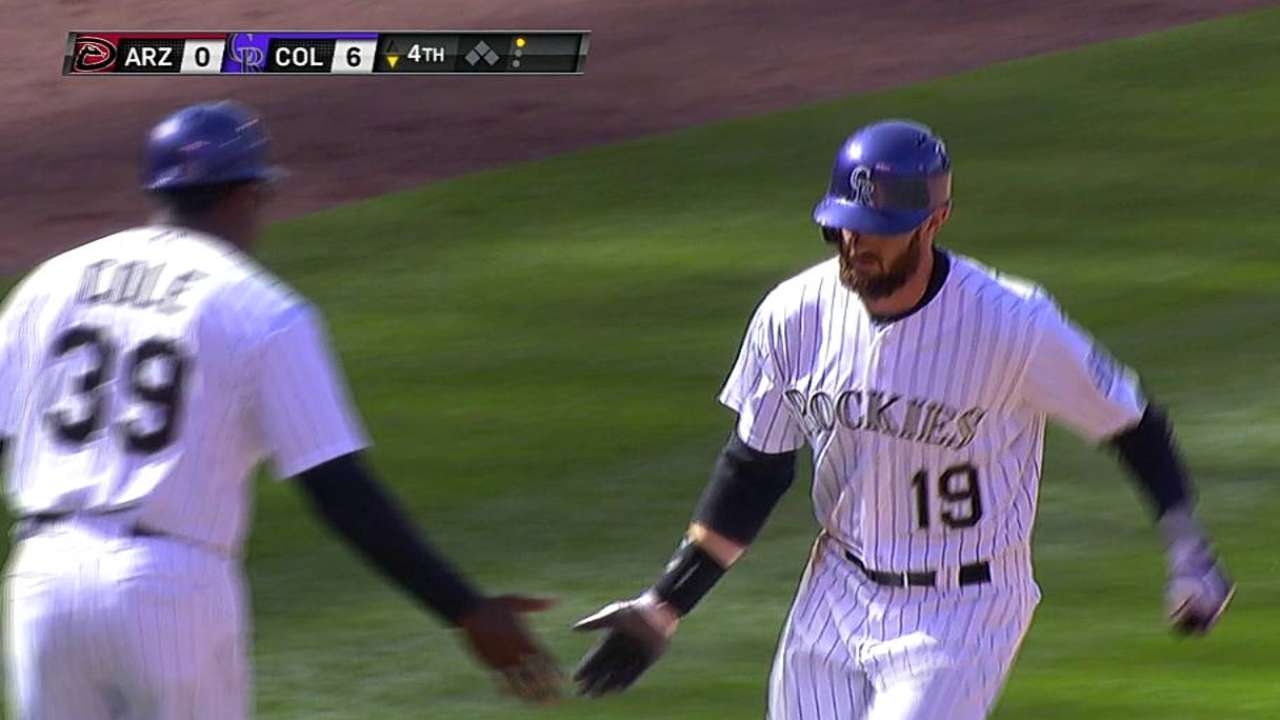 The Phillies were shut out in their last three exhibition games this spring. So, naturally, they scored 14 runs to beat the Rangers on Opening Day.
Everybody knows, or at least claims to know, that Spring Training statistics don't matter. At the same time, on an gut level, it's hard not to be concerned when a team or individual doesn't produce through the Grapefruit or Cactus League. Even experienced baseball people will shake their heads and wonder aloud about whether it's really possible to simply flip the switch when the regular season begins.
Well, a week into the new season there's a fresh batch of evidence which suggests that Spring Training woes don't necessarily foreshadow a slow start once the figurative bell rings.
Consider, for example, Rockies right fielder Charlie Blackmon. He batted .236 in the spring and was on the bubble as far as even making the final roster. But manager Walt Weiss looked beyond the numbers. "I don't put a whole lot of stock in Spring Training," he said. "We tend to get caught up in what a guy hits in Spring Training. When the season starts, your whole mentality changes. I put a lot of stock in what Charlie did at the end of the season last year."
Through Monday, Blackmon was hitting .542, including a historic 6-for-6 game, with an OPS of 1.145.
Or what about Marlins outfielder Marcell Ozuna? At one point, there was some thought he might start the season at Triple-A. He improved toward the end of the Grapefruit League schedule but still ended up hitting .177. Through the first week he was batting .360 with a .905 OPS.
"We talk about it all the time, Spring Training is not always a springboard to the season," Marlins manager Mike Redmond said. "I always talk about the lights. When the lights come on, you see what guys are made of."
They aren't along, either. Here are a few other comparisons of hitters between their final spring numbers and what they did through Monday:
Mariners 2B Abraham Almonte: ,178 batting average and .557 OPS this spring / .280 and .859 regular season. Brewers C Jonathan Lucroy: .217 and .638 / .364 and 1.076. Indians LF David Murphy: .204 and .581 / .316 and .721. Marlins C Jared Saltalamacchia: .180 and .595 / .318 and .802. Indians 3B Carlos Santana: .186 and .697 / .316 / .940. Athletics infielder Jed Lowrie: .231 and .786 / .286 and .943.
It's not just hitters, either. There are also pitchers who seemingly were able to turn it on when the season started.
Astros RHP Scott Feldman: 5.40 / 0.66. Mariners RHP Felix Hernandez: 4.73 / 1.88. Reds RHP Johnny Cueto: 4.61 / 1.93. Marlins RHP Jose Fernandez: 3.54 / 0.71. Brewers RHP Yovani Gallardo: 3.98 / 0.00. White Sox LHP Chris Sale: 4.58 / 1.76. Cubs RHP Jeff Samardzija: 5.14 / 1.29. Orioles RHP Chris Tillman: 4.67 / 1.35. Athletics RHP Sonny Gray: 3.48 / 0.75.
Nowhere did this seem to be a bigger issue than in Clearwater, Fla., though, where the Phillies finished last in most major offensive categories and shortstop Jimmy Rollins, who ended the spring batting just .173, created a minor furor late in camp when asked about his average.
"Who cares?" he said. "I like to look at it in a (former Braves manager) Bobby Cox form -- there are a whole bunch of Hank Aarons in spring training. So if you're not hitting in Spring Training, I guess you're no good, right? In Spring Training, you're training, you're putting in the work. When the season starts, that's when results matter. There really is no other way to put it. No one talks about preseason in June. You know what I'm saying? No one does."
Second baseman Chase Utley (.217 in the spring) said the same thing a little differently. "The main thing is getting your work in. Pitchers are building their pitch count, which is important. Guys are starting to get continued at bats, which helps them become more comfortable. Obviously, you want to go into the season feeling as good as possible, but there is less emphasis on results and more emphasis focusing on whatever you're trying to improve upon that day."
A week into the season, no matter what happens the rest of the way. Rollins and Utley have been vindicated. Left fielder Domonic Brown (.185 this spring with 15 strikeouts in 54 at bats) is hitting .381 with an .863 OPS while whiffing just three times in 21 ABs. Third baseman Cody Asche has gone from .170 to .263. Rollins, while batting only .211 overall, had a huge grand slam on Opening Day and has six RBIs despite missing two games on paternity leave.
And Utley has made the strongest case of all. He's hitting .458 with a 1.369 OPS.
So there it is. While nobody enjoys struggling at any time of year, Spring Training is a poor predictor of whether or not a player or pitcher will get off to a good start in the regular season. That settles it.
At least until next spring.
Paul Hagen is a reporter for MLB.com. This story was not subject to the approval of Major League Baseball or its clubs.