Correia can't contain A's, who spoil home opener
Five of six runs allowed come in first three frames; Twins' bats scuffle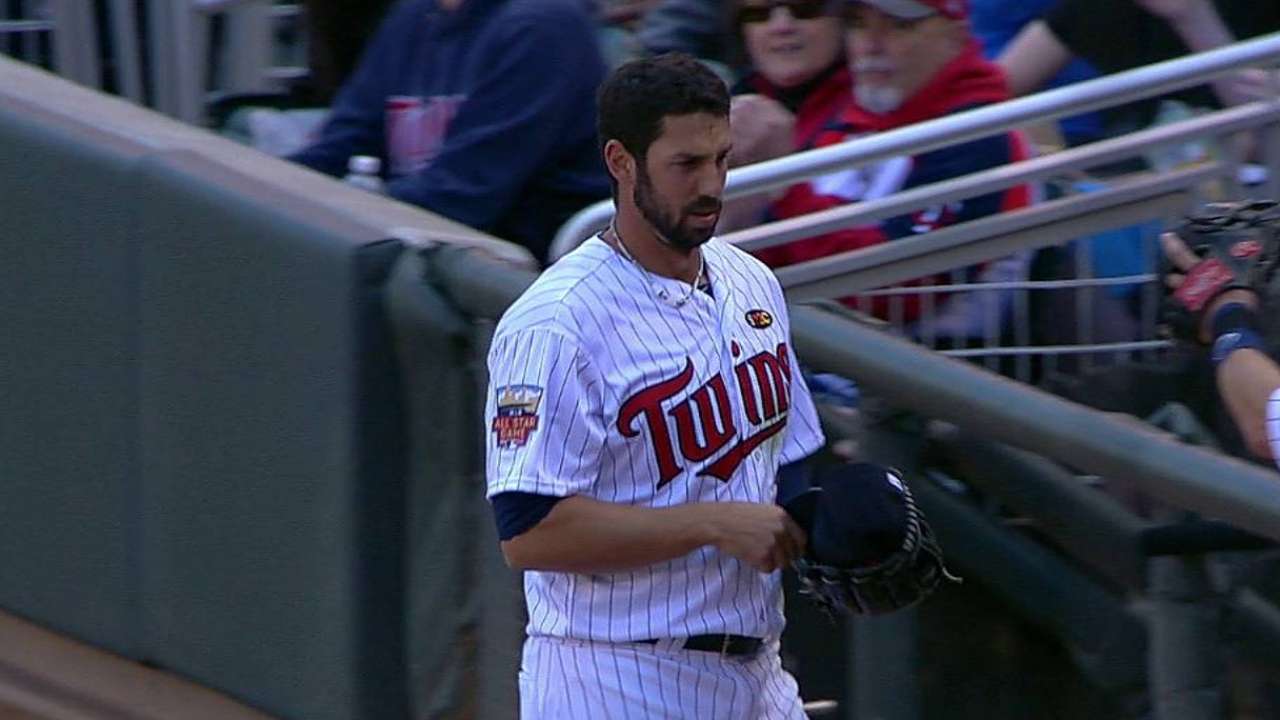 MINNEAPOLIS -- It was supposed to be a nice reward for Kevin Correia to have the honor of starting the home opener for the Twins at Target Field on Monday.
Instead it was spoiled, as Correia, who was the club's most consistent starter last year with a 4.18 ERA in 31 starts, turned in a subpar outing, struggling through 5 2/3 innings in an 8-3 loss to the A's on Monday.
It was another poor showing from a Twins starter, as they've combined for a 6.32 ERA through the first seven starts of the year, with Correia registering the lone quality start so far -- in the second game of the year against the White Sox.
"His location wasn't there," Twins manager Ron Gardenhire said. "He was out and over the plate against this team. I think after they scored a few runs, he started pounding inside, and his last couple innings were better because of that. But you can't be out and over the plate against these guys."
The A's scored twice in the second, with Yoenis Cespedes lacing an RBI double to left field before scoring on a single from Josh Reddick with no outs. Correia was able to get out of the jam by striking out Derek Norris before Chris Colabello made a diving catch in right field to double off Alberto Callaspo at second base.
Oakland added three more runs in the third, as Brandon Moss stroked a two-run single to right field before scoring on a two-out double from Callaspo. The two runs came after a review that lasted more than five minutes to determine whether or not a ball hit by Jed Lowrie was a homer or a foul ball. The call on the field ended up standing as a foul ball, with Lowrie eventually walking and scoring on the single from Moss.
"I just threw some bad pitches in key situations where I could've got out of a jam," said Correia, who didn't use the long wait during the review as an excuse. "I just threw a couple pitches I think they were waiting for. So just have to make a few adjustments and throw better pitches. And I walked two guys and both scored."
After Moss' single, Correia retired nine of the next 10 batters he faced before serving up a solo shot to Norris with two outs in the sixth. Eric Sogard followed with a single to knock Correia out of the game after he gave up six runs on nine hits over 5 2/3 innings, to see his ERA rise to 6.17 on the young season.
Left-hander Scott Kazmir didn't have his best stuff, but it was enough for the A's in his second start with his new club. Kazmir went six innings, surrendering three runs on six hits and four walks with five strikeouts to pick up his second win of the year.
"I wasn't as sharp as I'd like to be, to say the least. It wasn't pretty out there," Kazmir said. "But I got to the third inning and was just trying to get as many quick outs as I could to get as deep as I possibly could. I had to work with what I had. I was out there battling, and when I needed to make a good pitch, I was able to."
The Twins scored their first run in the second on a one-out RBI double from Aaron Hicks to score Kurt Suzuki, who reached on a single to left field. They also left runners at second and third, as Joe Mauer grounded out weakly to end the inning. Mauer went 0-for-3 with two strikeouts against Kazmir.
Minnesota scored twice in the third, with Jason Kubel bringing home a run on a double off the right-field wall before Suzuki plated a run with an RBI groundout.
"We got back into the game, but after we scored a few runs, they shut us down in the middle innings," Gardenhire said.
The A's tacked on two insurance runs in the seventh against right-hander Samuel Deduno, who plunked Lowrie to lead off the frame before giving up a single to Josh Donaldson. Deduno then committed his second balk of the year to bring home the first run before Cespedes scored Donaldson on a sacrifice fly to left field.
It was another poor showing from the pitching staff, as the Twins have given up 46 runs through their first seven games of the season.
"It's kind of been a polar opposite of what you'd almost be expecting," Correia said. "We did such an unbelievable job with the 'pen last year, but we've faltered. And us starters, we're supposed to be a big improvement, but we haven't pitched bad, but we haven't pitched well. But it's so early. At this point in the year, there are no trends or what to look for just because it's so early."
Rhett Bollinger is a reporter for MLB.com. Read his blog, Bollinger Beat, and follow him on Twitter @RhettBollinger. This story was not subject to the approval of Major League Baseball or its clubs.