A's hit early, often to extend dominance over Twins
Club gets to Correia to back Kazmir, who labors, but has quality start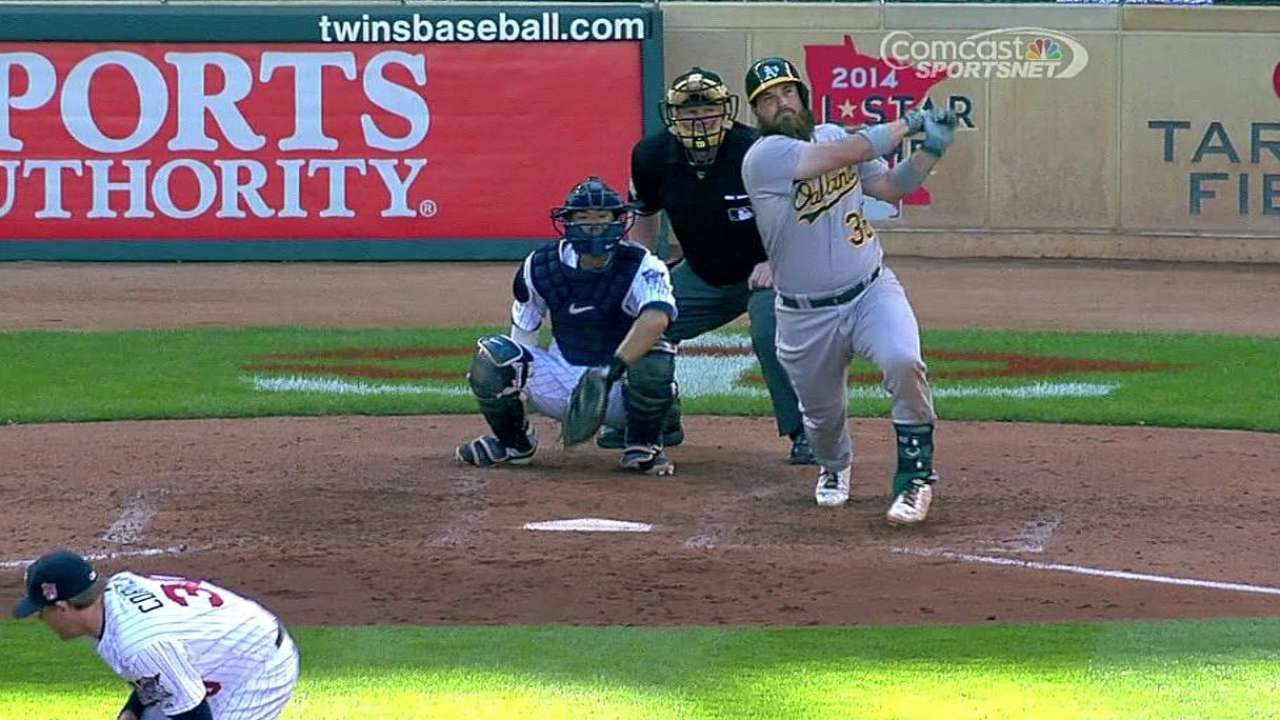 MINNEAPOLIS -- The A's sure like to beat up on the Twins, and they keep finding different ways to do so.
In the opener of a three-game set at Target Field on Monday, it was a team effort that sculpted Oakland's 8-3 victory.
"Probably the only way we didn't score was walk with the bases loaded," said Jed Lowrie. "We did a little bit of this, a little bit of that."
Scott Kazmir labored through six innings, but got by with what he had, and his teammates did plenty of work at the plate to help out their 2-0 lefty in what was Oakland's seventh straight win against Minnesota, and 12th in its last 14 tries.
Since the start of last year, the A's have scored 76 times against the Twins, who only have 26 in that same span.
"When we're swinging well," said manager Bob Melvin, "we feel like we have a deep lineup."
The A's posted 10 hits on the day and totaled five runs through the first three innings against Kevin Correia, who was tagged for six runs in all through 5 2/3 innings.
Both starters combined for 127 pitches through the first three frames, with Kazmir surrendering three runs during that stretch, before settling down and relying on his cutter for quick outs. He retired nine of his last 11 on a day when he wasn't feeling 100 percent.
"If you ask him, he's probably going to say, 'I threw OK. I didn't have my best stuff,'" said catcher Derek Norris. "But you know what? When he needed to, he made the pitches he needed to make to get out of jams. He gave up a couple of runs, but it's going to happen, and he had a little stiffness in his back, which didn't allow him to get through on some of his pitches."
"I wasn't as sharp as I'd like to be, to say the least," said Kazmir. "It wasn't pretty out there. But I got to the third inning and was just trying to get as many quick outs as I could to get as deep as I possibly could."
Norris aided the cause with his first homer of the season, a solo shot to left-center into the visiting bullpen off righty Samuel Deduno in the sixth. Each of the catcher's four hits this year have come off a righty, despite a platoon system that has him starting mainly against left-handers.
The A's have only faced one southpaw through their first seven games, though, and Melvin needs to keep Norris fresh. He's also trying to get one of his hottest hitters in the lineup more. Alberto Callaspo was 2-for-4 with an RBI on Monday, his first start in four days. Callaspo is hitting .444 through his first three games.
"Callaspo's a guy I need to get in more," said Melvin. "He's really swinging the bat well early in the season, and you know you're always going to get your matchup with him."
Callaspo's RBI double was part of a three-run third that also featured a two-run base hit off the bat of Brandon Moss, who also opened the second inning with a walk and scored on Yoenis Cespedes' double.
Aaron Hicks' RBI triple in the second got the Twins on the board, and two more runs off Kazmir in the third narrowed Oakland's lead to 5-3. But Norris' homer in the sixth got the A's going again, and after a balk call on Deduno in the seventh gave the A's yet another run, Oakland added on one more time courtesy of a sacrifice fly from Cespedes.
Lowrie nearly had a home run of his own in the third, but it was ruled foul, even after a replay review. The A's shortstop left the game in the seventh inning after getting hit by a pitch, and he was deemed day to day with a lower right leg contusion.
It was an otherwise positive day for the A's, who will now enjoy an off-day Tuesday before resuming play in Minneapolis on Wednesday.
"I keep saying it, one through nine, anybody can come through, no matter if they're batting cleanup or eighth or ninth," said Norris. "Everybody has their strengths, and everyone knows those strengths and don't go outside of them. Makes us just a great overall ballclub and very deadly down the stretch of the whole season."
Jane Lee is a reporter for MLB.com. This story was not subject to the approval of Major League Baseball or its clubs.