Bradley Jr. mints Red Sox first home win
Right fielder comes up with two clutch hits, pair of spectacular catches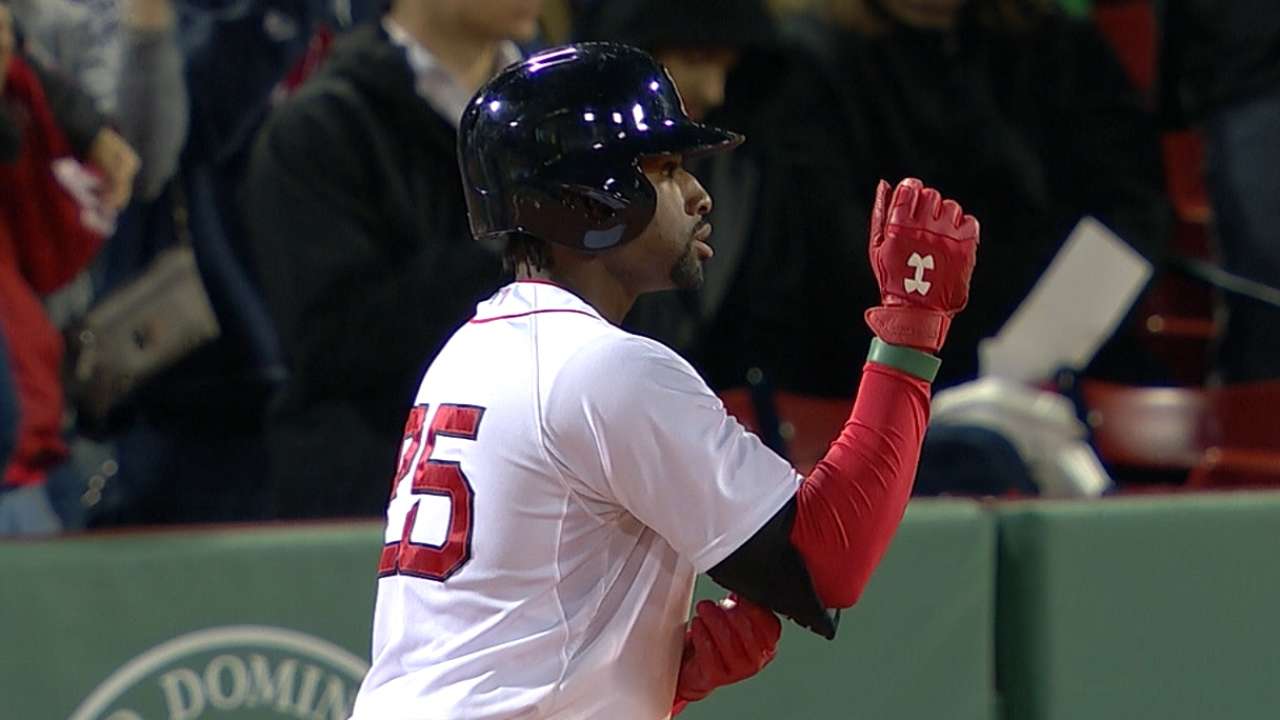 BOSTON -- Jackie Bradley Jr. hasn't locked down a permanent spot at Fenway Park just yet, but he made it very easy to envision that scenario with a solid two-way performance while leading the Red Sox to a 5-1 victory over the Rangers on Monday night.
There was Bradley on offense, belting a pair of two-out, RBI singles on a night the rest of the Boston bats were relatively quiet.
And there was Bradley on defense, sliding to rob Donnie Murphy of a hit in the second inning and then making a breathtaking over-the-shoulder catch in deep right to rob J.P. Arencibia in the third.
Did Bradley, who is ranked the Sox's No. 3 prospect, get a bigger charge out of his heroics on offense or defense?
"I'll take both," said Bradley. "Whatever helps the team win. [John Lackey] pitched a great game tonight. I was very fortunate enough to make those plays for him. To come through with hits in those situations, they get through the hole and I'm happy to put some runs on the board for the pitcher."
This was the Bradley who has drawn rave reviews during his ascension in the Red Sox farm system, not the one who has sometimes struggled when called on to help at the Major League level. After losing the center-field job to Grady Sizemore at the end of Spring Training, Bradley was optioned to Triple-A Pawtucket. But when right fielder Shane Victorino was put on the disabled list, Bradley was placed on the roster just in time for Opening Day.
"It's a start," said Bradley, who capped his three-hit night with a bunt single. "It's definitely a start. It's a work in progress and I'm continuously trying to get better every single day."
Behind Bradley and a strong pitching performance by Lackey, the Red Sox avoided their first four-game losing streak since 2012.
It was the first win at Fenway this season for manager John Farrell's team after being swept by the Brewers over the weekend.
"We go out to win every single night," said Farrell. "And the last three days have been less than we expected. I thought we executed very well tonight. A couple of hit-and-runs. I thought we ran the bases well. Just a good all-around effort tonight."
Sizemore also had a solid game for Boston, producing a pair of hits. He also avoided injury after face-planting into the wall on a triple by Shin-Soo Choo.
"He's going to lose that battle every time," said Farrell. "That wall's not going anywhere. But that's the style of player that he is. He doesn't leave anything to chance. He's going to give you everything he's got. It's been somewhat of a characteristic of his entire career. Thankfully, he came out of tonight without any major issues."
A.J. Pierzynski, who had been struggling at the plate, broke out with a three-hit game against the Rangers, the team he played for last season.
"I'm just happy to contribute and help the team win the game," said Pierzynski. "That's the biggest thing, to try to help the team to win games. Sometimes when you try to do too much, you try to do things you're not capable of instead of letting things happen."
Lackey (2-0) gave the Sox seven strong innings, allowing five hits and a run. He walked two and struck out five while throwing 95 pitches.
As compelling as Lackey's comeback story was in 2013, he has come out of the gate looking perhaps even stronger this season.
"The last start in Spring Training and first two this season have been powerful and clean," said Farrell. "He's done a great job of commanding his fastball. He's been efficient. To see how he's come off the Tommy John [surgery] and how he's carried his stamina throughout 190, 200 innings last year including the postseason, it's a testament to his work ethic."
Over his first two starts, Lackey has set the tone with his fastball.
"Yeah, I definitely want to pound the strike zone," said Lackey. "I want them to know that I'm going to throw strikes. If you're going to get me, you'd better get me quick because I'm coming after you. It can work both ways. If you're not locating well, you can give it up pretty quick, too, that way. You've just got to try to continue to locate and hopefully the pitch count is down and hopefully you get deep into games."
The Rangers had two on and two outs in the seventh, but Lackey snuffed out that threat by getting Arencibia on a grounder to second.
"He showed why he's one of the best pitchers in the American League. He made us swing the bats," said Rangers manager Ron Washignton. "We had some situations where we could have broken through, but couldn't get the base hits."
Bradley had something to do with that.
On his catch against Murphy in the second, he was originally blinded by the lights, only to recover in time to make the sliding catch.
"I saw it from the start and then I kind of went to it and I had to get down to try to get under the lights to pick it back up," said Bradley. "If it didn't go in the lights, I probably would've just caught it standing up but I had to get down there."
And an inning later, he made like a wide receiver running a deep route and just kept going, extending his glove to rob Arencibia of extra bases.
"That's one of those plays I definitely try to work at during BP, one of those balls that's hit over your head and I just take my eye off it and kind of guess where I feel like the ball is going to be and I happened to run a pretty good route and there it was waiting on me," Bradley said.
Ian Browne is a reporter for MLB.com. Read his blog, Brownie Points, and follow him on Twitter @IanMBrowne. This story was not subject to the approval of Major League Baseball or its clubs.