With little help from bats, Ubaldo loses steam
Offseason acquisition chased by Yanks after loading bases in fifth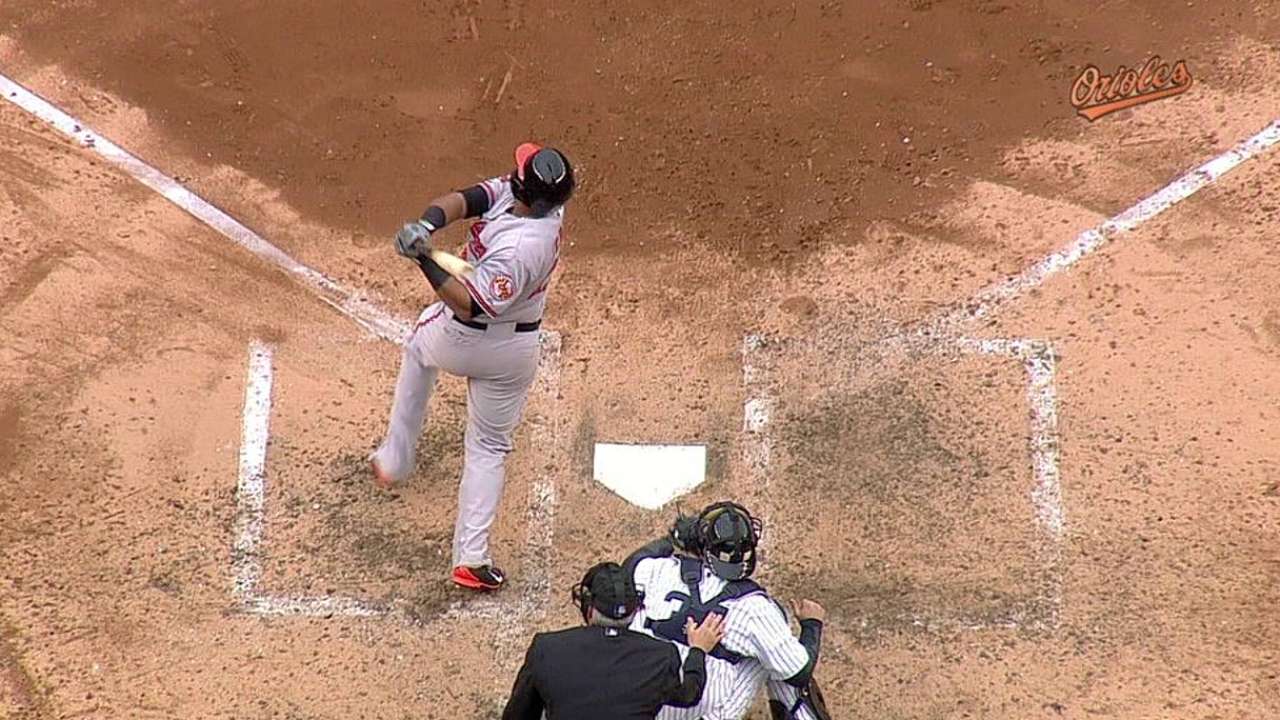 NEW YORK -- The Chris Tillman Effect? Not exactly.
After watching Tillman dominate over 8 1/3 innings on Sunday, the Orioles could only hope their ace's performance had turned the momentum after an otherwise rough opening week for the rotation. But shiny new acquisition Ubaldo Jimenez, the largest commitment to a free-agent pitcher in club history, struggled with his command and didn't make it out of the fifth inning of Monday's 4-2 loss to the Yankees.
"I wanted it to go another way," said Jimenez, who fell to 0-2 with a 6.75 ERA in his first two starts. "I wanted to win for the team."
Instead, the series-opening loss, in front of 48,142 for New York's home opener, highlighted all of the aspects that have led the Orioles (2-5) to lose five of their last six games. There was Jimenez's short start, a pair of baserunning blunders and Yankees starter Hiroki Kuroda scattering eight hits, while the Orioles squandered several chances in leaving five men on base.
"It's early, but no doubt, we've kind of struggled to get the runs going," said outfielder Nelson Cruz, who was doubled off first base in the second inning. "It seems like late in the games, we get it done, so it's just a matter of time that we get focused early and get it done early and don't wait until the last minute to get extra runs."
One of the O's most glaring missed opportunities came in the seventh inning. The club looked to have the makings of a rally after Cruz drove a ball to left to score Chris Davis and record team-leading fifth RBI, closing the deficit to two runs in the process. Davis had doubled to start the inning, and Matt Wieters' single put runners on the corners, with Kuroda exiting after recording the first out via Steve Lombardozzi's lineout.
"I was trying to be patient and make sure that I keep the ball down and not to walk anybody," Kuroda said of his quality start. "That was it."
After lefty Matt Thornton got Ryan Flaherty to ground out, Yankees manager Joe Girardi made his second pitching change in calling on righty David Phelps, who got Jonathan Schoop on an inning-ending groundout that kept the O's down by two.
With J.J. Hardy missing three of the last four games due to back spasms, Orioles manager Buck Showalter admitted he was a little hamstrung in terms of inserting a pinch-runner or having someone else bat.
"If we had all of our [players] available to us, we might approach that situation differently," Showalter said.
Instead, the offense -- particularly the bottom of the order -- has struggled without Manny Machado and Hardy, and Jimenez's performance didn't help things. Signed to a four-year, $50 million deal late in the offseason to help solidify the rotation behind Tillman, Jimenez walked five in a troublesome outing that came up short of expectations.
"He went through some really good sequences and then just got out of whack," Showalter said of Jimenez, who threw 109 pitches, 65 for strikes. "He was just missing a lot of pitches, but he had the type of stuff that gets you a lot deeper in the game. He'd just go through spurts where he couldn't command it. It was a cold day and he was trying to get a feel for the baseball, but you guys watched it. It wasn't like they banged him around all over the ballpark. He just couldn't get consistent with it. I know he's frustrated because there was a lot longer [of an] outing there potentially today."
Jimenez undoubtedly has potential, but he has yet to consistently put it together in his first act with the Orioles. In two starts for Baltimore, Jimenez -- who went at least five innings in each of his final 11 outings last year -- has worked 10 2/3 innings and allowed eight earned runs on 13 hits and eight walks, striking out 10.
"It was all about getting the breaking ball down," Jimenez said of his challenges on Monday. "It was kind of tough to throw inside, and I couldn't find any of them to put away hitters. I was able to get ahead, but I couldn't put any away with the breaking ball because none of them were working."
Jimenez (0-2) issued a leadoff walk in the third inning to No. 9 batter Yangervis Solarte, who came around to score, and Solarte broke a tie in the fourth with a drive that popped out of the glove of diving right fielder Nick Markakis. Jimenez struck out Brett Gardner to end that inning but couldn't get out of the fifth, as New York extended its lead on Derek Jeter's double and Jacoby Ellsbury's RBI single.
After Wieters threw out Ellsbury trying to steal second, Carlos Beltran singled. Jimenez got Brian McCann to fly out, but Alfonso Soriano singled and Brian Roberts drew a two-out walk to load the bases and force Showalter to go to his bullpen. Jimenez was replaced by lefty Zach Britton, who walked Kelly Johnson on five pitches, extending Baltimore's deficit to three runs, before retiring Solarte.
"If you look at the track record of those guys, there are some pretty good hitters there -- six, seven, eight and nine," Showalter said of Jimenez's struggles with the bottom of the order. "So it's not like you just throw your glove out there. That's one of the things that good teams like the Yankees are able to do, present challenges all the way through the order."
The O's, who recorded a hit in four of the first five innings, got on the board with two outs in the fourth courtesy of Wieters' sharp single to center field, which scored Adam Jones. Schoop gave the club a two-out baserunner in the fifth, but he was picked off to negate the hit, giving Baltimore its second baserunning blunder of the afternoon.
"There's no excuse for those mistakes," said Schoop who thought there were two strikes and got caught up with David Lough batting. "You cannot control if you are going to get a base hit, but this mistake you can control. It's not going to happen, you know? You've got to learn from it."
Said Cruz of his mistake: "I thought the ball was going to drop. I saw the right fielder because it was hit more to right field. But with the wind, I saw the replay and I thought the wind probably took it more to center field long enough for the center fielder to catch it, but that's no excuse."
Showalter said postgame that making two errors the way the O's did on Monday can't happen if the club is going to beat teams like the Yankees, although he did highlight some positives. One was Britton, who went on to pitch two scoreless innings before handing the ball to right-hander Ryan Webb, who navigated through scoreless 1 1/3 frames.
Brittany Ghiroli is a reporter for MLB.com. Read her blog, Britt's Bird Watch, and follow her on Facebook and Twitter @britt_ghiroli. This story was not subject to the approval of Major League Baseball or its clubs.