Moved to No. 2 hole, Bourjos breaks out of rut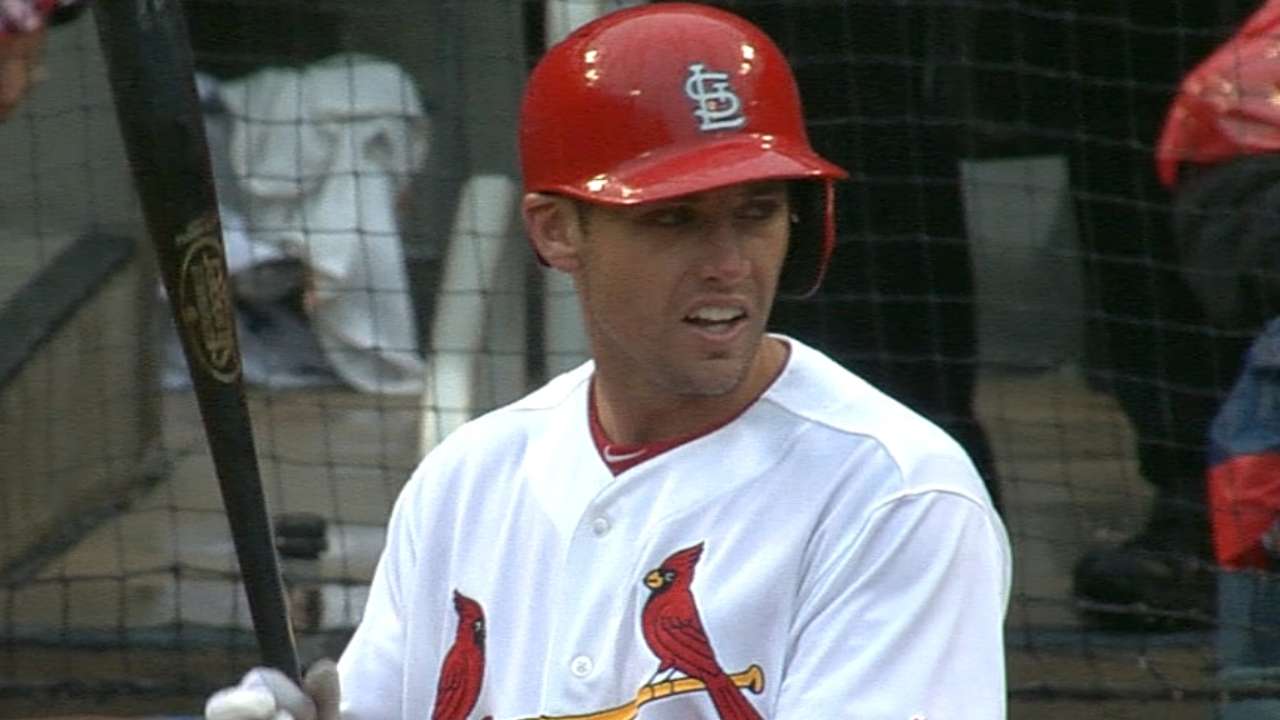 ST. LOUIS -- Before the season opened, manager Mike Matheny noted the potential for fluidity when it came to the second spot in the Cardinals' lineup. Matchups and hot streaks, Matheny said, would play into his decision about who to plug into the batting order behind Matt Carpenter.
On Monday, he found another factor.
Peter Bourjos became the fourth different player in seven games to occupy that No. 2 hole in the lineup, and his placement there was dictated by Matheny's hope to get Bourjos hitting. The new Cardinals center fielder was 0-for-13 to open the season, though Matheny hoped that having Bourjos hit ahead of Matt Holliday would ensure him some decent pitches to hit.
Bourjos singled in his first at-bat during a three-run first inning against the Reds on Monday and added a double in the seventh, scoring both times in the Cardinals' 5-3 victory.
"I think more of a jump-start for now," Bourjos said of his lineup placement. "Last year, hitting me behind [Mike] Trout a little bit, [the Angels] tried to do that, too. And you get some more fastballs here with Holliday, obviously. They're not going to be pitching around you as much or getting you to chase. They're going to come right at you."
Until Monday, he had batted seventh or eighth in his first four starts.
"I still want to make adjustments," Bourjos said after the team's win. "I want to cut down on the strikeouts -- I've struck out way too much to start the year -- and just really put the ball in play and simplify the approach. I think as the year goes on, it's going to get better. And it has to, because if it doesn't, it's going to be a long year."
Bourjos struck out twice on Monday, bringing his total to eight in 18 at-bats.
Monday offered an opportunity to move a right-handed bat up in the lineup, too, with Cincinnati lefty Tony Cingrani on the mound. Cingrani limited the Cardinals to two hits in seven shutout innings last Wednesday. Jhonny Peralta batted second in that game; he hit seventh Monday.
"I think that second spot we've seen in the past can be a spot to get guys going," Matheny said. "We're not denying that. It will maybe be something for Peter to get him going, but also our offense as a whole."
With the Reds starting right-hander Homer Bailey on Tuesday, the left-handed-hitting Kolten Wong will likely return to the second place in the batting order.
Jenifer Langosch is a reporter for MLB.com. Read her blog, By Gosh, It's Langosch, and follow her on Twitter @LangoschMLB. This story was not subject to the approval of Major League Baseball or its clubs.