Haunted by missed chances, Reds fall in St. Louis
Cingrani finds trouble in first inning; rally in ninth too little, too late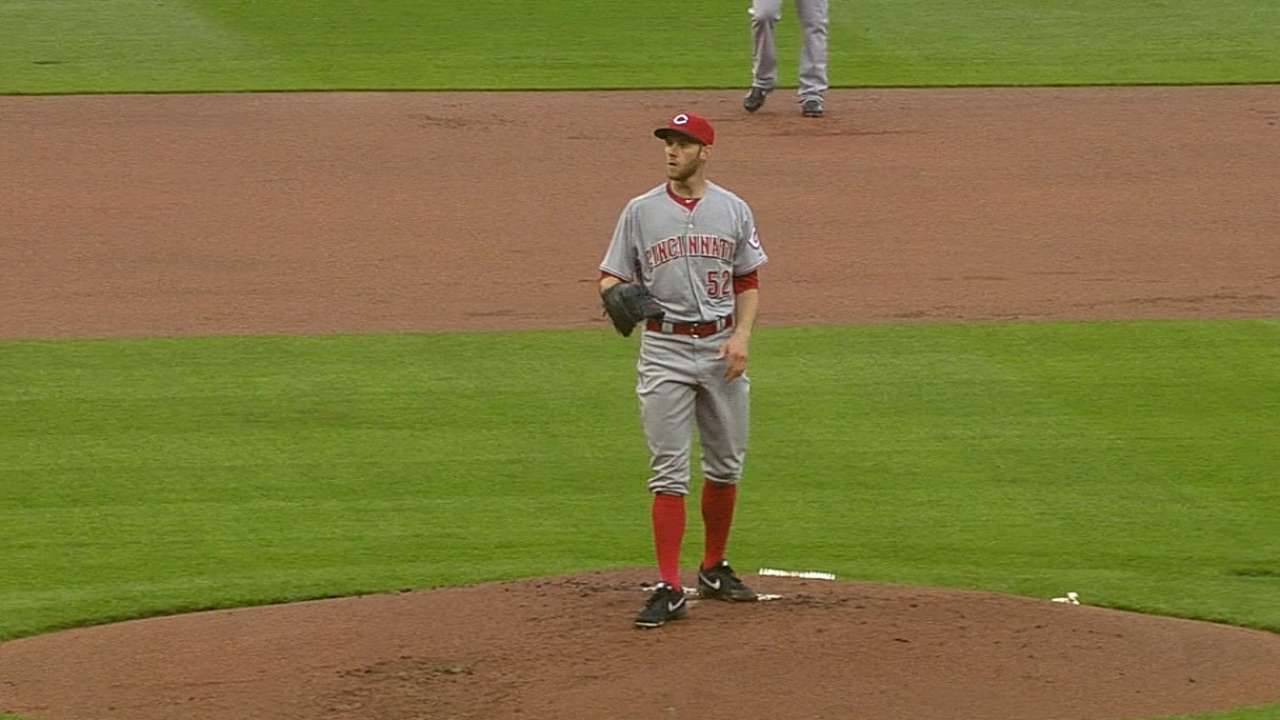 ST. LOUIS -- The Major League season is certainly a marathon, but the Reds are barely away from the starting line and have already seen their course littered with empty rallies and lost opportunity.
Pushing runs in during clutch time has already eluded the Reds early and often, and Monday's 5-3 defeat to the Cardinals for a 2-5 record to start 2014 was no different.
"We just have to come back tomorrow and regroup and continue to play," said Reds catcher Brayan Pena, a bright spot who went 3-for-4 with two doubles. "Those guys [the Cardinals] play good baseball. They play pretty good at home."
Hitting .224 as a team through seven games, three core players in Brandon Phillips, Joey Votto and Jay Bruce combined to go 0-for-9 in the game. The club, which entered the day batting .200 with runners in scoring position, improved on that by going 4-for-12 in the game, but two hits and two runs crossed in the ninth against Trevor Rosenthal in a non-save situation.
"These are the guys that, when the season is over, they're going to have their numbers," Reds manager Bryan Price said. "They will be the performers that we know they are. Right now, almost collectively, we've struggled to do anything with guys in scoring position and have any sustained rallies. That will change, but it's tough to sit through it."
What hurt most came at the start of the game. Cincinnati put the leadoff man on base against Cardinals starter Michael Wacha in each of the first four innings, only to put zeros on the scoreboard.
In the top of the first, Billy Hamilton snapped his 0-for-12 skid to begin the season with a leadoff double to right field. Phillips gave up an out when he sacrifice bunted and moved Hamilton to third base. It led to the fizzling of a rally as Hamilton ran on contact when Votto grounded to second base and was out in a rundown on the fielder's-choice play. Bruce struck out to end the threat.
Price explained that Phillips bunted on his own, but the skipper was also looking for one early run against Wacha, who came in with 16 2/3 scoreless innings in his brief career vs. the Reds.
"We know they've been tough to score against. We wanted Brandon to move him," Price said. "It didn't have to be through the bunt. He could try to drive one through the right side. He wanted to make sure he got the job done, and he pushed the ball over there to the right side and got the job done. I think it's always nice to try to get on top, to try to get that first run. It didn't work out for us, but he's a very good performer in that situation, a very effective bunter and good at moving guys over. And he did his job."
Both of the second and third innings ended with the Reds grounding into double plays.
Reds starter Tony Cingrani pitched four innings and racked up 88 pitches quickly. Cingrani gave up three earned runs and three hits -- all in the first inning -- while he walked four and struck out five. He remains the only pitcher in Major League history to begin his career with 20 starts without allowing more than five hits in a game.
"I didn't have my fastball, so what are you going to do? I just tried to battle," said Cingrani.
Cingrani's biggest battle would be the bottom of the first inning as St. Louis jumped to a 3-0 lead. The first three batters reached on two hits and a walk before Yadier Molina's bases-loaded double to the left-field wall.
"It was a tough way to start the first inning," Price said. "It looked like Tony might get a little momentum and get out of that with a little bit less damage. Molina is a tremendous player and a great hitter. He had to make good pitches to him, and he left one just a little too much on the plate, and he was able to drive it between the outfielders for a three-run double."
St. Louis did not notch another hit against Cingrani, who hung in there even as he allowed three walks over the next three innings. On Wednesday -- in the Reds' 1-0 win over the Cardinals, during which he had a no-decision -- Cingrani gave up two hits over seven innings. This time, the Cards were more patient.
"We know he's a solid pitcher," Cardinals manager Mike Matheny said. "After he got through that first one, he looked pretty good there for a while, too. He worked into deep counts as well, but we had a good approach."
With one out in the fifth inning, Pena hit his second double of the day. Pinch-hitting for Cingrani, Roger Bernadina delivered an RBI double to the right-field wall to make it a two-run game. Bernadina's hit snapped Wacha's scoreless streak vs. Cincinnati at 21 innings.
Although Nick Christiani followed Cingrani with two scoreless innings of relief, the Cardinals opened some distance with two runs and four hits off of Trevor Bell in the seventh inning. For the Reds, it proved to be the unfortunate difference in the game.
Against Rosenthal in the ninth, the Reds loaded the bases with no outs on two walks and a Todd Frazier single. Zack Cozart snapped an 0-for-22 streak to begin the season with an RBI single to center field. A one-out sacrifice fly by Neftali Soto made it a two-run game before Hamilton flied out to end it.
Mark Sheldon is a reporter for MLB.com. Read his blog, Mark My Word, and follow him on Twitter @m_sheldon. This story was not subject to the approval of Major League Baseball or its clubs.