Cosart walks into trouble vs. Angels in finale
Righty allows five runs in six innings, walking four; Corporan homers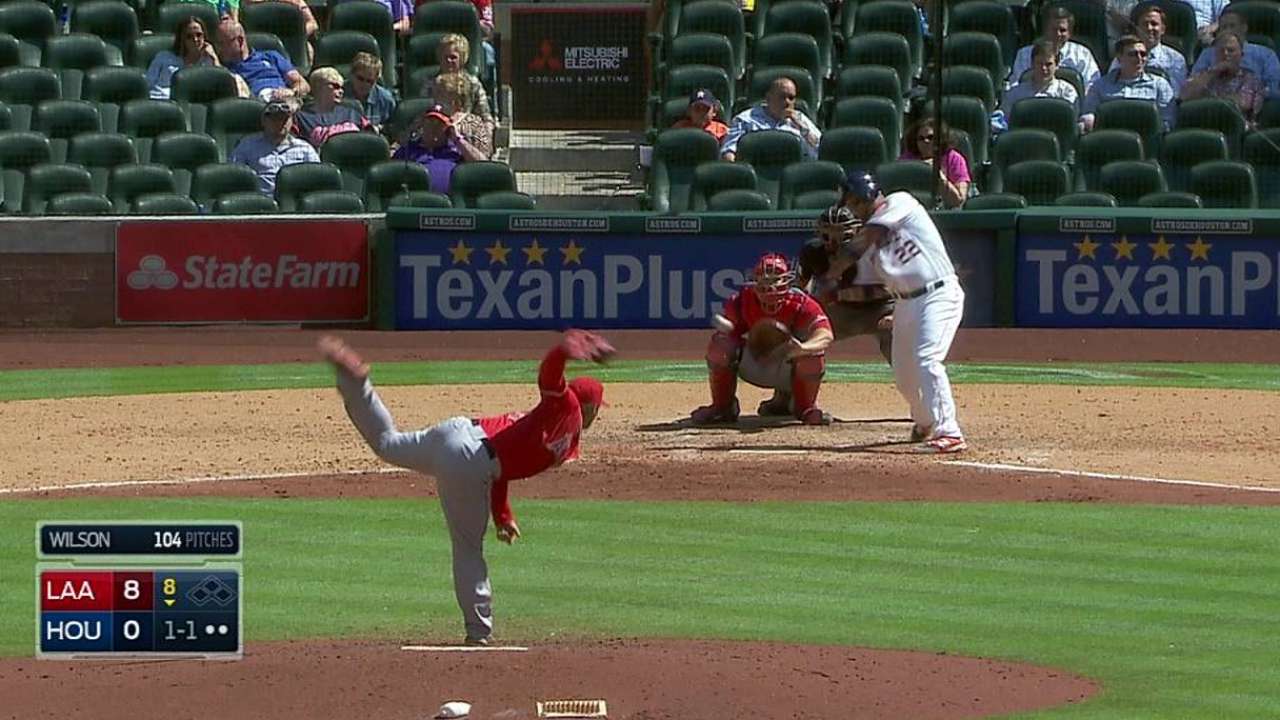 HOUSTON -- At some point, Astros manager Bo Porter won't have to pull his young players aside during games to talk about mistakes. At some point, teachable moments will be replaced by flawless execution.
Those days can't come soon enough for Porter, who watched his team commit a handful of mental errors and get stifled offensively by C.J. Wilson in a 9-1 loss to the Angels in the series finale on Monday afternoon at sunny Minute Maid Park.
The Astros would have suffered their first shutout of the season had catcher Carlos Corporan not belted a solo homer with two outs in the eighth off Wilson, who pitched eight dominating innings to improve to 3-1 with a 1.99 ERA in 11 career games in Houston.
"We straight-up struggled against these guys last year," Wilson said. "They took it to another level against us last year. I think we pitched very well overall. Even [Sunday starter Jered] Weaver's game, I feel like he pitched very well. He just gave up a couple of home runs. They weren't able to sustain rallies against us, which was huge."
Porter simply tipped his cap to Wilson following the game, because he was more concerned about what his club wasn't able to do in several areas, including base running and defense.
In the first inning, shortstop Jonathan Villar should have thrown to first base to retire Albert Pujols instead of unsuccessfully trying to beat Kole Calhoun to second base following a grounder. Center fielder Robbie Grossman threw to the wrong base in the seventh to allow Pujols to take second, and L.J. Hoes made a turn at second base on a grounder to shortstop in the eighth and was tagged out to end the inning.
"It's unfortunate, because I know they're not making the mistakes on purpose," Porter said. "The effort is there and coaches have drilled these things into their head. Again, this is Major League Baseball and the game seems to be a little bit faster here, but at the same time, you're in the big leagues and we feel you're a Major League player.
"These plays have to be made. These learning experiences are going to bode well for our guys, but at the same time, when they happen, as a staff we have to address them so they don't continue to happen."
Hoes, who played in his 53rd Major League game, said the mistakes are a growing process.
"It's still early in the season and we're going to make some of these mistakes right now, but we know we can't make those same mistakes in order to win," Hoes said. "We know we have to grow as a team and we're starting to get older and more mature. We can't make the same mistakes anymore."
Cosart, who threw five scoreless innings against the Yankees in his first start last Wednesday, put himself in trouble from the get-go when he walked Calhoun to start the game. He wound up giving up three first-inning runs on two walks and one hit, which was a two-run single by Howie Kendrick.
Cosart worked six innings and allowed three hits and five runs while walking four batters. Walks were a problem for him last year when he issued 38 free passes in 60 innings in 10 starts as a rookie, though he didn't walk anyone in his first start this year.
Cosart said he was "tired, lazy, lethargic," coming out of the bullpen.
"I couldn't wake my body up," Cosart said. "Obviously, I just got behind a lot of hitters. I thought I was going to turn it around when I struck out [Mike] Trout, but just a little sporadic and then I got behind again and left it in the middle of the plate and Kendrick hit a [single] and pretty much spotted them three runs, which with a lineup like that and a team like that, you can't do that.
"It's hard for our team to play from behind. I kind of had us back on our heels. It was a long first inning, and I pretty much set the tone from the beginning. I just wasn't good, and I know what I need to do the next time going out. I was able to calm down after the first inning and go pretty smoothly until I had a little hiccup. The first inning pretty much set the tone for the game."
After walking Calhoun and striking out Trout looking to start the game, Pujols hit a grounder to Villar at shortstop. He lost a footrace to second base with Calhoun, allowing Pujols to reach.
"Now, you have two guys on base and it opens up an opportunity for a big inning," Porter said. "Again, that's understanding the speed of the ball, the speed of the runners, the men on base, the batter, runner. We had way too man mental mistakes from a standpoint of execution."
Cosart walked Hamilton to load the bases with one out, and Ibanez scored Calhoun with a grounder to first to make it 1-0. Kendrick ripped a single to left field to score Pujols and Hamilton to push the lead to 3-0. None of the Astros' three wins this year have been come-from-behind victories.
To his credit, Cosart fell on the sword for the first-inning woes.
"Me spotting [Wilson] three runs, that doesn't help from any standpoint, offensively, defensively and as a whole team," Cosart said. "You can put the game on my shoulders. Maybe if I go out there and have a quicker first and get us in there and get something going early, the outcome could have changed."
Brian McTaggart is a reporter for MLB.com and writes an MLBlog, Tag's Lines. Follow @brianmctaggart on Twitter. This story was not subject to the approval of Major League Baseball or its clubs.