Lyles does it all for Rockies in win over White Sox
Right-hander works 6 2/3 innings, goes 3-for-3 with two RBIs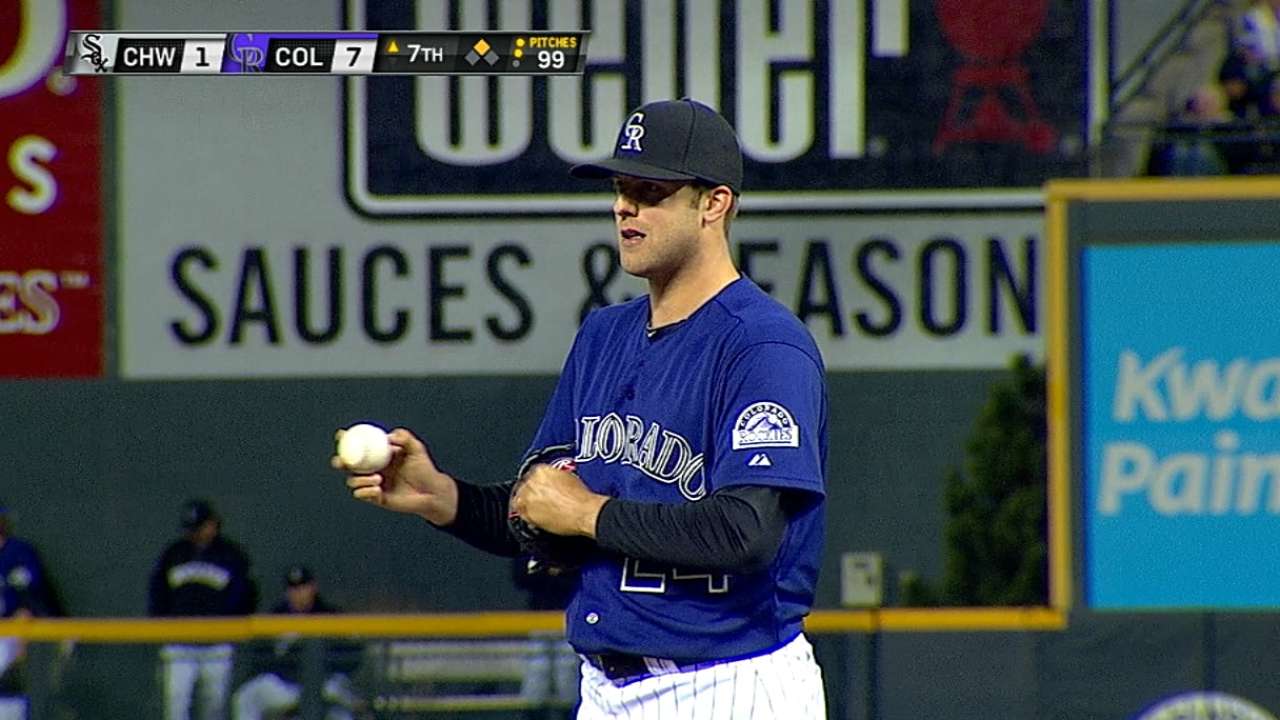 DENVER -- Rockies right-hander Jordan Lyles discovered Monday night, as many pitchers before him, that Coors Field is a great place to hit. He also disproved the theory that you can't throw a breaking ball.
Lyles had three hits, including a double, and held the White Sox to five hits and struck out four in 6 2/3 innings while leading the Rockies to a 8-1 victory at Coors Field in front of 22,550 fans.
Lyles (2-0) said he didn't have a feel for his fastball early in the game, but he went to breaking and offspeed pitches early in counts. The sinking fastball -- a pitch he and pitching coach Jim Wright worked on diligently this offseason -- ended up his put-away pitch. He ended with 10 groundouts.
"A lot of people say you can't throw the breaking ball here," Lyles said. "That was my mindset coming into the game. I really wanted to spin it. For the most part, it was pretty good. I got a couple of punchouts later in the game with it."
Lyles, who was supposed to start the year at Triple-A Colorado Springs, will give manager Walt Weiss a tough decision to make on April 13, when Tyler Chatwood returns from the left hamstring strain that gave Lyles his chance.
"It was the Jordan Lyles show tonight. He's been impressive. It was a tough situation he was in at the end of Spring Training. He pitched well this spring. He came right back to us. He's 2-0. It says a lot about the guy."
Lyles wasn't the only reason the Rockies pulled their record to 4-4. The Rockies totaled nine hits and six runs in 4 1/3 innings against former Rockies right-hander Felipe Paulino (0-1). One of the hits was Carlos Gonzalez's third homer, a first-inning, line-drive solo shot. Troy Tulowitzki homered for the first time, off reliever Daniel Webb to open the sixth, and singled, doubled and walked.
Acquired from the Astros in late November, Lyles had thrown just once at Coors. He gave up six hits and five runs -- one on a first-inning leadoff homer by Dexter Fowler, the man for whom he was traded -- and didn't figure in the decision in a 7-6 Rockies victory on May 28, 2012. His first time pitching for the Rockies at Coors was way more memorable.
Lyles doubled in a second-inning run off Paulino, and added singles in the fourth and fifth. The latter hit drove in a run to greet Webb during a three-run frame that pushed the lead to 6-0.
"I was trying to get those fastballs," Lyles said. "I knew Paulino over with the Astros. He came up with them. I know what he likes to do. But he got some balls over the plate and somehow the ball found the bat and the bat hit the ball, and guys weren't there."
As for his main job, Lyles was even better.
Lyles credited catcher Wilin Rosario, who didn't catch him in Spring Training or during his victory in Miami, with "staying with me" through the early innings, when he was searching for his feel. Rosario thought Lyles was better than he believed.
"He might not have had his feeling, but from my standpoint, from what I saw, he had everything tonight," Rosario said. "I had to figure out a way to use it.
"I felt like I knew that guy for a long time. He let me call the game, he executed the pitches and we did a very good job."
White Sox manager Robin Ventura said he wished his hitters had been more patient.
"Early on, we weren't getting him in the strike zone," Ventura said. "So, once you start swinging at stuff out of the strike zone, you're just making a guy better. But he was good."
Lyles erased his first baserunner, when Tyler Fowlers walked in the third, by pouncing on Paulino's bunt and starting a double play with a throw to Tulowitzki covering second. Lyles didn't yield a hit until Marcus Semien's one-out single in the fourth.
The run didn't score until two were out in the seventh, on Alexei Ramirez's double.
Also, Lyles, at 23 but in his fourth Major League season, crossed a couple of thresholds. Through his first 73 career starts, Lyles, known for seeing decent outings ruined by one blow-up inning, carried a 10.12 ERA in the fifth inning and a 6.08 mark in the sixth.
In each of those troublesome innings on Monday, Lyles gave up a leadoff hit. But he struck out two and forced a grounder to end the fifth. After Dayan Viciedo's leadoff double in the sixth, Lyles forced three straight grounders, with Tulowitzki making his patented leaping and twisting throw to beat Jose Abreu for the final out.
After bouncing between the Majors and Minors, Lyles said he has let go of trying to build numbers to justify his presence in the Majors and just pitches to win.
"I think guys in general fall victim to worrying about their numbers, maybe staying up or what their numbers are at the end of their career," Lyles said. "I think I'm turning that corner."
Thomas Harding is a reporter for MLB.com. Follow him on Twitter @harding_at_mlb. This story was not subject to the approval of Major League Baseball or its clubs.